M A I N N E W S
Choppers sent to pour water on Japan reactors
A US nuclear expert warns of a "potentially catastrophic situation"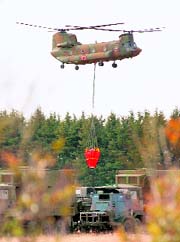 A helicopter flies in Sendal city in Miyagi prefecture on Thursday with a bucket to carry water to try and cool down the nuclear reactors. — AFP

Fukushima/Tokyo, March 17
Japan today made desperate efforts to douse overheating spent fuel rods at its quake- crippled reactors in the Fukushima plant, dumping tonnes of water using helicopters and water cannon trucks amid growing concerns of a nuclear disaster.
A top US nuclear expert warned that a "potentially catastrophic situation" could be round the corner. "There is no water in the spent fuel pool and we believe that radiation levels are extremely high, which could possibly impact the ability to take corrective measures," the chief of the US Nuclear Regulatory Commission (NRC) Gregory Jaczko said as the ominous nuclear cloud spread alarm in the US and other countries.
Two CH-47 helicopters of the Self-Defence Force (SDF) scooped up sea water and released it over the reactors after another chopper checked radiation levels in the air, a week after the magnitude-9.0 quake and devastating tsunami rocked the country leaving 14,650 people dead or unaccounted for.
A rise in temperature causes water to evaporate and exposes the spent nuclear fuel rods, which can heat up, melt and discharge highly harmful radioactive material into the atmosphere.
Today's mission was part of efforts to cool the storage pools at the No.3 and No.4 reactors, whose cooling systems were not functioning. Four of the six reactors at the Fukushima plant have been affected by last Friday's twin calamities.
The choppers dumped four loads before leaving the site. Yesterday, they were forced to abort a similar operation due to concerns over high radiation levels. The choppers dropped seawater in 7,500 litre bags and the operations will be intensified, Defence Minister Toshimi Kitazawa said in Tokyo.
Military trucks were also used to spray cooling water but the operations had to be suspended because of high radiation levels, the National Police Agency said. — PTI