M A I N N E W S
Bank of America gets its first non-US director
New York, March 17
Bank of America Corp. said the chairman of India's Reliance Industries Ltd. was appointed as director, and would stand for election at the bank's board of directors at its annual meeting next month, report appearing in The Wall Street Journal said.
A spokesman for the bank declined to comment about whether the 13-member board was expanding, or if a current member wasn't standing for reelection.


Mukesh Ambani (53) will be the first non-US citizen to join the board of the nation's largest bank by assets
Ambani would be the youngest independent board member at the bank and second only to Chief Executive Brian Moynihan, who is 51.
Mukesh D. Ambani, 53, has run Reliance since 2002 and will be the first non-U.S. citizen to join the board of the nation's largest bank by assets.
Reliance Industries, an energy and materials company, is the largest non-government business in India, with more than $44.6 billion in annual revenues and $70 billion in market capitalisation.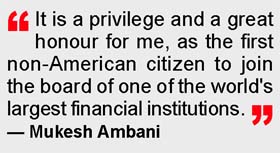 "The Bank of America's shareholders will benefit from the global perspective Ambani brings to our board," the bank's chairman said.
"It is a privilege and a great honour for me, as the first non-American citizen to join the board of one of the world's largest financial institutions," Ambani said in a statement.
Ambani will serve on the board's compensation-and-benefits committee as well as the credit committee, according to a filing with the Securities and Exchange Commission.