Cricket scores over Bollywood
With no movie being released for the third consecutive week, the World Cup has given sleepless nights to producers as well as multiplex owners

Somebody's loss is somebody's gain; for the third consecutive week, no Bollywood movie will open its account at the box-office. Cricket lovers aren't bothered at all, but Bollywood loyalists are miffed about the shut movie window. So, should the dates of movie releases clash with the World Cup? Here's taking opinions from movie buffs, actors and those who are bothered about the economies of film-making.

OUR loss: (l-r) Rayshita Sachdeva, SUDEEPA sINGH AND ACTOR SONU SOOD
Holi clothes get stylish makeover
Wearing old white clothes on Holi is passe. With people becoming increasingly fashion conscious, hot pants, backless blouses and off-shoulder tops in vibrant colours have taken a front seat. "Yes, there has been a drastic change in people's perception towards Holi, especially the younger generation.
Holi attire gets sexier
Bollywood singer Jaspinder Narula shares her journey in the world of music
MonaMy humble effort is to leave the best of each genre — ghazal, qaawali, rock, Sufi — for the next generation," says gifted singer Jaspinder Narula, a name to reckon with in the music industry. With singing talent in her blood, Jaspinder has made most of the opportunities available to her. She started singing at the age of eight with music stalwarts like Jagjit Singh and Chitra Singh, completed PhD in Hindustani classical music and is enjoying a successful innings in Bollywood now.
Trouble shooter
Running away does not helpI am 18. Recently my parents checked my phone and saw a picture of me kissing my boyfriend. Now, they have taken away my phone. I am upset, as I cannot live under constant supervision. I talked to my elder brother and he told me to stay calm and let this blow over.
ROAD RAGE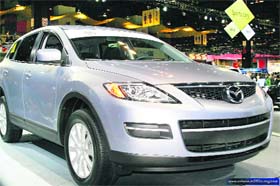 Speed gives a definite thrill and speaks a lot about style but then we cannot ignore the word 'safety'. Imagine the repercussions if safety quotient is given a pass. Car manufacturers swear by the word, which is why the latest models now come loaded with safety features.From touch-screen navigation systems, anti-lock brake systems, hydraulic back doors, and special road traction sensors, safety measures making driving an experience for you knowing you are safe.Car alarms: There is nothing like a car alarm that triggers off the minute one looks at the car.
Chill Out
Beauty of the backwaters

Kerala is a gift to India by the divine powers. Unimaginably beautiful, it has all the wonders of nature. A blend of hills, backwaters, rivers, lakes, plantations, wildlife and rich culture, Kerala is rightfully called God's own country! I feel blessed to have visited the place. Our trip spanned almost the whole of the state covering Thiruvananthapuram, Kanyakumari, Varkala, Allappuzha, Kumarakom, Thekkady, Munnar and Kochi.

DREAM DESTINATION: A houseboat in the backwaters of Kerala.
The 'In' SIDE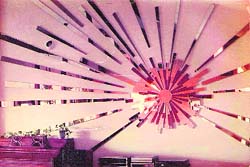 Today, mirrors are not only used for their aesthetic value or as functional accessories, but also play a vital role in interior designing. Interior designers are constantly faced with situations where they are needed to design a room that may have structural flaws. In such cases, mirrors help us create illusions to take the attention off them. n Strategic placement of mirrors can hide strategic flaws. You can make a narrow hallway look wider or a small room look bigger by placing mirrors.


WORK OF ART: Mirrors are being used innovatively
chatter box
Comedy gets innovative

We take a look at some comedy shows on TV that are not run of the mill and have innovative concepts. Check out these shows that have won over the audience and left them laughing out loud.Pyaar Mein Twist Pyaar Mein Twist on Star Plus is the story of the simple Amol (Manish Paul) and rich and stylish Rekha (Roshini Chopra). A lot of people are trying to split up the couple but it is their love and faith in each other that keeps them going.
Fun Intended: Tarak Mehta Ka Ooltah Chashmah rates high on popularity chart

Pun'jab' Sandeep Joshi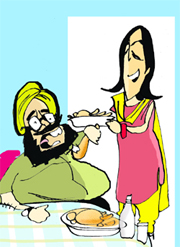 THE Olive Brunch: For your health I have made butter chicken in olive oil.
Playing Parag is challenging: Vivan
Vivan Bhatena, aka Parag of Sanskaar Laxmi, on Zee TV has recently being suffered from a health problem that almost left him immobile but he continued shooting for the show in spite of his condition. We catch up with the actor as he discusses his health, his character in the show as well as his hobbies and passions.You recently suffered from a back injury. What happened?
Beat it
Babita has designs on Bollywood beauties
Designer Babita Malkani shares her opinion on the way people dress in Bollywood. She feels that Priyanka's short dresses have become boring while Katrina would look great in a corporate get up. Read on to find out what she has in mind for Sonam Kapoor and more.Kangna RanautI like the way Kangna has worked around her sense of style. She was not so stylish before. Whatever she wears and however she carries herself, she at least does something different. She wears what she wants and pleases herself.
Anushka tired of weight issues


Anushka Sharma is tired of constantly talking about weight-issues. She has none and she is bored that people in Bollywood are obsessed about their weight instead of being happy the way they are. Recently, Sameera Reddy asked her the secret of her fitness and Anushka said she was tired of discussing weight issues and wanted to talk about something else. We like her attitude!
When Sonam got angry
Buzz is that Sonam Kapoor stormed out of the sets of Mausam in Chandigarh. When she arrived at the airport, her room was not booked and she had to wait for an hour and then when she reached the sets, there was no spot-boy or vanity van. She got very upset and left. Later in the evening, crewmembers convinced her to return and shoot the song.

Kareena uninvited
Kareena Kapoor was not invited to Shahid Kapoor's birthday bash. She was omitted from the guest list. All of Shahid's ex's and women he was linked with in the past such as Vidya Balan, Amrita Rao, and of course Priyanka Chopra were invited even though they were not present at the bash.
Drew's 'single' status
Drew Barrymore is switching over to the director's avatar once again to explore the love lives and break-ups of a group of New Yorkers in her romantic comedy How to Be Single. Barrymore is also producing the movie with her Flower Films partner Nancy Juvonen.The movie is based on the same-titled novel written by Liz Tuccillo and published by Atria.

Hanks to play sea captain
Hollywood actor Tom Hanks has been cast as heroic sea captain Richard Phillips in a new movie. Phillips hit the headlines in 2009 when his cargo ship was stormed by Somali pirates. He offered himself as a hostage, providing the rest of his crew was allowed to sail away. He was finally rescued and wrote about his ordeal in the book A Captain's Duty. — IANS
Bonded in art
For husband wife duo of Tejinder Ladi and Hema, art is the sole reason to get out of the bed in the morning, it is their way to meditate, a way of life.Their ongoing exhibition Colours of Life at Gallery Artmosphere depicts their emancipated outlook towards life."Art binds us together and gives us a way to be creative and express ourselves. It stimulates different part of our brains to make us laugh or incite us to riot, with a whole gamut of emotions in between," says the couple.
The year ahead


Spatu If your birthday is March 18...Your career will take off well around August. You are likely to be honoured, rewarded and recognised. March will bring events like family get togethers, excursions and auspicious ceremonies. If you are of marriageable age, start designing wedding cards. Finance, fiancee, friends, films, fun, fortune and foreign tour will appear in your schedule one by one. Sky will be the limit to expand if in the business of real estate, gold, silver or stocks. Take care of your heart not medically but in romantic matters.
Astro turf
ARIES:  The Lovers facilitate you to be open and inspired by new ideas. A surprise phone call could put you back in touch with a friend you have not seen for a long time. Youngsters will be best left to their own pleasures. Tarot message: Do not be in a rush to spend extravagantly.Lucky colour: Silver grey.Magic number: 54.