COLUMNS



THIS ABOVE ALL

TELEPROMPT

GOOD MOTORING

LIFE'S LESSONS

LEXICON

FOR CHILDREN



CROSSWORD

RHYME TIME
Earlier Feature


TELEVISTA


AUDIO SCAN

Mega-buck art
Indian artists are fetching big money in the international market. Nonika Singh checks out if these sky-high prices are just a flash in the pan
With crores becoming the new benchmark at art auctions around the world, the buzzword in the artistic circles for some time has been money and big-time money at that. After all, 2010 saw legendary artist S. H. Raza break all conceivable records when his Saurashtra sold for Rs 16.3 crore at the Christies in London. Bharti Kher's trademark bindi sculpture, The Skin Speaks a Language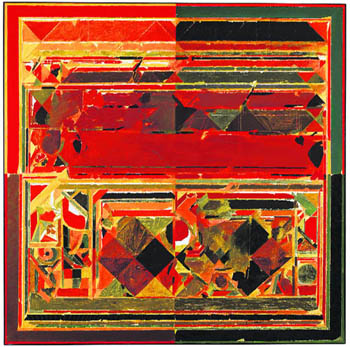 Not its Own, was auctioned for a whopping Rs 6.9 crore. By the end of the year, Arpita Singh's mammoth mural, The Wish Dream, which connoisseurs dub as equivalent to one solo show akin to 14 canvases put together, fetched Rs 9.6 crore....
Dinesh Vazirnai, CEO of SaffronArt, says there is a strong demand for works of highest quality. Not surprisingly, at least 80 per cent of the 100 modern Indian contemporary works were sold for Rs 30 crore last year. An F. N. Souza painting fetched Rs 1.4 crore, a S. H. Raza's work Rs 1.5 crore and an M. F. Husain piece of art Rs 1.2 crore.



Boom time

S. H. Raza's Saurashtra sold for Rs 16.3 crore at the Christies in London last year
Chang on a song
I'm not the best dancer, just a good student, says Meiyang Chang in a chat with Dibyajyoti Baksi
He should have been behind a dentist's chair but fate put Chinese-Indian Meiyang Chang in front of an audience instead. The trained dentist, who went on to be singer, actor and is now the newly crowned winner of Jhalak Dikhhla Jaa 4, says candidly that he's a good student rather than having a natural talent.
For a tangle-free Holi
Anushka Sharma is here with tips to protect that luscious mane this festival of colours, writes Deepa Karmalkar
Stop fretting over the mangled and tangled mane this Holi, for help is at hand — Band Baaja Baaraat gal Anushka Sharma is here with tips to protect that luscious mane.