Where is M. S. Dhoni going wrong and why?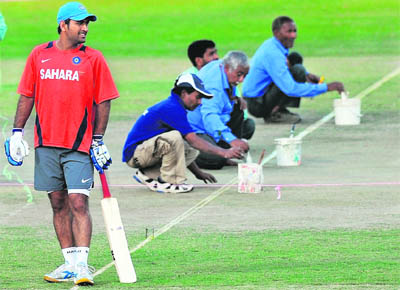 Weak wicket
Vaibhav Sharma
So, everyone remembers India's loss to South Africa in the World Cup. Ashish Nehra bowling the last over, a gamble gone horribly wrong, a batting collapse that made it look like the Men in Blue had been hit by a tsunami on the field. Poor out-field work to dropped catches: almost everything that could go wrong, ultimately did.
Bottomline: M. S. Dhoni has not suddenly gone crazy with on-field decisions; this has been his style all along Photo: AFP
Fitness mantra
Exam-time eating
Mridula Wattas
Come March, one is thankfully out of the restrictive winter season. Spring is in the air and so are the exams. As if it isn't bad enough to be indoors in this wonderful season, the poor youngsters also have to deal with staying up till unearthly hours, with the additional burden of anxiety about results. Alas, there is no magic wand to cope with this stress, so if you want to supercharge your brain, just eat the right foods.
Skin savers
Chiranjiv Chabbra
Splish and splash, missiles of coloured water, colour bombs and tonnes of fun and frolic. This is the scene of a typical Holi party. Most of us have already started planning the nitty-gritty of the festivities.