Green day at Kansal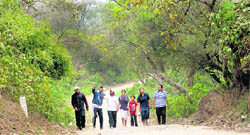 The weather is turning bright and sunny, and what better time to roll up mats, don a Cuban hat, fill a basket full of eatables, catch hold of a frisbee and head to the green zones surrounding our city.Our recommendation is a day's trip to the Kansal forest. Next to the lake, this small sanctuary offers a quiet world full of natural flora and fauna.


Go Green: A pleasure trip to Kansal Forest is rejuvenating




Window to the northeast


Photo frames


No partying for Ishant
Road (ies) less travelled
In the city to screen an episode of Roadies, the twins Raghu and Rajiv share moments from their 16-year-old career in the industry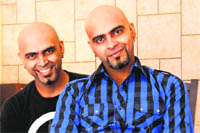 Here it is. Please give a breather to your grey cells, let the imagination take baby steps, put away all those permutations combinations crawling over you and follow one advice - shut up. 'Roadies' stands for something, so, stop judging or applying your statistics and logistics!




BALD & BOLD: (L-R) Rajiv and twin brother Raghu

Variety adds spice
Food. This is one topic that can be endlessly discussed and talked about. For a global gourmand who travels as much on his feet as on the stomach, a variety of cuisines have become of utmost importance when dining out.
Rum... masala mar ke
Vineet Mishra, a cocktail jockey spins a simple summer treat for you. "Indians like everything spicy, don't be surprised if they want the same in their drinks as well." 'Masala Mar ke' is a summer mocktail that can be made at home using white rum and simple masalas. Don't forget to add ice, loads of it if you want. Sip on the cool refreshing drink!
Kiss and find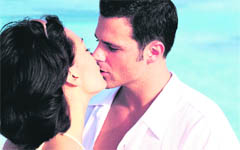 A new study claims that the average woman will kiss 22 men, have four long-term relationships and get her heart broken five times before meeting "the one". The path to true love will also see her endure six bad dates, have six one-night stands and be cheated on four times before finding her perfect match.The average man will make slightly more of his single days, kissing 23 girls and having 10 one-night stands before getting round to settling down.
Wild ,wet... Holi
Just like life, there are many hues to the festival of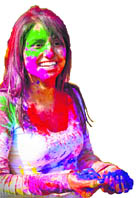 Holi when it comes to exploring just how much fun you can treasure from this day.
| | |
| --- | --- |
| | From a pleasant tikka on the forehead to kurta faad holi, take your pick to celebrate colours but be safe |
What happened with me last Holi
"I enjoyed the festival of colours until last year. I was at my sister's in-laws to celebrate her first Holi. My sister's elder brother-in-law touched me at odd places. On the face of it he was just applying colour. I was left ashamed, embarrassed and infuriated. I kept mum because I did not want to spoil the day for my sister. But I couldn't forget or forgive either. - Abha, a nurse.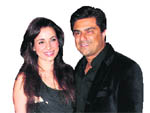 chatter box


Samir, Neelam in demand

Krishnaben's unique Holi celebration


Pushtiie paid to be fat


Bonding over Holi dahen!


Eva Grover back
Ranveer gets candid
Ranveer Singh, the new Bollywood heartthrob, has won hearts after his performance in Band Baaja Barat. His character is pretty popular and he's won a lot of hearts. We caught up with this superstar and asked him some personal questions.


Pricey Madhuri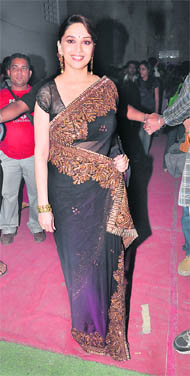 Producers are lining up outside Madhuri Dixit's house. She is commanding a price of Rs 5 crore, at par with the reigning divas such as Kareena, Priyanka, and Katrina. That's what you call an evergreen beauty.
Nude scenes awkward for Amanda
Hollywood actress Amanda Seyfried feels more comfortable with her body now, but still finds it awkward watching her own nude scenes. The Mamma Mia! star has gradually grown comfortable with showing off her body on screen but admitted she still struggles to compose herself if she has to re-watch raunchy footage of herself.
No kissing, no bikini for Sonakshi
Sonakshi Sinha is demanding and getting Rs 1 crore per movie. Her contract has 'no kissing, no bikini, and no intimate scenes' clauses. Her father will simply not allow that. She agreed to look hot like Katrina in Race 2 but will not do any bold scenes like Bipasha did in the first film. Sonakshi is paired with Saif in the sequel.
Fox in Knocked Up sequel
Sultry actress Megan Fox is trying her hand at comedy with a role in the sequel to the 2007 movie Knocked Up. The Transformers star is in negotiations for the project to be directed by Judd Apatow. Paul Rudd and Apatow's wife, Leslie Mann, who starred as a perpetually feuding couple in the original, have agreed to reprise their roles in the upcoming film. Fox's role is being kept under wraps.
Emma kisses her co-star
Emma Watson, who is the new face of Lancome, was recently spotted kissing French co-star Cyril Descours as they filmed romantic scenes for the cosmetics brand in Paris. Wearing a strapless peach chiffon dress, black biker jacket and towering peep-toed shoe boots, the actress shot flirty scenes on Ile Saint-Louis - an island in the middle of the River Seine.
Rani speak
In a recent interview, Rani revealed what actually went wrong between her and Abhishek. She said she felt bad that she was not invited to his wedding. She did not clarify if they speak to each other at parties. Rani has worked with Jaya, Abhishek and Amitabh Bachchan in the past.
RUMOUR MILL : RIHANNA
Colin, Rihanna not a couple
Colin Farrell's pal has dismissed reports that singer Rihanna is dating the actor. Rihanna and the Pride and Glory stud just happened to be at the same Los Angeles restaurant on March 16, sparking a new gossip.Rihanna and the Pride and Glory stud just happened to be at the same Los Angeles restaurant on March 16, sparking a new gossip."They are not dating.It was absolute coincidence they were at Giogio Baldi at the same time. Colin was there at a business dinner and Rihanna was across the room," a source said.A friend of Farrell's came to his defense, telling, "There's no truth to the reports and rumors that they're dating.
The year ahead
If your birthday is March 19...