Honour for Buddhadeb
Shoma A. Chatterji chats up Buddhadeb Dasgupta about his award-winning film Janala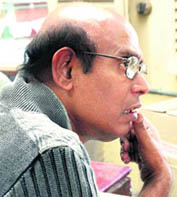 Buddhadeb Dasgupta

Filmmaker Buddhadeb Dasgupta has done it again. His recently released film Janala (The Window) has won the Best Feature Film Award at Taipei's 54th Asia Pacific Film Festival. The film is about Bimal, an ordinary man's sudden desire to gift a window to his boyhood school, which the school administration refuses to accept.
Did you know about the award before it was bestowed?
Yes, they informed me before the award-giving ceremony. I wanted to receive the award in person but my other commitments with my new film based on Rabindranath Tagore's Shey did not permit me to make the journey. They, then, dispatched the trophy to the DFF under the Ministry of Information and Broadcasting. I received it from them last week. I am very happy about the fact that Janala won over the other 55 films from 18 countries in the Asia-Pacific region vying for the honours.
Let us hear something more about the film's international release
The film has been produced by Reliance Pictures. It features Indraneil Sengupta, Swastika Mukherjee and Tapas Pal. It was premiered in the Masters of World Cinema section at the Toronto International Film Festival in 2008. Since then, it has been screened at 15 film festivals, including the International Film Festival of India and New York and Dubai film festivals. Then this Taipei award happened. What saddens me is that the film got its Indian release only recently though the critics have panned it well. Janala is an attempt to be reminiscent of the times when we sometimes try to make a simple dream come true but the cogs of destiny leave us feeling unfulfilled.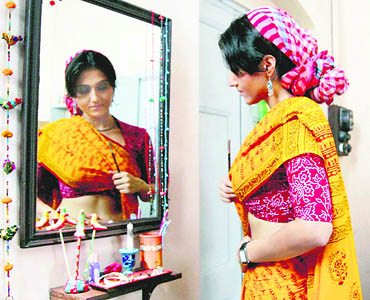 Janala is the story of an ordinary man's desire to gift a window to his boyhood school. For this, he discreetly uses the money that his fiancée had been saving for their soon-to-be-born child

What is Janala all about?
Janala is the journey of a solitary man against the wrath of circumstances when he decides to pursue his little impulsive dream. An accidental visit to his school in Jhumurpur village prompts Bimal to believe that it is his turn to give back to his alma mater. He begins with trying to reconstruct the broken window of his favourite corner classroom, and decides to take help of the local moneylender. But when the moneylender fails to pay him the promised sum, Bimal discreetly uses the money that his fiancée Meera had been saving for their soon-to-be-born child. But when he reaches his school with the window, the authorities reject it. Now begins a journey, as the precious window has no takers. By the end, Bimal has lost his job, his wife and his unborn child —everything for a window nobody wants.
You have not banked on top commercial stars for this film
I was looking for a fresh and innocent face to play Bimal because innocence is the core of his identity. I discovered it in Indraneil Sengupta from television. Janala is his first Bengali film though it was released much after his other films. Swastika was also not a very well-known face when I signed her on for Janala. At the end of the day, every actor has to be a performer in his own right. You cannot have a set of actors, who are suited only for a particular kind of acting. Across the world, all so-called stars have repeatedly proved that they are also actors to reckon with.
Dreams presented through surrealist images form part of your films. Why?
I never stop mixing a bit of dream and magic with the reality around me. Otherwise, it becomes very predictable, repetitive, boring and tedious. This is a process of evolution that started a long time ago. I was in primary school and a magician came to perform for us. My first encounter with the magician and his magic taught me that one can blend magic with love and loneliness. Dreams are so essential to life that in their absence, one might actually invite nightmares, which can also be a part of reality.