PUNJAB

HARYANA

JAMMU & KASHMIR

HIMACHAL

REGIONAL BRIEFS

NATION

OPINIONS

LETTERS

BUSINESS

SPORTS

WORLD


M A I N N E W S
Elizabeth Taylor

A woman of the world
Denounced by the Vatican in the sixties as an 'erotic vagrant'. Hailed as the 'Joan of Arc' of AIDS activism. Accused of being a husband-stealer and home-wrecker
She lived life large, 'king-size', and even in death is larger than life. Beauty, she believed, was a fuel to be burnt, more than fruit to be preserved. Accused of living with her dead husband's best friend, Elizabeth Taylor, who died on March 23, once famously asked a gossip columnist, "What do you expect me to do? To sleep alone?"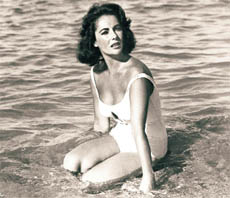 At an age when other children are learning to stand upright, she was attending ballet classes, and such was her precocity (and physical beauty) that, when barely three years old, she performed before the Royal Family.
In 1939, just a few months before the outbreak of war, her American parents decided to return to the United States from London, her father opening an art gallery, much patronised by the film colony, inHollywood's Château Elysée. It was in the wake of a visit there by the syndicated columnist Hedda Hopper,and a newspaper article in which she praised not only the beauty of the works on exhibition but that of the proprietor's daughter, that Universal, flush with the success of the Deanna Durbin musicals, decided to cast the 10-year-old Elizabeth in There's One Born Every Minute (1942), a low-budget comedy.


An eventful life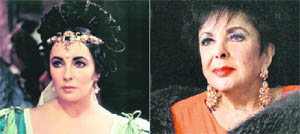 Elizabeth Rosemond Taylor, actress: born London 27 February 1932; DBE 2000; married 1950 Conrad Hilton Jnr (died 1969; marriage dissolved 1951), 1952 Michael Wilding (died 1979; two sons; marriage dissolved 1957), 1957 Mike Todd (died 1958; one daughter), 1959 Eddie Fisher (marriage dissolved 1964), 1964, 1975 Richard Burton (died 1984; one adopted daughter; marriage dissolved 1974, 1976), 1976 John Warner (marriage dissolved 1982), 1991 Larry Fortensky (marriage dissolved 1996); died Los Angeles 23 March 2011.
n She was cheeky, with no respect for rank; "Is that the famous diamond? But it's so large - how very vulgar!" Princess Margaret is said to have sneered on seeing the gem which Richard Burton bought for Taylor for $1.1m from Cartier, 69 carats and one inch thick. "Yes," said Elizabeth. "Ain't it great?"
The Princess then asked to try on the huge stone. "It doesn't look so vulgar now, does it?" remarked Taylor laconically.
n " We enjoy fighting. Having an out-and-out outrageous , ridiculous fight is one of the greatest exercises in marital togetherness," she once said about her tempestuous relationship with Richard Burton, whom she married in 1964, divorced in 1974 only to marry him again in 1975 and divorce him the very next year.
n Her biography is a wonderfully lurid and colourful story of conspicuous consumption, failed marriages, affairs, illnesses, bickering and boozing. The actress who seemed so prim and demure in Lassie Come Home and National Velvet turned into the ultimate screen siren who excelled at playing jaded, sensual women.
It was not the most auspicious of débuts but she charmed Metro-Goldwyn-Mayer, which signed her up on a 20-year contract (a quite extraordinarily long-term wager on the continuing appeal of a small prepubescent girl).
She enjoyed even greater public favour in the following year with National Velvet, playing a spunky little girl who trains her horse to win the Grand National, and in 1949 as Amy in Mervyn LeRoy's queasily sentimental version of Little Women.
Taylor's first truly grown-up role came in Conspirator (also 1949) as a young wife who discovers that her husband (played by her scowling namesake Robert) is a double agent; but it would be more appropriate to date her emergence into adulthood from Vincente Minnelli's delightful comedy of middle-class domesticity, Father of the Bride (1950).
The film became one of the most profitable ever produced by MGM, especially as the studio delayed its release to coincide with Taylor's own impending (first) marriage, to the hotelier Conrad Hilton Jnr. For she had blossomed considerably more rapidly off screen than on. While still in her teens, she had been escorted by the 44-year-old Howard Hughes; and, when reproached, during the filming of Conspirator, with falling behind in her schoolwork, she tartly replied, "How can I concentrate on my education when Robert Taylor keeps sticking his tongue down my throat?"
In 1952 Taylor was married for a second time, and for five years, to the British actor Michael Wilding. During that period her career flourished, even if only one of her films could be described as outstanding. George Stevens' A Place in the Sun (1951) was an adaptation of Dreiser's 'An American Tragedy'.
Failing to recognise his homosexuality, Taylor fell desperately in love with Montgomery Clift. Curiously, a personal entanglement of an identical nature occurred during the shoot of another Stevens film, Giant (1956): she grew deeply attached to her co-star James Dean, and was reportedly heartbroken when he was killed in an automobile accident.
Divorced from Wilding (who, as an actor, had lived increasingly in his wife's ever-lengthening shadow), she married the flamboyant showman Mike Todd, begetter of Around the World in Eighty Days (1956). The marriage, by every account a happy one, was terminated after just a year, when Todd's private aircraft, The Lucky Liz, crashed with no survivors.
The young singer who had served as best man at their wedding, Eddie Fisher, became Taylor's third husband; on this occasion, however, she alienated thousands of fans, who blamed her for breaking up Fisher's apparently idyllic marriage to Debbie Reynolds. Fortunately, her career was entering its most fruitful phase.
When she finally did obtain an Oscar, however, it was for an utterly unremarkable performance as an expensive call girl in Daniel Mann's 1960 adaptation of John O'Hara's Butterfield 8 (the heroine's telephone number). Even at the time, this was interpreted as a strictly sentimental gesture made less in recognition of her talent than of her recent, near-fatal bout of pneumonia. As another nominee, Shirley MacLaine, laconically put it, "I lost to a tracheotomy."
Her next film is arguably still the most catastrophic commercial flop in cinema history: Cleopatra (1963). It all but bankrupted the studio which produced it, Twentieth Century-Fox, it switched directors in mid-shoot (Joseph L Mankiewicz replacing Rouben Mamoulian), it devoured several million dollars as sets remained vacant and actors idle for months on end – and, of course, it united Elizabeth Taylor with Richard Burton, the man whom she was to marry twice and divorce twice, in whose company she would be seen (and photographed) everywhere, and with whom she appeared in no fewer than 11 films.
Most of these were unspeakably bad – pointless, pretentious vehicles for a couple whose interest, as far as the general public was concerned, derived almost entirely from the publicity that they so assiduously courted. Exception should be made, nevertheless, of Who's Afraid of Virginia Woolf? (1966), Mike Nichols' acerbic film version of Edward Albee's Pulitzer Prize-winning play, in which Burton gave virtually his last good screen performance and Taylor, raddled and foul-mouthed, this time deserved her Academy Award; and of Franco Zeffirelli's sumptuously designed The Taming of the Shrew (1967), in which the Burtons made a spirited Petruchio and Katharina. Thereafter Taylor's choice of roles and films declined into irretrievable mediocrity,
She chalked up her seventh marriage – and matching divorce – with John Warner, an undistinguished US Senator who, conceivably on the strength of the attendant publicity, made a preposterous bid for the presidency. An eighth marriage, to Larry Fortensky, a construction worker, ended in acrimony after five years. The once infinite variety of Elizabeth Taylor's beauty was ultimately withered by age and staled by custom. Yet, she was the kind of star of whom one might say, simply, "They don't – and they won't – make them like that any more."