THIS ABOVE ALL
Extremists on both sides
Khushwant Singh




Khushwant Singh
I have a friend in Pakistan who keeps me informed of what is going on in his country. In his last letter, he enclosed a report compiled by the National Commission for Justice and Peace and Human Rights Commission of Pakistan. It throws light on the murders of people suspected of blasphemy from 1981 to January 2011. At least 39 persons suspected of blasphemy were killed without trial.
Of these, 35 killings took place in Punjab, three in Sindh and one in Khyber Pakhtunkhwa. Most of the killings were in Lahore, Faisalabad, Sheikhupura, Gujranwala, Gujarat and Sialkot. Of the victims, 15 were Christians, two Ahmedias, 16 Muslims, three unidentified.
The analysis throws light on the murder of Shahbaz Bhatti in Islamabad a couple of weeks ago. He was the only Christian member of the Pakistan Cabinet. Earlier this year, Salman Taseer, Governor of Punjab, was murdered on January 4. He was shot dead by his own bodyguard.
What inferences can be drawn from these killings? One is that the aam Pakistani feels that what he believes to be blasphemy deserves to be punished by death. A small urban minority believes that only the state has the right to impose penalties and individuals have no business to do so.
However, we Indians have no right to feel sanctimonious as we also have elements which take the law in their own hands and go about murdering innocent people because they donít like the community they belong to. Earlier, we assumed that if there was a motiveless murder, the perpetrators must be Muslims. That was the assumption we made about the attack on the Samjhauta Express, the Mecca Masjid blast, the Ajmer Sharif blast and the Malegaon blast. Now it is quite clear that the real culprits in all those cases were not Muslims but Hindus. We, too, have evil-minded people like Sadhvi Pragya Singh Thakur, who organised killings of innocent Muslims just because they were Muslims.
Boon for the blind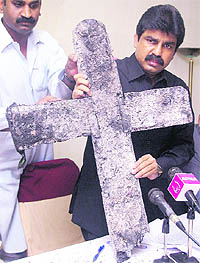 The only Christian member of the Pakistan Cabinet, Shahbaz Bhatti, was murdered recently Photo: Reuters
Jaiveer Agarwal and Tahira met while they were students in Jaipur Medical College and fell in love. He was Hindu; she, a Muslim. They defied their families and got married in 1956. They decided to make their home in Chennai, where religious differences mattered very little. Both had specialised in ophthalmology. Within a year, their private eye hospital became the most sought after by people with eye ailments. Their offspring carried on their legacy.
Today there are 2,000 employees in their chain of hospitals; 500 of them are doctors.
The hospital has world-class equipment. There are 50 branches all over South India. There is one branch in Jaipur and one in Mauritius. The coupleís children and grandchildren became ophthalmologists and contributed to the progress of the hospitals. Their son Amar Agarwal has made major contributions to the field of ophthalmology through dedicated research and hard work. Dr Tahira and Dr Jaiveer Agarwal passed away in 2009. Today Dr Amar Agarwal is the chairman of the chain of hospitals.
There is enormous potential for developing what is called medical tourism. As it is, hundreds of sick people from our neighbouring countries come to India for treatment because our doctors and hospitals provide as good services as any in advanced Western countries at less than half the cost. We could further improve our expertise and make India the most sought-after country by the sick to be restored to health.
Pay once, kiss twice
While World War II started on September 3, 1939, America joined the war only after the Japanese air attack on Pearl Harbor on December 7, 1941. In 1942, all of Britain, especially London, was swarming with American soldiers. Most of the British girls left their English boyfriends and befriended American GIs with pockets bulging with money and choicest brand of cigarettes.
One day an American soldier could not resist the charms of a vivacious English girl walking on the pavement, and forcibly kissed her. The girl was an exception to the rule. She reported it to the police and the erring soldier had to appear in a London court the very next day.
After listening to the girlís complaint, the judge fined the American `A3 5. After searching his pockets, the American could find a `A3 10 note, which he put on court table. Getting a hint that there was no balance change with the court clerk, the American gave a huge resounding kiss to the bewildered girl and jauntily walked out with the best bargain of his 23 years life.
Punjabi wisdom
Naveen Jaggi, advocate, has sent me this Punjabi doggerel:
Kee phaleney di mat maree gayee;
Majh waich kay ghoree layee;
Dudh peeney gayaa;
Lid uthany payee
(That fellow has lost his mind;
He sold his buffalo and bought a mare;
Instead of drinking milk;
He has his mareís dung to clear).