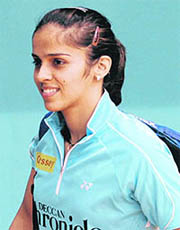 Swiss account
After the setback in the All England Championship, the RECENT Swiss Open win was the best birthday gift for shuttler Saina Nehwal
Amit Khanna
So upset was she after her quarter-final loss to Japanís Eriko Hirose at her favourite All England Championship that Saina did not even celebrate her 21st birthday, which fell on March 17. But the celebrations did not have to wait for long as the Indian badminton sensation, in her characteristic manner, came back strongly and went on to win the Swiss Open Championship just a week later. En route to her title, Saina also avenged her defeat to Hirose.

Saina Nehwal
Get your legs skirt ready
Sachin Kalra
With the winter finally gone and hot summer months upon us, it's time to flash those legs. And to really play them up, your legs should have great tone, good skin and be smooth without signs of cellulite. Hereís how to get your legs super sexy and skirt ready. If you want to have legs to die for, youíve got to exercise. Only exercise can help you achieve the slim, sleek and sexy legs that turn heads. It is the key to shapely legs and there are no shortcuts.