Lost romance
The Faiz centenary is now creating a buzz as did the Majaz centennial but with the era
of rapturous poetry in Urdu long gone, this becomes more an act of nostalgia
rather than revival, writes Nirupama Dutt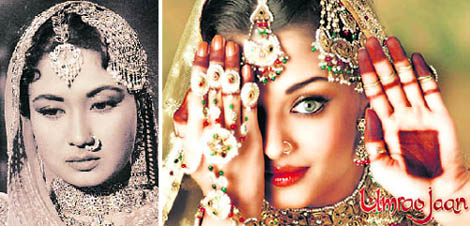 In the times of Munni or Sheela, the age of ghazals in Hindi cinema, as
symbolised by Pakeezah (left) or Umrao Jaan, is long over

Nahin khel, ai Dagh, yaaron se keh do Ke aati hai Urdu zabaan, aate aate — Dagh
(It is not child's play, O' Dagh, tell my friends
It takes a long time to learn the Urdu language)
LOVERS of Urdu got together last year in different cities of the country to celebrate the centenary of Lucknow's best-loved poet Asrar-ul-Haq Majaz and the admirers of one of the greats of Urdu poetry, Faiz Ahmad Faiz, are busy all over the world celebrating his centenary. It is indeed wonderful to celebrate poets who have enriched the human bondage. Majaz's poem Awara, sung by Talat Mehmood, Shahar ki raat aur main nashad-o-nakaara phiroon, Jagmagati jaagati sarhkon pe awara phiroon, Ai ghame dil kya karoon`85 still has the power to transport one to a state of ecstatic catharsis and Faiz, of course, was a poets' poet, who towered over the poetic sensibility of the 20th century in the subcontinent and beyond. He had many improbable people in his enormous fan-list, including top cop K.P.S Gill and politician Manpreet Badal!
However, as one cherishes the moments of revisiting their poetry and amazing lives, one cannot but feel the pangs of loss because the great age of Urdu poetry is lost to us, not just in India but the neighbouring Pakistan, too, which has Urdu along with English as its national language. The wane of Urdu poetry coincides with a declining interest in the genre but the politicisation of the Urdu language, too, has taken its toll. Poet Javed Akhtar opines, "Today, Urdu is in a strange situation. The language has been politicised for the past 100 years and sacrificed at the altar of the two-nation theory. In India, it is constantly given step-motherly treatment. On the one hand, there is a growing number of people who appreciate Urdu poetry, on the other hand, the language is also becoming nostalgia." Ironically, Urdu, the darling baby of the Ganga-Jamuni tehzib, the composite culture of the Hindus and Muslims who co-existed in the north Indian plains, was uprooted from its birthplace and thrust upon the unwilling Punjabis, Pathans and others in the 'promised land' of Pakistan. Javed speaks of a growing interest in Urdu poetry but it is more of an archival interest rather than the living and throbbing existence that it once enjoyed. As far as the youth of today goes, some couplets, never mind the literary merit, are handy for titillation on the SMS circuit.
Language of poets
Interestingly, Urdu, which is oft hailed as the language of poets, traces its origins to the Muslim army camps.`A0 The word 'Urdu' comes from the Turkish word 'ordu,' meaning 'camp' or 'army'.`A0 It was used as a unifying communication tool between the Muslim soldiers of Turkish, Arabic and Persian origins. It began to take its evolved shape in Uttar Pradesh by incorporating the Hindu Braj Bhasha followed by the Khari boli. It was also known as Hindavi and later Hindustani. For all the bad blood between Urdu and Hindi, the two languages remain mutually intelligible although with different scripts, Perso-Arabic for the former and Devnagari for the latter.
The splendour of a language is known by the literature it creates and in that respect, Urdu comes out with honours. The poetic tradition took firm aesthetic roots in the new language and it was the ghazal, a form that strings together couplets of the same meter with a refrain, became the preferred medium. It blossomed in the Mughal era, with poets perfecting it to reach great emotive height. There is a long and formidable list of poets who wrote the ghazal, blending emotion and experience with technique but among the all-time greats three names stand above the others. Mir Taqi Mir (1723-1810) was the leading poet of the 18th century, who shaped the Urdu language and his poetry stood for the best of human values, daring to challenge rigid religious beliefs: Mir ke deen-o-mazhab ka, poonchte kya ho unne to kashka khaincha dair mein baitha kab ka tarq Islam kiya (What do you wish to know of Mir's faith? He sits in the temple with vermilion on his forehead, having abandoned Islam long ago). The Urdu ghazal, which traces its roots to Persian, evolved so well that it influenced many different languages. There have been ghazal writers in Hindi, Punjabi and English, too. Among the prominent Urdu poets who enriched this genre were Ustad Zauq, Bahadur Shah Zafar, Momin, Hali, and the 20th century saw many great poets like Allama Iqal, Firaq Gorakhpuri, Sahir Ludhianvi, Ahmad Faraz, Nasir Kazmi and Parveen Shakir, besides those mentioned earlier.
Down the hill
The Partition was the time which started seeing a gentle downhill trend. Of course, Urdu poetry was kept alive in the Mumbai cinema by accomplished poets and younger poets like Mahmood Shaam in Pakistan and Bashir Badr in India infused fresh breath into Urdu poetry by using the commonly understood Hindustani as against the Persian-ised Urdu and even incorporating English words. Here is a classic example Badr: Koi phool dhoop ki pattiyon ke hare ribbon se bandha huya; Yeh ghazal ka lehza naya naya, na kaha huya na suna huya (A flower tied in the green ribbon of leaves; Here comes the new ghazal neither said nor heard before). Till the end of the 1980s, Urdu poetry, poets and mushairas (poetical symposia) were still around us. Even the modern city of Chandigarh had mushairas aplenty and one did not have to go far to look for Urdu poets and poetry. The librarian at The Tribune was a poet called Surinder Pandit Soz and the Pinjore Gardens had their own faqir poet, who called himself Krishan Khan. Urdu poets or lovers of poetry could be found in colleges, government offices and the coffee house. One did not have to surf the television channels to look for one channel called Fida, as of now, to pine nostalgically for a poetic way of life gone by. The late Krishan Adeeb, a wonderful Ludhiana-based poet, whose ghazals were sung by Mehdi Hasan and Jagjit Singh, used to say: "Urdu was no mere language. It was culture and a way of life". It was this way of life that passed us by in the din of pop and the razzmatazz of the satellite invasion.
Kasmiri Lal Zakir, who heads Haryana's Urdu Akademi at Panchkula, pins this down to the passing away of the age of poetry by saying: "This age of ours is not the age of poetry. It is the age of the novel. People are drawn to long fiction and poetry needs a literary readership, which is absent today." This could also be because of the decline of language studies, for the emphasis is on communication skills and understanding a poet requires much more.

Punjab's poetry
Punjabis made a very significant contribution to Urdu poetry even though, as the joke goes, quoting Josh Malihabadi who said that if Urdu is the language of jannat (heaven), Punjabi is the language of dozakh (hell). And this is not just my parochial mindset speaking, I once again go to Javed Akhtar, who inherited a great tradition of poetry, with Majaz for his maternal uncle, Jaanisar Akhtar for father and Kaifi Azmi for father-in-law: "I firmly hold that not only did the Punjabis own Urdu as their literary language, but they also experimented with it beautifully." Among Punjab's own well-loved Urdu poets, besides the very popular Faiz and Sahir, were Hafiz Jalandhari of Abhi to main jawan hoon fame, magical Munir Niazi, who wrote in both Urdu and Punjabi, Qateel Shafai, Habib Jalib and Krishan Adeed with his famous ghazal: Jab bhi aati hai teri yaad kabhi sham ke baad; Aur badh jaati hai afsurdadili sham ke baad (Whenever I think of you after evening fall, the heart grown heavier after evening fall).


Sahir Ludhianvi

This is not all. One would like to make a special mention of Jalandhar's special talent whose ghazals were sung first by Begum Akhtar and then Jagjit Singh. He was the wonderful poet called Sudarshan Fakir, who gave all-time greats like Ham to samjhe thhe ki barsaat mein barsegi sharab; Aayi barsaat to barsaat ne dil todh diya (I had thought that it would wine this monsoon, But monsoon came sorrowfully and broke my heart) and Woh kagaz ki kashti woh barish ka paani (That paper boat and that rain water). Punjabi poet Amarjit Chandan, commenting on the exit of great poetry in Indian languages, says: It is the case with all languages. Isn't it? The Urdu literature phenomenon is finished with our generation. Asghar Wajahat and Asad Zaidi are writing in Hindi and 'in the pure land' of Urdu, all the new lot is writing in English both poetry and prose.
Ghazal in cinema
The ghazal enjoyed an exalted place in Hindi films and the till the early 1980s, the lovers of poetry found gems of the genre studded in celluloid. Ghazals were an essential part of the Muslim socials or films featuring courtesans. In fact, the singing of the ghazal as an art was perfected by singers who came from the courtesan class, which nurtured all-time great artistes like Begum Akhtar and Mallika Pukhraj. The 1950s and the 1960s saw the genre at its peak. The best example was Sohrab Modi's Mirza Ghalib (1954), in which Talat Mehood and Suraiya gave soulful rendering of Ghalib's poetry. In 1988, Gulzar went back to the great poet in a tele-serial with Naseeruddin Shah playing Ghalib and Jagjit and Chitra Singh singing his verses. The age of courtesans is long over and it is the era item songs of featuring a Munni or a Sheela. But lingering in the minds of cinegoers are some very emotive ghazals picturised on Meena Kumari in Pakeezah (1971), Rekha in Umrao Jaan (1981) and earlier Nargis in Adalat (1958) or Vyjanthimala as Chandramukhi in Devdas (1955). Those were the times when songs were penned by poets well-versed in Urdu, like Majrooh Sultanpuri, Shakil Badayuni, Sahir Ludhianvi, Kaifi Azmi, Jaannisar Akhtar and many others. Two films made in 1982, Arth and Saath Saath, showcased good ghazals in Jagjit Singh's voice. However, slowly but surely ghazals did the vanishing trick from Bollywood. This can also be linked to the decline of people who could relate to Urdu as well as the 'emotional atyachar' of life moving at a super-fast speed and demanding matching musical accompaniment.