M A I N N E W S
CRICKET MANIA SWEEPS Chandigarh
Roopinder Singh
Tribune News Service
Chandigarh, March 28
Politics, diplomacy and cricket will all converge as the President of India, the Prime Ministers of India and Pakistan, captains of industry, Bollywood stars, bureaucrats and politicians come here to watch the super-charged India-Pakistan cricket World Cup semi-final at the Mohali stadium on March 30. The Tricity, comprising Chandigarh, Mohali and Panchkula, will practically be the national capital for the next two days.
Intense speculation abounds about where the two Prime Ministers — Dr Manmohan Singh of India and Yousuf Raza Gilani of Pakistan — will meet and what they will talk about. It is now known where they will stay. President Patil is expected to stay at the Haryana Raj Bhavan and Prime Minister Manmohan Singh at the sprawling Punjab Raj Bhavan while Prime Minister Gilani of Pakistan will stay where his team is — at Taj Chandigarh. The Indian team is staying at the Mountview Hotel in the heart of the city. For others, accommodation is woefully inadequate — there are simply too few rooms available.
Chandigarh's residents are flooded with calls from "friends" many of whom they have not spoken to for years, requesting either accommodation or to somehow manage a ticket or a pass. As of now, scalpers are having a field day with a Rs 200 ticket reportedly going for Rs 25,000 in the blackmarket.
The Tricity has become a high-security zone with thousands of policemen engaged in security and VIP duty. Chandigarh has never seen anything like this before and is unlikely to do so in the near future. For the moment, it is enjoying its place under the sun.

Imran Khan, Malik Spat over Match-Fixing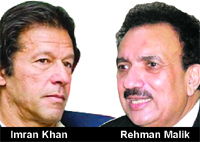 Imran Khan on Monday lashed out at Interior Minister Rehman Malik for his warning to the Pakistan team against indulging in match-fixing during their World Cup semi-final against India. Imran hit out at the minister's statement and said he should keep watch on himself as he was absconding a few days back. Earlier, Malik told mediapersons, "I gave a warning that there should be no match-fixing. I am keeping a close watch. If any such thing happens, we are going to take action."

NO ROOMS AVAILABLE IN TRICITY
Akash Ghai
Tribune News Service
Chandigarh, March 28
The high-profile World Cup semifinal between India and Pakistan has caught the Tricity's (Chandigarh, Mohali and Panchkula) hospitality sector unawares, with over 10,000 cricket buffs vying for 2,000 odd rooms in various hotels, guesthouses, dharamshalas and bhavans.
"No room is available," is the common answer that the fans have been receiving from these hotels and guest houses.
In all, Chandigarh has 43 registered hotels, both in government and private sector, with around 1,400 rooms, while the unorganised sector only has around 600 rooms.
"We were ready for the scheduled semi-final like any other cricket match. But with India and Pakistan making it to the semi-final and a large number of dignitaries scheduled to descend on the city, the situation has changed completely. I have no hesitation in accepting that the city (the hospitality industry) is not ready for such a high-profile event or such frenzy," said Manmohan Singh Kohli, a noted hotelier and former president of the Chandigarh Hotel Association.
Kohli, however, added that they (the hoteliers) were looking forward to take the event as a challenge to expand the infrastructure.
Another hotelier, Anu K Bansal, said that the situation was no less than an embarrassment for them with visitors complaining that the most advanced city of the country had no room for their guests.
Even in Panchkula, all the hotels were booked to capacity. Also, several corporate houses have reserved famous resorts in neighbouring Parwanoo (Himachal Pradesh), including Timber Trail and Moksha, about 40 km from Chandigarh, for their top officials so as to avoid last-minute hassles.

OPEN YOUR HEARTS, HOMES FOR PAK VISITORS: SUKHBIR
Jaideep Ghosh
Tribune News Service
Mohali, March 28
Punjab Deputy Chief Minister Sukhbir Singh Badal has asked the people of the region to open their hearts and homes to the visiting Pakistani fans. Sukhbir is also the Chairman of the Organising Committee for the India-Pakistan World Cup semi-final to be played at the Punjab Cricket Association Stadium here."While the entire region is geared up and fans are also expected from across the border, I am aware that there is severe space crunch in the hotels in Chandigarh and Mohali," he said. "I would urge the people of the two cities and also Panchkula to register with the control room, overseen by a Deputy Commissioner, and give one room in their houses out for the visitors. "The Punjab Government officers have already one room each in their houses to welcome our visitors," he added.
Sukhbir went on to say everyone in India and the world wanted to come to Mohali for the match. "While we would like to welcome everyone, it is not possible for all to come into the stadium and watch the match," he said. "For that, I apologise to all those who will miss out, but would urge them to main law and order and make this a success. Sukhbir attended a meeting at Mohali regarding the security and protocol issues surrounding the visit of the Prime Ministers of India and Pakistan for the match. Asked about the issues being faced by the general people of the region, he said that every effort was being made to look after the comfort of all. "We are working at making it as comfortable as possible for the ticket-holders, players, VIPs and other dignitaries. All efforts are being made to ensure smooth flow of traffic, parking, security and other facilities.