Global footprint
Charandeep Singh on the rising trend of global placements in campuses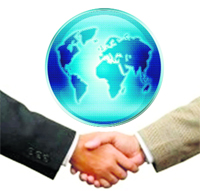 In the global village that the present day world has become every sphere is inter-related and so are the economies. Companies are having off shore campuses where in the skill set required to excel is quite similar to the one that we have back home in India. As a result a lot many companies are picking up Indian students from their college campuses and offering them global placements. And going by the trends available Indian students are also game for it. "In an environment where the market for talent is becoming global, there is a growing realisation that many individuals may have to relocate for work to other countries or to other continents", says Kamal Karanth, Managing Director Kelly Services.

Career Hotline
n Studying abroad
n UN interpreters
n Education for all
n Let the genius blossom
dairy farming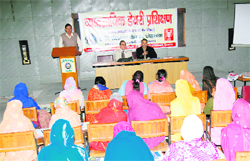 Training gains
The field of dairy farming and animal breeding offers excellent self-employment opportunities to youth and women in rural areas. Dairy farming has traditionally been a lucrative profession for people in Haryana's rural areas because of high demand for milk and milk-based products. The state's proximity to the national capital, which is a major market for dairy products, has motivated a number of people to get into this field.
GUEST COLUMN
Fair appraisals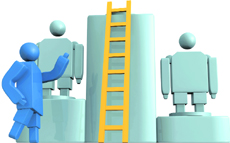 Deepak Kaistha on how appraisals can be kept objective
Performance appraisals help to strategically review the performance of the employees, their strengths, weaknesses and accomplishments during the year. It helps in deciding the goals, objectives and the desired performance standards for the employee for the upcoming year. Employee appraisals should focus on people rather than forms.
NTPC to hire 1,000 engineers
The country's largest power producer NTPC will hire 10,000 engineers in the next 10 years as part of massive expansion plans. "We need to hire 1,000 engineers every year for the next ten years to meet manpower requirements in view of our plans to expand generation capacity," NTPC Director, Human Resources S.P Singh told PTI.
guest column
Smart Strategy
Test of nerves


IIT JEE – The very mention of these words sends shivers down the spines of students and gives sleepless nights to nervous parents. But is this entrance exam really all that hard to crack or is it sheer hype that has made it a dreaded prospect? Well, to begin with it doesn't need any kind of super human effort to get into the IITs. If you have the right attitude and a desire to excel coupled with diligent guidance and are willing to give your heart and soul for a few years, you can make it to temples of technology also known as IITs without losing sleep.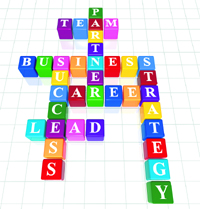 Leading the way
Prakash Kumar, a software engineer in a well-known MNC, was pleasantly surprised when he received his promotion letter. His new responsibilities also included leading a team of eight members. Prakash is one example of budding team leaders who are identified by their employers and nurtured to become successful leaders in future. Team leadership plays an important role in organisational growth in every organisation, whether big or small. With the ever increasing challenges in the modern day business environment, team leadership functions are also going through a radical change. Now merely leading a team doesn't necessarily mean leadership.
Careercature
Sandeep Joshi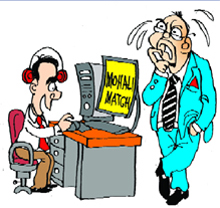 What! you are sending the cc of this office order to Dhoni and Afridi also!

news board
Solace from inflation
With day-to-day living turning costlier, companies have raised salaries to as high as 40 per cent especially at the junior levels, say experts. In recent times, inflation has been at high levels due to soaring prices of essential commodities. "Inflation has affected the salary hikes towards the higher side," executive search firm GlobalHunt's director Sunil Goel told PTI. "As inflation has raised cost of living, so direct impact is visible more at junior and entry level where companies have increased salaries up to 30-40 per cent," he said.
Rejuvenate your career
Lack of appreciation and growth avenues, unsatisfactory pay packet may make a career boring and create a feeling of stagnation among workers
Ajay Verma, though a bright executive, always seemed desperate to slip away from his office during work hours. His inattentive manner during important conferences was an irritant for his boss. His sluggishness was, in fact, triggered by his frustration over not getting his due at workplace after years of slogging and hard work.
Happiness @ work
Gems of ancient wisdom
Being good amid bad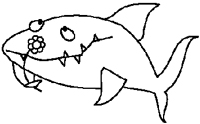 Can righteousness survive in an ocean of unrighteousness? Can the incorruptible stay afloat in the sea of corruption? Yes. While his siblings were doing all the wrong things, Vibheeshana never moved away from the right. Elder brother Ravana was abducting women, sister Shoorpanakha was going after every male who caught her eye and brother Kumbhakarna, though sleeping most of the while, was troubling sages in his waking period.