Battle of nerves
The team with the coolest head will have the winning edge in India-Pak semifinal today
Jaideep Ghosh
Tribune News Service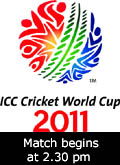 Mohali, March 29
Every afternoon, the entire Mohali looks up at the sky as a giant Indian Air force plane flies over the cricket stadium. But for the last two days, everyone in the two countries — India and Pakistan — has been looking heavenwards, seeking divine grace and the Almighty's favours for the match to come.
An India-Pakistan cricket match defies definition. All sins will be forgiven if India beat Pakistan, or the other way around. If the World Cup was won after that, great. If not, winning the 'real' match will surely make up for that.
Everything else is on the backburner. Win, win at all costs, is the only message going out and the nations are getting sucked into a whirlpool of anticipation, hope and also fear. After all, victory is only one side of the coin, which could well fall against you.
That is a literal. The toss will once again be a factor. Not as much as it has been in many matches in the World Cup, but definitely an edge which either team would like to gain. The biggest reason is that when you win the toss, you begin from the front, be it batting or bowling. The other team has to do all the chasing.
The other factor is that dew does come into play at Mohali. Curator Daljit Singh anticipates some dew, though not as much as it would have been in the winter. But efforts are on to get golf carts to run ropes over the ground to reduce the dew and chemicals, to retard the process.
In terms of team strengths, Pakistan enjoy an edge on paper in their bowling but this aspect hasn't really been tested in the recent past. When it comes to a stiff test for any bowling, India will always oblige. So this advantage needs to be seen in action before any claims are made.
India's batting surely is stronger. Pakistan thrives on the abandon of batsmen like the Akmal brothers, Kamran and Umar, and Mohd. Hafeez. The seniors in the side, Misbah-ul Haq, Younis Khan and Shahid Afridi have yet to come good consistently.
India on the other hand has had every top-order batsman chipping in, and with Sachin Tendulkar and Yuvraj Singh looking like men on a mission, that could be bad news for the Pakistani bowlers. Virender Sehwag is due for a big one and he couldn't possibly ask for a bigger stage than this to re-discover his form.
The teaser is the Indian bowling. The seam department seems to be dodgy, and the spinners have been steady at best. But steady works fine in a high-pressure match.