M A I N N E W S
Unmatched security for a high-voltage thriller
Pulling out all the stops to give security like never before, Punjab police deploys Special Weapons and Tactics Team, hi-tech gadgets, sniffer dogs and a fleet of 3,500 cops convert the PCA into a fortress
Rajmeet Singh
Tribune News Service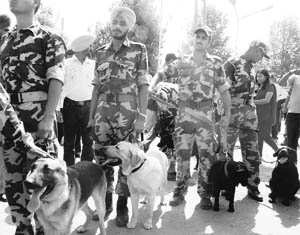 Sniffers dogs being taken to the PCA Stadium in Mohali. Tribune photo: Vicky Gharu
Mohali, March 29
Leaving nothing to chance for tomorrow's World Cup cricket semifinal clash between India and Pakistan at the PCA stadium here, Punjab Police today further strengthened security around the stadium by rushing in an additional 1500 policemen, taking the total count of policemen to 3,500.
Senior police officials said that keeping in view the mad rush of spectators, who are trooping in from different parts of the country as well as from abroad, the multi-layered security cover around the stadium has been further strengthened. The reinforcements are in addition to the Punjab Police's Crack Special Weapons and Tactics teams (SWT), elite NSG guards and the SPG that today took positions at the stadium. Outside the stadium, teams of Rapid Action Force (RAF) will be assisting the Punjab Police in controlling the crowds.
Since the high-profile match will be watched by the Indian and Pakistani premiers and several dignitaries, anti-aircraft guns have been placed at strategic positions to ward off any aerial threats during the match between arch rivals. According to sources, high-tech gadgets have been installed in the stadium to provide security cover to the visiting dignitaries.
In the evening, advance teams of Pakistan's security agencies also arrived at the stadium to oversee security arrangements.
A full security rehearsal was also carried out at the PCA, as the Director General of Police (DGP) PS Gill supervised the security arrangements. As part of the drill, 50 canines of the CRPF dog squad and Punjab Police were deployed in the stadium to sniff out any suspicious object as part of the security measures.
Earlier in the day, Punjab Police today deputed SWT personnel at the PCA. The over 6 feet tall men of SWT, armed with latest automatic weapons (they have been trained in Israel to deal with hostile situations) were the centre of attraction at the PCA.
Twelve hours before the arrival of the VVIPs, the entry of the escorts and security personnel attached to the VIPs was also restricted in the PCA. The main road leading to the PCA stadium, from the dividing road of Sectors 49 and 50 in Chandigarh had been sealed for traffic. The Mohali SSP GPSD Bhullar said security had been strenghtened and every effort was being made to ensure that the movement of VVIPS did not cause inconvenience to spectators.
Unlike yesterday, restrictions were imposed today on the movement of the general public around the stadium. Residents living around the stadium complained that despite having passes, they were being harassed by policemen.