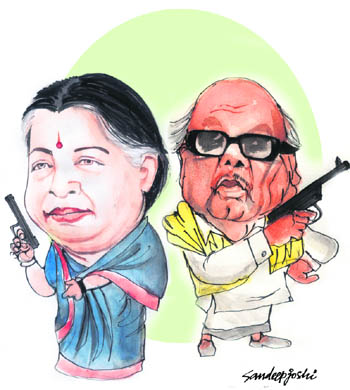 A no-holds-barred battle lies ahead in Tamil Nadu as the countdown begins for the high-stake Assembly elections slated for April 13. The octogenarian M. Karunanidhi, who at 87 continues to be at the helm of the DMK and is vying for his sixth term as Chief Minister, is up against his vengeful bete noire J. Jayalalithaa who is cast in the Goddess Durga mould, pining to vanquish him come what may.
Buffeted by anti-incumbency and the messy 2G scam in which DMK skeletons are tumbling out of the cupboard, Karunanidhi, in conjunction with the Congress, is fighting with his back to the wall. Jayalalithaa on the other hand is struggling to wash off the stigma of having 'ditched' a trustworthy and reliable Vaiko who had stood by her through thick and thin.
With both Karunanidhi and Jayalalithaa indulging in competitive populism in promising the voters all sorts of goodies, there is no knowing which way the wind will finally blow.
Over the years, Tamil Nadu politics has seen many twists and turns but at no point of time has it seen so much personal animosity and a virtual pathological dislike between a Chief Minister and a Leader of the Opposition as today.
It's years since Chief Minister M. Karunanidhi and Leader of the Opposition J. Jayalalithaa exchanged even so much as pleasantries. Currently, while Karunanidhi is at the helm, Jayalalithaa rarely attends the Assembly proceedings and the few occasions that she does, she and the Chief Minister ignore each other completely. When Jayalalithaa was Chief Minister last, observers point out that Karunanidhi would go to the Assembly virtually once in six months for a few minutes to mark his attendance to stave off disqualification.
A well-heeled friend in Chennai once told this writer how he invited both of them for his daughter's wedding. As chance would have it, their cars drove up to the venue at the same time from opposite directions. But as he waited with garlands in hand and relatives in tow for the grand welcome, both the cars backed off on seeing the other approaching and neither Karunanidhi nor Jayalalithaa attended the wedding.
It is not as though Tamil Nadu has a history of strained ties between rival political leaders. Oldtimers recall that DMK founder CN Annadurai was terribly upset when Congress leader K. Kamaraj was defeated by the DMK in 1967. C Rajagopalachari (Rajaji) who called Communists his 'enemy number one' had cordial ties with them on a personal level. When Rajaji passed away in 1972, 93-year-old Dravida Kaghazam founder Periyar E.V. Ramaswamy insisted on walking to the crematorium to pay his last respects.
The animosity reportedly started at the time iconic leader M.G. Ramachandran was expelled and floated the Anna Dravida Munnetra Kazhagam (ADMK) in 1972. "That's when M Karunanidhi called MGR 'a Malayalee who is an enemy of Tamils.' MGR retorted, calling Karunanidhi a 'theeya shakthi' (evil force). Yet, it was nothing like the open hatred that Karunanidhi and Jayalalithaa share with each other.
J Jayalalithaa, who was a protégé of MGR and hero-worshipped him, carried forward the legacy of personal animosity with a vengeance, and with time instead of softening, the positions hardened.
The violent edge to the Karunanidhi-Jayalalithaa feud dates back to 1989 when Jayalalitha was assaulted on the floor of the Assembly and emerged dishevelled and with her sari torn. Jayalalithaa blames Karunanidhi for attempting to have her disrobed a la Draupadi in the epic Mahabharata.
The ugly spat and mutual hatred peaked when Karunanidhi got her arrested on December 7, 1996. Riding the anti-corruption anti-Jayalalithaa wave, Karunanidhi had her jailed in a case of assets disproportionate to her known her sources of income. She was put in a dirty cell infested with insects and served food in an old aluminium plate like what the other inmates ate in.
Jayalalithaa was seething with anger after her arrest. The object of her fury was, predictably, Karunanidhi. So when she returned to power in 2001, there was one thought on her mind—revenge. Two days before the midnight arrest of Karunanidhi, this writer asked her whether vendetta was on her mind. She snapped back with her trademark acerbic style, "even if I am, why should I tell you?" The writing was on the wall.
A few months earlier, the mega-ostentatious wedding of her foster-son, the like of which India had probably not seen before, had considerably angered the people. The sight of Jayalalithaa and her associate Sasikala Natarajan in sarees made of pure gold was flashed across the national media.
The wordy duel between Karunanidhi and Jayalalithaa went to another level in 2009, the DMK patriarch even 'addressing' the AIADMK chief as Thirumathi (Mrs) though she isn't legally married, an obvious allusion to her rumoured marriage to an Andhra actor which was never confirmed.
There is, however, more to Karunanidhi and Jayalalithaa than their constant squabbling.
Both are sharp and have their own areas of strength. Karunanidhi is witty and an accomplished writer in Tamil. Jayalalithaa has an extraordinary memory and an excellent command over both Tamil and English. She also knows Kannada, Malayalam and Hindi.
On a negative plane, while Karunanidhi is prone to be sarcastic and sharp-tongued, Jayalalithaa is deeply suspicious of people and suffers from a siege mentality.
Karunanidhi is cited as an epitome of nepotism. His younger son Stalin is his heir-apparent as Deputy Chief Minister, elder son Azhagiri and nephew Dayanidhi Maran are Central ministers, daughter Kanimozhi is an MP. He has three wives and is known to divide his time between two of them.
Jayalalithaa, on the other hand is a loner who has only one known friend, Sasikala who has left her husband and lives with her.
While Karunanidhi prides himself in being an agnostic, Jayalalithaa is superstitious though she avoids making a show of it.
In June 2001, after the midnight arrest of Karunanidhi, his mayor-son Stalin, and Union ministers Murosoli Maran and T.R. Baalu when she was Chief Minister, Jayalalithaa flew to the pilgrimage town of Guruvayoor, Kerala, to donate an elephant to the Lord as 'Thanksgiving' while Tamil Nadu coped with the aftermath.
Three years ago, when the DMK was celebrating Karunanidhi's 84th birthday with great pomp, Jayalalithaa introduced a sour note when, enraged over a Chennai Metropolitan Development Authority notice to the AIADMK on demolishing the party headquarters, she vowed that when she comes back to power she would destroy Karunanidhi's residence.
A study of the backgrounds of the two titans of modern-day Tamil Nadu could provide some insight into what shaped their today.
Muthuvel Karunanidhi has been the leader of the DMK since the death of its founder, C. N. Annadurai in 1969 and has served as Chief Minister five times (1969–71, 1971–76, 1989–91, 1996–2001 and 2006–present). He holds the record of winning his seat in every election in which he has participated in during his political career spanning more than 60 years.
Karunanidhi is called by his supporters as Kalaignar (scholar of arts) and is so touchy about being addressed in any other form that he once admonished the Editor of a Tamil daily for calling him Karunanidhi and not Kalaignar in an editorial in the paper.
Born in Nagapatinam district in 1924, M. Karunanidhi began his career as a screenwriter in the Tamil film industry. He was famous for writing historical and social (reformist) stories which propagated the socialist and rationalistic ideals of the Dravidian movement to which he belonged.
Karunanidhi is known for his contributions to Tamil literature. His contributions cover a wide range: poems, letters, screenplays, novels, biographies, historic novels, stageplays, dialogues, songs, etc.
Jayalalithaa was born Komalavalli in Mandya district, Karnataka, in a Tamil Iyengar family. She was initially educated at the Bishop Cotton Girls' High School in Bangalore but later moved to Madras State along with her mother Sandhya, who was as an actress in Tamil cinema.
Jayalalithaa was then schooled at Sacred Heart Matriculation School in Chennai. She excelled in academics.
She started acting most of her well known hits when she was 15. She even acted in a Hindi film Izzat opposite Dharmendra but her most memorable films were those in which she paired with MGR.
Jayalalithaa was trained in classical dance (Bharata Natyam) and Carnatic Music from the age of 4. She is proficient in other dance-forms such as Mohini Attam, Kathak, Manipuri. She has given hundreds of performances in Bharatha Natyam all over India and has sung several songs herself in her films.
She was Chief Minister from 1991 to 1996, from May 2001 to September 2001 and from March 2002. Jayalalithaa was arrested on corruption charges in 1996, had to bow out of power but returned when the Supreme Court acquitted her after the High Court had held her guilty on charges of embezzlement and monetary fraud.
Now, as the two titans cross swords, Jayalalithaa draws much comfort from the fact that time is on her side. Over two decades younger than Karunanidhi, she fancies her chances of holding total sway over Tamil Nadu politics when the DMK passes the mantle on to Stalin who she considers a pushover.
But that does not reduce the stakes for the forthcoming election which is for both a do-or-die battle.