stars come calling
The stage is set for the World Cup final…err…semi-final between India and Pakistan at Mohali today. And a battery of stars have reached Chandigarh to cheer the men in blue
You don't even have to be a literate to tell us what is the most sought after place in Chandigarh these days. Anyone sitting in Nairobi (let's say a cricket fan) can also answer this! But you need to be smart to answer this one…what is the second most sought after place in Chandigarh? We make it quick…the Chandigarh Airport. You couldn't have gone that far!



Shabbir Ahluwalia, winner of Khatron Ke Khiladi 3 and the actor who shot to fame with Shootout At Lokhandwala, is in the city — Photo: Parvesh Chauhan

Game point
Housefull
The situation can't get better; city hotels with all kinds of stars (five, four or three) have put up Housefull boards. So, where do the last-minute arrivals go? So what if they carry the actor tag. So what if names like Neha Dhupia and Suresh Oberoi have been declined rooms in any hotels.
BLUE BRIGADE: Fans gear up for the India-Pakistan World Cup cricket match at the Tress Lounge-8 on Tuesday


India rocks: Enrique
His much hyped collaboration with Sunidhi Chauhan is playing on radio stations across the country and pop heartthrob Enrique Iglesias says that India has long been a favourite of his and he hopes to perform here in the near future.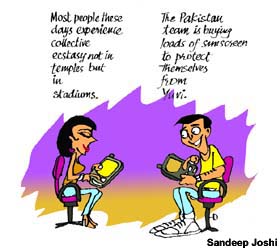 Tweets take to the field
Right now, there are only two kinds of people in the world — one that support 'the men in blue' and others that support 'their men in green'! Rule number two, tickets decide the new divide between the haves and have-nots.

Twitter 'elite' send half the tweets
Twitter may have over 200 million registered users, but half of the tweets shared on the popular microblogging site are actually generated by a small group of "elite" members, a new study has found.

Heartstrings and beyond
Born in Sahiwal village near Lahore, poet and playwright, Mazhar Tirmazi is known the world over for penning the iconic Umraan Langiyaan Pabbaan Bhar. He is based in London and visits his hometown each year. He is in Chandigarh on a two-week visit to the city for Sanjhe Rang Punjab De.

Par Excellence
Fix that slice
The Pull-slice is a combination of two mistakes. The club swinging in an out to in path, which will make the ball start left (Pull) and a clubface open to the path (Slice). This description is given for the right-handed players and the opposite applies to the lefthanders.

It's rocking
The song of the week is Dum Maro Dum, the title track of the movie Dum Maro Dum featuring a very seductive Deepika. The number instantly reminds of last year's hit Aapka Kya Hoga Janabe Aali. New lyrics were added to the original and the song has become a smashing hit.

Master Chef
The Sweet Sauce-boat
A brownie is a mere piece of cake till you spoon some warm,gooey chocolate sauce over it. A pie can transform into something worth raving about when its dressed in a drizzle of fruity sauce! A scoop of ice cream morphs into a dream when its enrobed in a toffee like, buttery, caramel syrup!

Future Shot


Be mobile smart
The world is getting smarter. So are our phones! Welcome to the world of smartphones. From the brick-shaped black objects to sleek smart handy smartphones, from the look, colours, keypad, everything inside and outside of the cell phone has gone in for a major change. The changing times have given us the new name too…smartphone.

chatter box
Salman guns for a Guinness World Record
Salman Khan is famous for going shirtless and now he will take his style to a high level. Buzz is that he will appear on TV show, The Guinness World Records Ab India Todega, to attempt a record for tearing T-shirts. We have seen Salman tear up T-shirts in numerous films but here he will be doing so on his own dum and not help from the unit.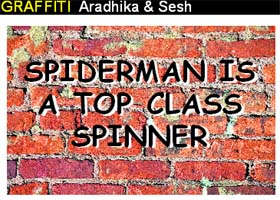 B-town bats for cricket

Bollywood stars have either cancelled their shoots or re-scheduled them in order to accommodate the viewing of the super-exciting India-Pakistan semi-final match on March 30. Here is what stars are doing on the day.

Ajay Devgn

He is shooting for Rohit Shetty's Singham in Goa and he will watch the match during the breaks between shooting. Rohit has promised to wrap shooting early so that his cast and crew can watch half the match.

Sonam Kapoor

She loves watching Sachin Tendulkar play but is not sure if she is going to catch the semi-final match.

Kareena Kapoor

She wants the shooting of Reema Kagti's film to wrap up fast so that she can watch the match. She is happy that Aamir Khan has rescheduled the shooting.

Aamir Khan

Aamir Khan is not going to watch the India-Pakistan match at home. He is flying to Mohali instead to catch the action live! He has cancelled the day's shoot and got VIP tickets for himself.

Imran Khan

He is going to be shooting in Madh Island the entire day so he hopes the director arranges for a television on the set.

Govinda helping Yuvika

Govinda is now recommending his Naughty @ 40 co-star Yuvika Choudhary in his forthcoming films. The young actress has been seen in Om Shanti Om and Toh Baat Pakki in the past.
PLAYING GODFATHER: Govinda and Yuvika

More on the block

Ajay Devgn and Katrina Kaif have been added to the cast of Krrishh 2. Devgn is set to play the villain and Katrina is the parallel female lead. Hrithik Roshan and Priyanka Chopra are the lead pair.
ADD ON: Katrina Kaif

On the professional front

Speculation is rife that Bipasha and John are no longer an item but they are continuing to work together. They have shot a commercial for a hair-care brand because they were paid a bomb. Their contract with a shampoo brand is over.
WORK WISE: Bipasha and John

Yana replaces Bipasha

Bipasha Basu is no longer doing an item song in Murder 2. She quoted an astronomical price for her time, choreographer, and costume designer. The Bhatts showed her the door and roped in Yaana Gupta instead.
NO AIRS: yaana gupta