PUNJAB

HARYANA

JAMMU & KASHMIR

HIMACHAL

REGIONAL BRIEFS

NATION

OPINIONS

LETTERS

BUSINESS

SPORTS

WORLD


M A I N N E W S
India is now 1.21 billion strong
The PROVISIONAL POPULATION TOTALS of census 2011 ARE out and reveal startling changes
Aditi Tandon/TNS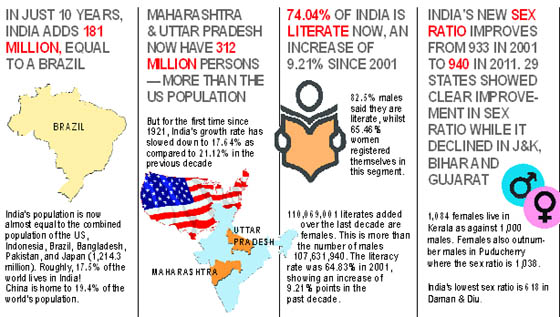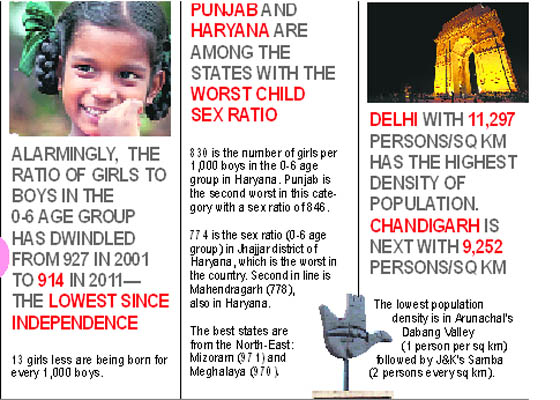 New Delhi, March 31
India is now home to 1,210.2 million people, having added 181 million to the pool over the last 10 years. This marks a 17.64 per cent decadal growth in the population (1,028 million in 2001) since Independence, and the lowest such growth in 90 years.

But the current population is still high — almost equal to the combined population (1,214.3 million) of the US, Indonesia, Brazil, Pakistan, Bangladesh and Japan. It is also higher than the 1,192 million projection made by the expert technical group on population projection.

The government can, however, take heart from the fact that Census 2011, whose provisional figures the Home Ministry today released, marks a milestone of sorts considering the population grew at the lowest ever rate in a decade, except between 1911 and 1921. The other gains include a rise of 9.21 percentage points in literacy (6.9 per cent increase for male and 11.8 per cent increase for female literacy) and a gain of seven points in the overall sex ratio — up from 933 females per 1,000 males in 2001 to 940 now.

Majority (29) states identified as gender critical have shown improved sex ratios except Jammu and Kashmir, Gujarat and Bihar where declines were noticed.

People's intolerance for the girl child, however, continues with the child sex ratio dipping alarmingly by 13 points to settle at 914 (against 927 girls per 1,000 boys between 0 and 6 years in 2001) — the lowest since 1961. Haryana, Punjab, Delhi and Chandigarh lead this dubious club, with 830, 846, 866 and 867, respectively, child sex ratios. Dadra and Nagar Haveli, which had the highest child sex ratio of 979 in 2001, posted the steepest decline of 55 points this year to settle at 924.

C Chandramauli, Registrar General of India, today celebrated the decline in decadal growth of population and the first ever drop in the population of the most populated states, saying, "The percentage decadal growth registered the sharpest decline since Independence — 3.90 percentage points from 21.54 per cent growth for the previous decade. For the first time, the Empowered Action Group States with the highest population saw decline after years of stagnation."

But UP remains the most populous with 199.6 million (16 per cent of our population) followed by Maharashtra with 112.4 million (9 per cent of total population). Punjab, Haryana and Chhattisgarh make up 2 per cent each of India's people.

Sikkim with 6,07,688 is the least populated state and the NCT of Delhi the most populated among UTs with 1,67,53,235 people; its population density is also the highest at 11,297 people per sq km followed by Chandigarh's 9,252. Chandigarh, this year, crossed the 1 million mark, registering a population of 10,54,686.

Overall, we now have 623.7 million males and 586.5 million females — the percentage growth being higher (18.12 per cent) for females than for males

(17.19%). This, along with an improved maternal mortality rate, explains a slight increase in the overall sex ratio.

But demographers have a warning. "The fact that the population is higher than we projected shows that fertility rates are not declining as they should. The unmet need for contraception remains huge. Deceleration was expected due to declining mortality but we need to reduce the total fertility rate to achieve population stabilisation. The current rate of 2.6 is high. It's time the government repositioned family planning programme," SC Gulati, member, technical group on population, said.