M A I N N E W S
FDI policy liberalised to boost inflows
Sanjeev Sharma
Tribune News Service
New Delhi, March 31
The government today relaxed a major condition in foreign direct investment (FDI) norms which has been a significant cause of friction between Indian and foreign joint venture partners and at times led to major corporate battles. The government abolished the condition of prior approval for setting up of a new unit in case of existing joint ventures and technical collaborations in the 'same field'.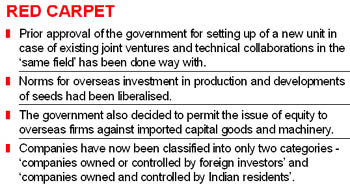 This is a major relief for MNCs and reduces the bargaining power of domestic industry. A major trigger for the relaxation in norms is that there has been a sharp fall in FDI inflows in the past year. For the 11-month April-February period this fiscal, FDI inflows into India declined 25 per cent to $18.3 billion.

"It is expected that this measure will promote the competitiveness of India as an investment destination and be instrumental in attracting higher FDI and better technology inflows into the country," an official statement said.

MNCs wanting to invest in the country had to take a no objection certificate (NOC) if it had a joint venture or technical collaboration with an Indian company. At times, the Indian partner would stall the NOC, which led to the MNC proposal to be put on hold. MNCs were protesting that often the grounds were not genuine and delayed their proposals.

Since liberalisation, domestic industry had sought a NOC clause in joint ventures as several MNCs were coming in and there were fears of the domestic industry marginalised. However, with the India growth story, domestic companies have also achieved scale and evolved strategies of doing business so the MNC threat has diminished.

CII said that given the fact

that six years have elapsed since 2005, the industry would not have any issue to note that the 'existing venture / tie-up conditions' of the erstwhile Press Notes 1 & 3 of 2005 have been done away with.

"The provision was an interim safeguard mechanism provided to the domestic industry in 1998. Indian industry has now reached a stage of commercial and economic maturity and can negotiate joint venture contracts with its foreign counterparts on an equal footing, without compromising its interests in any manner.

CII hopes that this measure would encourage foreign companies to look at new opportunities in India."

"After stakeholder consultations, the government has now decided to permit issue of equity, under the government route, in import of capital goods and machinery," an official statement said.

This measure, which liberalises the conditions for conversion of non-cash items into equity, is expected to significantly boost the prospects for foreign companies doing business in India, it said.

In the agriculture sector, it said that FDI will now be permitted in the development and production of seeds and planting material without the stipulation of having to do so under 'controlled conditions'.

The earlier categorisation of 'investing companies', 'operating companies' and 'investing-cum-operating companies' has been done away with, it added.