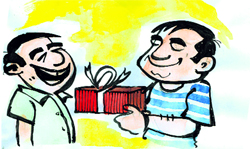 Foolproof Strategy
If you can walk the walk and talk the talk, one second is what it takes to make a fool of someone. Today, you officially have 24 hours, full of those seconds. Friends, co-workers, roommates, siblings…there's no dearth of people to indulge in a bit of leg-pulling. That too with extempore ideas! Here's legitimately wishing everyone a very Happy Fool's Day
A legacy & much more
Wali Hamid, Pakistani classical vocalist, ninth-generation singer from the Patiala Gharana, is all set for his Bollywood debut opposite Kangana Ranaut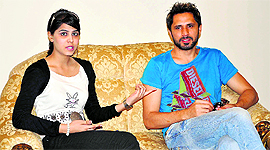 Performing at Wembley Arena, London, UK, is a dream come true for any artist ever born. And Wali Hamid Ali has done that not once but thrice! This Pakistani classical vocalist, ninth-generation singer from the Patiala Gharana, apart from touring the world with his fusion band Raga Boyz, loves to come to India time and again.


Sibling revelry: Mushtaq Afridi with his cousin
Web of trouble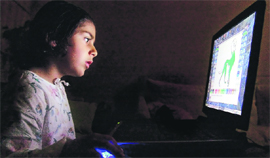 A new study has found that more and more parents are concerned that increased amounts of time their children spend online, social networking, twittering and instant messaging each other is decreasing their interactive time with family members. According to the study from the USC Annenberg Center for the Digital Future, which queried roughly 2,000 families, more than half of parents now restrict Internet use as a form of punishment.

Saif has cricket in his blood
Saif Ali Khan's father Mansoor Ali Khan Pataudi did the nation proud when he was a cricketer. The versatile actor talks about his passion, fondness, and memories of the game.
Field day

: I love cricket and have a lot of respect for the game. More than just a past-time, it is like a family tradition for us. The World Cup is certainly keeping me occupied these days, though I confess that I haven't been able to follow it ball by ball due to prior commitments. But I have made it a point to catch the crucial matches.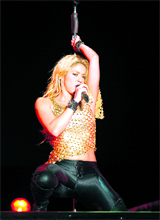 Rock on: Popstar Shakira performs during her concert in Santo Domingo. She is on her The Sun Comes Out world tour. —Reuters


Rahul's gay and happy
Rahul Bose will soon be seeing in Onir's next film I AM where he plays the role of the protagonist, Omar. He talks about his role, the film and more…

Casting couch does exist: Ranveer
Newcomer Ranveer Singh who wowed us with his stunning performance in Band Baaja Baraat is happy with the way his career is shaping and offers but there is one thing, which Ranveer doesn't like. He explains, "Unfortunately, the casting couch exists in our industry.

Action time for Darsheel
Child star Darsheel Safary is said to have performed some daring action sequences in his upcoming film Zokkomon under the guidance of Hollywood actor Jackie Chan's stunt director William Ong. The 15-year-old, who made his Bollywood debut with Aamir Khan's Taare Zameen Par, is playing a superhero in the film. He has performed all the stunts himself, and will be seen in a never-seen-before avatar, says a source.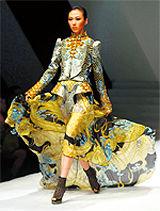 Dress circle: A model presents a creation for the 16th Cherry Cup China New Fashion Designer Contest show during China Fashion Week in Beijing on March 30. — Reuters
Art imitates life
'Countryside Saga' the annual exhibition by the students of INIFD replicated the beauty of rural life. The theme was not restricted to the villages of Punjab, Rajasthan and Gujarat but also captured the scenic calm of the rural life in Scotland, Mexico, and Netherlands also found expression in the creations of the designs.
Trend Setter
Minimal is classy
Every person has a sense of style. Yet, there are only a few who'd attract the second glance, or make heads turn. The magic could lie in tousled hair or it could lie in a torn jeans! This week's face in the crowd, Nimrat Narang, BA, interior designing student, believes in individuality when it comes to dressing up.
TROUBLE SHOOTER
This too shall pass
I am pretty grounded. I know how I feel pretty quickly. I am agile and adaptable, able to examine my shifting thoughts and feelings within a few minutes. But when I heard that my cousin had been in a very bad accident, I started fearing that the same would happen to someone in my family. I was unable to get the thoughts out of my head.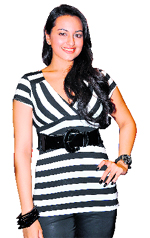 Kamal, Sonakshi in Vishwa Roopa The Kamal Haasan-Sonakshi Sinha starrer, which will be made in Hindi and Telugu has been titled Vishwa Roopa.
Role Call: Sonakshi Sinha
HIGH SPIRITS
Guava magic
Guava is an unusual concoction is a powerhouse of vitamin C and fibre. Have it with your afternoon snack to complement a chatpata dish. Remember to use fully ripened guavas as they taste the best and also you need to add less sugar. Now that you know about its goodness, Cocktail Jockey Vineet Mishra tells you how to make the best use of it in Chatpata Guava
Fashionista
The cape story
Cape is the friendliest ensemble this season. Size no bar, age no bar, shape no bar, colour no bar and even fit no bar! It is the most body friendly and a very feminine piece of clothing. In short, it is a light flowing piece that is just apt for these summers. This garment is a hot favourite of most designers as it was seen doing many rounds in the recent fashion week.