THIS ABOVE ALL
Holi of good old days
Khushwant Singh




Khushwant Singh
There was a time when the festival I looked forward to enjoying the most was Holi. There has come a time I dread the same festival and prefer staying indoors till the festivities are over. The first phase lasted all my years at school. The venue was the sprawling mansion in Kashmiri Gate of Lala Raghubir Singh Jain, founding father of Modern School. There were around 50 men, women, boys and girls ó Hindus, Sikhs and Christians ó squirting coloured water and gulaal powder on each other and shouting Holi hai.
All this came to an abrupt halt at noon. We showered, got into fresh clothes and sat on the lawn in lines and served freshly-fried poories and potato curry. It was all over by 1 pm and we slept soundly till the evening.
As I grew older and Holi became rougher, the mode and time of celebrating it changed from morning to late evening. We stayed indoors till the revellers called it a day. We drank a concoction of bhang (hashish).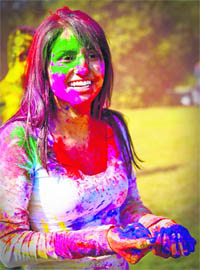 Nowadays Holi is celebrated in a rough manner
Nihangs are famous for imbibing bhang round the year. They call it sukha parshad (peace-giving offering). You can see them outside gurdwaras, crushing almonds and hashish in a mortar and pestle. They mix the stuff with sugared milk and take it in large quantities till they are drunk. They call themselves Guru ki fauj (the Guruís army) and claim to be tyar bar tyar Khalsa (ever-ready to engage in battle).
What kind of warriors they could be, loaded with bhang, is not difficult to imagine.
Greatest leader
For all the pomp and show;
Gandhi died in India long ago;
And we would never know;
His greatness, till the aliens were to declare;
That he is of all times the greatest leader;
Until Egypt were to rise en masse;
And Tunisia a threshold cross;
Peacefully to usher in democracy;
We love him, by him swear;
And day and night sing his prayer;
But never our assets truthfully declare;
True followers of his philosophy;
We never indulge in corruption, practice bribery;
Not only our politicians live poorly;
Our traders serve only their country;
Even an IAS couple collects five hundred crore only;
So as long as the sun rises, piercing the cloud;
We will do Gandhi proud.
(Courtesy: Kuldip Salil, Delhi)
Beggars
In British days, India was known as a country of maharajas, snake charmers and beggars. While the first two species are almost extinct, beggars are surviving perhaps by adopting Darwinís theory of survival.
Thus recently, in a Delhiís posh colony, a beggar rang the bell of a house. An elderly lady answered the bell and told the beggar to come to collect alms later when her husband, too, will be at home. Thus spake the beggar: "Madam ji. Please note my mobile number and give me a call when your husband comes."
Mental status
An elderly farmer from Himachal Pradesh was brought into the hospital because he appeared confused and was thought to have had a stroke. Attempting to assess his mental status, the emergency doctor asked: "If you have a hundred sheep in a pasture and seven escape, how many will be left?"
"Zero", replied the farmer.
"No, the answer is 93," said the doctor.
"Doctor sahib," the farmer quipped, "you donít know anything about sheep. When one of them decides to go, they will all go."
(Contributed by Reeten Ganguly, Tezpur)