Age no bar
Ageing heroes have romanced younger starlets for long in Hindi film industry, but the trend seems to be reversing these days as the queens of tinselville are being cast opposite younger heroes, writes Shama Rana
Mark Twain has rightly said that age is an issue of mind over matter. If you don't mind, it doesn't matter. Our film industry is taking the saying a tad too seriously. Age is no bar for Bollywood actresses, it seems. Though ageing heroes have romanced younger starlets for long, the trend seems to be reversing. Producers have no longer any reservations about pairing a mature heroine with a comparatively younger hero.
Of late, the queens of tinselville have been cast opposite younger actors. Vidya Balan (29) kicked off a trend by sharing screen space with Shahid Kapur (27) in Aziz Mirza's Kismat Konnection. Ranbir Kapoor is one of the young stars of Bollywood, to be paired opposite Konkona Sen Sharma, in the movie Wake Up Sid (inspired from Kannada movie Eddelu Manjunatha, 2009). Besides being a story of a boy growing up, it captures beautifully the theme of older woman and younger man pairing successfully.
Bollywood veteran Rani Mukerji had a much younger Shahid Kapur as the male lead in Dil Bole Hadippa. The dusky bombshell Bipasha Basu, too, has a penchant for younger heroes. She worked with the one-film-old Neil Nitin Mukesh in Aa Dekhein Zara and went on to pair up with Ranbir Kapoor in Bachna Ae Haseeno and the debutante Maradona Rebello in Pankh.
These heroines are not the first ones to have worked with younger co-actors. Earlier, too, there have been examples of older actresses and younger actors. Dharmendra had starred with Meena Kumari in Phool aur Patthar. Waheeda Rehman and Nutan played the romantic lead opposite Amitabh Bachchan, and Asha Parekh got courted by Rajesh Khanna and Feroze Khan. Aishwarya Rai Bachchan, 35, has romanced her husband, Abhishek, 32, in several films, including Guru, Sarkar Raj, Raavan. The same goes for Hrithik Roshan-Aishwarya Rai, in Jodhaa Akbar, Dhoom 2 and Guzaarish.
Today, a lot of older women hook up with younger guys, on and off screen. Hollywood, in particular, has defied the ageism stereotype, with celebrities like Madonna and Demi Moore marrying younger men (10 and 15 years younger, respectively, with director Guy Ritchie and actor Ashton Kutcher). Susan Sarandon, 60, has been putting up with Tim Robbins, 48, for a couple of decades and Barbara Hershey, 59, has Lost's smoldering Naveen Andrews, 38, to keep the company.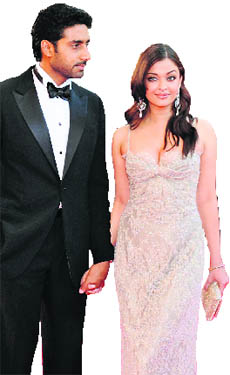 REEL AND REAL LIFE : Aishwarya Rai, 35, has romanced husband, Abhishek Bachchan, 32, in several films
In Hollywood, Stanley Kubrick's movie Lolita (1962) set the gold standard for May-December romances. The older woman-younger man saga came out in full bloom in 40 Carats (1973), where a 40-year-old woman, vacationing in Greece, meets a 22-year-old, also on vacation.
In 2009 came Cheri, a film directed by Stephen Frears, starring Michelle Pfeiffer and Rupert Friend. It is an adaptation of a novel by French author Colette. Set in 1900s Belle `C9poque Paris, Cheri tells the story of the end of a six-year affair between an aging retired courtesan, L`E9a, and a flamboyant young man, Fred, nicknamed Ch`E9ri (dear).
Back home, the exploration of this syndrome began with the advent of talkies — Jeevan Naiya starring Devika Rani (1908) and Ashok Kumar (1911). The trend of older actress-younger actor continued but sparingly in comparison to the older actor-young actress movies. Years ago, in Kamal Amrohi's bold experimental movie Daera, the frail and lovely Meena Kumari was married to an old, dying man.
"Though a script's demand continues to be vital, casting an older actress and a young actor becomes the talk of the town, which is always welcomed by any filmmaker," says trade analyst Taran Adarsh.
Romance knows no age, so proved the mesmerising Madhuri when she was cast opposite Akshaye Khanna in Mohabbat and in her comeback film Aaja Nachle, and with Saif Ali Khan in Arzoo.
Age has not been a factor for real men and women. This has been a proven fact in both Bollywood and Hollywood. There have been films like Dil Chahta Hai and Being Cyrus featuring Dimple Kapadia where a woman in her forties falls for a much younger man.
In Farhan Akhtar's Dil Chahta Hai, Akshaye Khanna is besotted with an older woman, Dimple Kapadia. Filmmaker Kabir Khan feels stereotypes should be broken. "If a 60-plus Amitabh Bachchan can romance an 18-year-old girl in a movie, then a slightly older actress, too, has the right to romance a hero much younger than her," he says.



MAY-DECEMBER CHEMISTRYFrom left: Demi Moore - Ashton Kutcher, Madonna-Guy Ritchie; and a still from Chéri
When Shabana Azmi fell in love with a younger Zakir Hussain and the love was reciprocated in the film Saaz, the idea was almost frowned upon. The relationship between Archana Puran Singh and Upen Patel in the film Money Hai Toh Honey Hai is an example of the same. A struggling model, Upen falls prey to fashion designer Archana's promises of making him the best model in town. But this relationship is a light-hearted take on the entire issue.
Similarly, we are treated to a 36-year-old Tabu being wooed by the debutant Kunal Kapur in Meenaxi — A Tale of Three Cities and a 29-year-old Ameesha Patel cootchie-cooing with 25-year-old Zayed Khan in Vaada. Likewise Kangana Ranaut was getting cozy with Adhyayan Suman in Raaz — The Mystery Continues and Sushmita Sen with former real-life love interest Randeep Hooda in Karma Aur Holi.
But these relationships aren't always portrayed in a constructive way. Terms like 'cougar' (slang for an older woman seeking a younger man) portray the woman in a disapproving manner, rather than showing her as an empowered, independent and affectionate person.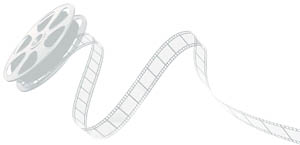 Simi Garewal (1947) was paired opposite Rishi Kapoor (1952) in Mera Naam Joker and Raj Kiran (1955), Rishi Kapoor (1952) in Karz Incidentally, Mala Sinha, Nutan Behl, Waheeda Rehman, superstars of their time, were all born in 1936 and were cast opposite six years younger Amitabh Bachchan (1942) in Sanjog, Saudagar and Kabhie Kabhie, respectively. Hema Malini (1948) starred opposite Kamala Haasan (1954) in Ek Nai Paheli. In 1978, came Junoon with real-life couple Jennifer Kendel (1933) and Shashi Kapoor, who was five years younger to her. Amrita Singh (1958) too had a thing or two for younger actors. Raju Ban Gaya Gentleman, featured Amrita Singh and Shahrukh Khan (1965) and Suryavanshi had Amrita Singh (1958) with Salman Khan (1965) in the lead kowtows showing the same trend.
This role reversal seems to be working with both the audiences and the Indian society, as it has become receptive towards liaisons of younger men and older women in movies and otherwise, too. One reason could be that today's actresses are quite figure conscious and manage to look much younger than their even younger male actors in the movie. Yet another reason could be Bollywood's long history of featuring older heroines, beginning with Devika Rani opposite younger Ashok Kumar making his debut with Jeevan Naiya in 1936.
"Societal attitudes have definitely changed," opines Susan Winter, 52, co-author of Older Women, Younger Men: New Options for Love and Romance. Nowadays, older women-younger men pairing hardly make news except in the dogmatic minds. When men act opposite women, young enough to be their daughters or grand daughters and still be accepted by public at large, then why is it a deviation for older women? A study in 2003 by theAmerican Association of Retired Persons (AARP), a US-based non-governmental organisation and interest group, revealed that 34 per cent of all women over 40 in the survey were dating younger men, and 35 per cent preferred it to dating older men. Finally, in a recent survey by Cosmopolitan, 29.3 per cent of men said they would prefer dating an older woman. And as they say that when a man/woman of 40 falls in love with a girl/boy of 20, it isn't his/her youth he/she is seeking but his/her own.