MUSIC ZONE
Saurabh & Gaurav
Duran Duran ó All You Need Is Now
(S-Curve Records)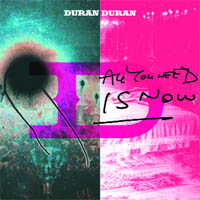 Mark Ronson, a self-professed Duran Duran fan since his childhood, was engaged to helm Duran Duranís 13th album, armed with the intention of making it the rightful follow-up to 1982 classic Rio ó with LeBon sounding as good as ever, the beats of Roger Taylor fortify the rhythm section, with John Taylorís bass work bouncing on every track, and Nick Rhodes adding his keyboard mastery. Runway Runaway, about a young woman escaping from home to explore the world, is classic Rio-era Duran Duran with a musical nod to Last Chance on the Stairway. Girl Panic! with its trademark Duran Duran angular riffs and syncopated rhythm is almost too reminiscent of Girls On Film. Being Followed sees the band finally hitting their stride; with a driving pulse that almost recalls Blondieís Atomic, that has just the right amount of vintage appeal. Other Peopleís Lives is classically Duran Duran, Mediterranean radiates seaside charm, and Final Fantasy zips along appropriately. Blame the Machines is incredibly catchy, with Nick Rhodesí layers of spacey and rhythmic keyboards. Too Bad, Youíre So Beautiful co-written with Kaiser Chiefsí Nick Hodgson, flirts with both funk and dance music, while Diamond In The Mind is another brief reprisal with strings, lending an air of old-school weight to the album. The closing Before the Rain sets off into slow-motion frenzy, with darker lyrics, strings, and electronics. All You Need Is Now is bold and impenitent; a solid slice of power-pop thatís unmistakably Duran Duran.
Best track: Girl Panic!
Worst track: The Man Who Stole a Leopard
Rating ****
Rise Against ó Endgame
(Geffen)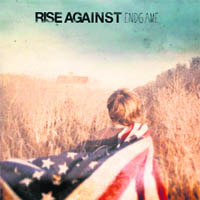 Produced by Bill Stevenson, Endgame continues Rise Againstís trend of energetic, anthemic punk. Opening with Architects, a galloping punk rock song with a typically catchy chorus about retaining youthful idealism, McIlrath sings the line: "Do you remember when you were young, how you wanted to set the world on fire?" Make It Stop (Septemberís Children) is perhaps the best example of how much this band has changed. The title of the album hints at a more cynical view towards the world, particularly its destruction. This is especially obvious in the track Survivorís Guilt, which incorporates dialogue from 1970 war film Catch-22. Excellently captured by revered punk rock production duo Bill Stevenson and Jason Livermore, elsewhere on Endgame, Rise Against deliver a follow-up to the acoustic Hero Of War, from 08ís Appeal To Reason in Survivor Guilt. Help Is On the Way sets a stirring message with a spunky beat and a persistent bass line doing the groundwork for the poignant lyrics. Wait For Me is a lovely, kaleidoscopic number, feeling somehow more alive than most of the other songs.
Best track: Make It Stop (Septemberís Children)
Worst track: This Is Letting Go
Rating **
Noah & The Whale ó Last Night On Earth (Mercury)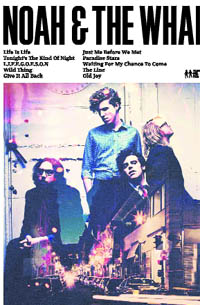 Hailing from London, Noah and the Whale was started in 2006 by Charlie Fink, Tom Hobden, Urby Whale, Laura Marling, and Doug Fink. Opener Life Is Life gives way to electronic keys and Finkís Paul Simon impression ó it also lays the foundation for the albumís inspirational sound ó which is far more daring than anything that Noah & The Whale have done before. The first half of the album is written almost completely in third person narratives, and it begins to furnish the album with the feel of a world looked at not through a characterís eyes but through a cameraís lens. Thereís the blissful nostalgia of Just Me Before We Met, the wistful Waiting for My Chance to Come and the thrilling finale of Old Joy, which begins leisurely, before bursting into a techni-colour expression of reinvention and rediscovery. Fink, meanwhile, continues to utilise his distinct, deep vocals ó yet sounds more pulsating during the chorus and is backed up to brilliant effect by a gospel backing towards the end. Despite the synth on L.I.F.E.G.O.E.S.O.N., itís really the bandís trademark breezy pop that endears the song to you.
Best track: Life Is Life
Worst track: Wild Thing
Rating **
Album of the month
James Blake ó James Blake
(Universal Republic)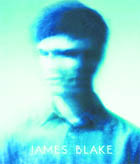 After a string of three 2010 EPs, The Bells Sketch, CMYK and Klavierwerke that primarily used sliced R&B samples and piano dub to turn some serious heads, he opted to stretch his vocal cords and lead this release with a delicate cover of Feistís Limit to Your Love. Over fluttering, arrhythmic sounds and a four-note synth pattern that gets steadily louder, Blake sings various pitch-shifting distortions. Blakeís songs are built around a single typically melancholic lyric and melody that he works over, while gradually switching stylistic gears. With more straightforward singing, the powerful To Care (Like You) displays Blakeís precision and self-control in production and song craft. I Mind and Unluck, interestingly enough, prove to be a pretty accurate representation of Blake. There are no other covers, but the record likewise finds the barren maturity of Blakeís voice and lyrics coming to the fore. Whatís most striking about James Blake is the use of silence. The way silence is inserted into tracks makes you crave for the next note or beat. The most energetic I Never Learnt To Share turns from playful soul warm-up to a haunted experimental flight that twists into a heavy wall of contemporary rhythms. On the track, Wilhelm Scream, he sings, "I donít know about my dreaming anymore, all that I know is Iím falling, falling, falling, falling, falling," and the floating music drops the floor away. Lindesfarne I and Lindesfarne II are prime examples of auto-tune being used to its most effective, creating an ambience and emotional tone far greater than other vocoder endorsers. James Blake reaches its highs very often. Itís soulful, gospel sentiments are very condensed.
Best track: Limit to Your Love
Worst track: Give Me My Month

Top 10 singles
n Born This Way Lady Gaga (CU)
n E.T. Katy Perry feat. Kanye West (CU)
n S&M Rihanna (NM)
n Forget You Ceel Lo Green (FD)
n Just Canít Get Enough The Black Eyed Peas (CU)
n Grinade Bruno Mars (FD)
n Look At Me Now Chris Brown feat. Lil Wayne & Busta Rhymes (CU)
n Loser Like Me Glee Cast (NE)
n Tonight (Iím Loviní You) Enrique Iglesias feat. Ludacris & DJ Frank E (FD)
n Down On Me Jeremih feat. 50 Cent
Legend: CU (coming up); NM (non-mover); FD (falling down); NE (new entry)