TELEPROMPT
Cricket epidemic
Mannika Chopra

I candidly admit that I am a card-carrying member of a club that sees a cricket match as just a cricket match. But if you were to see television news channels these days, particularly the shows on the face-off between India and Pakistan, you will realise what is actually being played at Mohali on Wednesday is a surrogate war.
By the time this column appears, the "war" would have been won or lost, and many unlike Mani Shankar Aiyar, who, on NDTVís We the People, said he could not care less who was victorious ó he simply wants the best team should win ó most of India, especially in the North, will be in fits of jubilation or in the depths of depression by Thursday.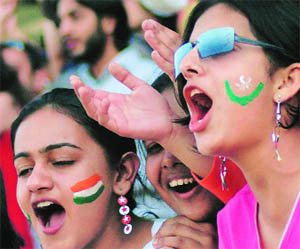 An India-Pakistan cricket match always whips up mass hysteria
Like Aiyar I, too, am getting sick of seeing the sport of cricket dressed up as nationalism dovetailing into a one huge sense of collective national identity. Just scan the scenes at the Wagah border where news channels like Zee News and Aaj Tak have set up camp. Here the crowds are cheering and ready to jeer for the Wednesday marathon. Cricketers like Bishen Bedi and Mohinder Amarnath may be trying to quell passions with nifty poetic verses but the media, soaked in cricket fever, wonít have any of it. The cricket epidemic is on but I am afraid I have yet to get a sniffle.
Donít get me wrong. I want India to win as much as the next Indian but it is simply not a do or die situation. I equally want India to win against other teams as well. In fact, let the truth be told, I wanted India to win desperately against the cocky Australians. But I am not deluded enough to believe that a loss in Mohali is a loss of national pride and an assault on Indiaís Indian-ness. I think there are more pressing things to worry about than the sight of captain M.S. Dhoniís, admittedly, shapely physique or salivating over every quote that Pakistanís Interior Minister Rehman Malik happily gave on match fixing.
On the topic of match fixing, CNN-IBNís Rajdeep Sardesai on his nightly show tried hard to get his panellists to say that given the enormity of the stakes, it would be hard to fix this particular match, but, sadly, no one came out openly to say that would not happen. Senior sports journalist Pradeep Magazine looked pained as he said: "I want to believe that there is no match fixing but`85" The words and thoughts were left hanging in the air. Sir Viv Richards was more definite.
Try as I might, I couldnít find the middle-of-the road voices on the small screen, apart from Aiyar. The general tone has been one of cheesy nationalism and a welter of the Tricolour being painted on every possible corner of the human body and a rash of Indian flags erupting on the screens. Culture, identity and sports are tightly intertwined in the mediaís DNA, and should there be an India loss, I dread to think of the popular reaction. The sensex will crash but I hope the national mood wonít. Maybe its time to strip the sport of its ultra patriotic hues.
And, yes, there are other channels that one can watch that have nothing whatsoever to do with the C word. Like TLC. Oops, there is a C right here, too, but thankfully it has noting to do with cricket. Tucked away every evening in the channels line-up is a show called Sarah Palinís Alaska. For those who came in late, Palin was a Republican vice- presidential candidate in the historic American elections last year.
This year she has sort of become a television host-cum-tour-guide, ostensibly telling the world, or at least her TV audience on how rich and magnificent, her home state Alaska is. The only problem is that the show seems more like a well-planned campaign for the Palinís second attempt in 2014 than a benign travel show.
It is all about family outings, in the admittedly magnificent natural wonderland of Alaska. And how she networks with the local people for their betterment. She is always smiling, almost pumping flesh and even getting her position to right to life across.
I kid you not.`A0 Sarah and Todd Palinís youngest child has Down syndrome and the politician talks of how she refused a medical termination, adding clearly: "I donít know how people do it." Well, I donít know how channels allow their air space be used by what is clearly a positioning programme. I really have to wonder how the show fared in the TRP race internationally.