Corporate chronicles
New book traces path of IIM alumni who chose to be entrepreneurs
A book tracing the inspiring journey of 25 IIM Lucknow alumni, who chose independent entrepreneurial careers instead of run-of-the mill private-sector jobs, was released in New Delhi recently.
Written by IIM-L alumni, Amit Haralalka and Amitabh Thakur, The Fresh Brew: Chronicles of Business and Freedom intends to encourage its readers to follow their dreams while choosing a career.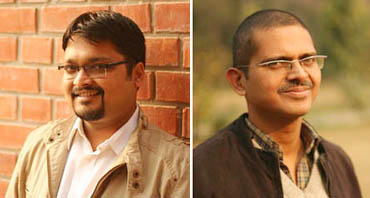 Amit Haralalka and (right) Amitabh Thakur's book dwells on the inspiring journey of B-school graduates who did not tread the beaten track

"If someone wants to have freedom from traditional job options, then the person should follow his heart. Start with confidence whatever you want to do and things will start falling in place later. The IIMs are not only limited to serving private companies, they also have a role in social entrepreneurship," says Amitabh Thakur, who is an IPS officer now.
The book recollects experiences of these individuals and brings out the subtle dilemmas that they negotiated – both personal and professional — in diverse fields like films, football and art.
"The purpose is to narrate these success stories to the rest of the world so that it might serve as a reference point for many such other young and not-so-young people, who have always wanted to do different things but have been fearful of the evil called failure," says Haralalka, who has experience across fields like consumer goods, technology and education.
To make the narrative realistic, the writers have dwelt on a person's concerns about saving enough money for the family and securing one's own old age.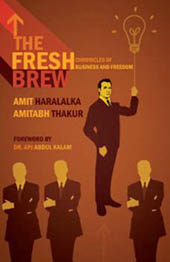 "Apart from highlighting the success part, we also have brought out the pain and struggle experienced by these inspiring people in achieving their glory," says Thakur.
The individual efforts that the book narrates include Sudhanshu Sarronwala, who sold his company in Singapore to work for the WWF, Jaya Jha, who created India's first online self-publishing platform, Nitin Das, who is a socially relevant filmmaker, and Kireet Modi, who is in the greeting cards business for almost two decades.
The foreword to the book has been written by former President of India, Dr APJ Abdul Kalam. Praising the effort, he writes, "I am sure, this book will inspire the creation of many such leaders who would emerge as employment generators for the nation."
"He is the appropriate person to write the foreword to our book. He wants youth to follow their dreams and help in nation building. We had approached him and he had happily agreed," says Thakur.
A portion of the royalties from the sale of this book have been pledged towards constituting "The Manjunath Fresh Brew Award for Social Entrepreneurship." Constituted to promote the spirit of entrepreneurship with a social commitment, the award will be given out on an annual basis by the entrepreneurship cell of IIM-Lucknow. — PTI