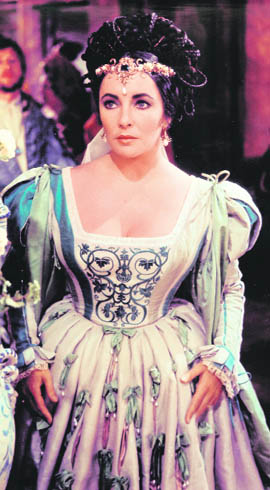 Elizabeth Taylor in a scene from her 1967 film The Taming of the Shrew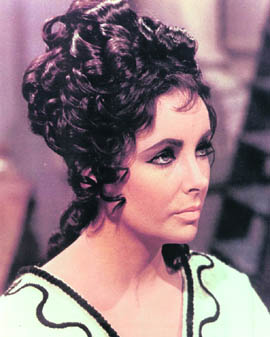 Cleopatra was one of Liz Taylor's most memorable roles Photos: Reuters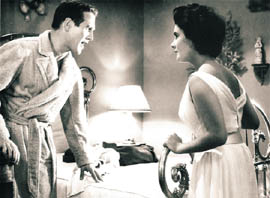 Seen with actor Paul Newman in the 1958 film, Cat on a Hot Tin Roof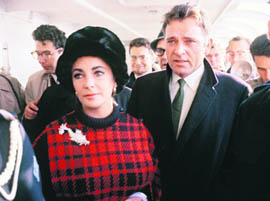 Liz had reportedly expressed a desire to be buried next to actor Richard Burton
to whom she was married twice

Living life LIZsize
Hollywood legend Elizabeth Taylor's life was as dramatic as her career, writes Ervell E. Menezes

THE stunningly beautiful Hollywood star Elizabeth Taylor, who died of congestive heart failure in Los Angeles last week at the age of 79, dominated the news for seven decades, either for her sterling performances on the screen or for her dramatic lifestyle.
Beginning her career as a child actress at 13, she quickly transformed into a mature, emotionally charged woman in classics like A Place in the Sun and Cleopatra. From the teenaged girl, who disguises her sex to contest and win a race in National Velvet, the leap into maturity was smooth as silk. Child stars like Tatum O'Neal and Brooke Shields may have fallen by the wayside but, like Jodie Foster, who went on from Tom Sawyer to Taxi Driver to The Accused with `E9lan, Taylor showed her infinite capacity to grow and reinvent herself.
She is the only leading lady to have had 13 nominations for the Best Actress Oscar and won it twice for Butterfield 8 and Who's Afraid of Virginia Woolf. Probably the last star to come out of the Hollywood studio, her contemporary and sex symbol Jane Russell died only a few weeks ago in her early 80s. Outlaw was her most famous film.
Taylor's career was chequered. Married more than seven times, British Shakespeare actor Richard Burton was her fifth and sixth husband, and other actors who figure as exes include Richard Todd and Michael Wilding, from whom she had two children. Singer Eddie Fisher was one of the early birds who wormed his way into her life to become one of her many husbands.
It was Fisher (their daughter is Star Wars heroine Carrie Fisher) who brought her closer to the stage and this resulted in films like Tennessee Williams' Cat on a Hot Tin Roof, and The Taming of the Shrew, wherein her vixen-like Catherine is hard to forget, specially that line: "Sun or moon or what your may."
Another Best Actress Oscar performance was in Edward Albee's Who's Afraid of Virginia Woolf, where she acted with her two-time husband Richard Burton, whose cryptic English speech still lingers in many a film buff's ears. Also in that colourful Woolf cast was then upcoming Sandy Dennis, who first caught the eye as a controversial teacher in Up the Down Staircase. But sadly, she soon rode into the horizon.
Taylor's life was full of good times and bad times. She was known to throw hysterics and, at times, make news for the wrong reasons. But her health was her major problem and in her mid-career she is supposed to have undergone more than 30 operations. Known for her philanthropy, one of her key causes was fighting AIDS. She was also known for her hard drinking and even visited a drug de-addiction centre , but she was quite philosophical about it, as this cute quote suggests : "The problem with people who have no vices is that generally you can be pretty sure they're going to have some pretty annoying virtues."
For me, personally it was her plays-turned-film roles that impressed me most. It may have been difficult for folks to imagine that such a phenomenal beauty could not only be a good actress but also a versatile one and it was probably this envy that made critics grudging in according her the accolades she deserved. National Velvet has a special place in my heart as it was one my earliest films though its three-decades-later sequel International Velvet had even wider appeal.
Marilyn Monroe may have been the sex goddess, Grace Kelly the ice queen, Audrey Hepburn the eternal cherub, but Liz Taylor was beauty incarnate. Then, there were others like Claudia Cardinale, Ingrid Bergman, Lana Turner, Deborah Kerr, Jean Simmons and Jacqueline Bisset, to name only few, but they were not in the same league.
Not in the news in the last few decades, she devoted her time to philanthropy when she was well. But she was never forgotten. Her list of other awards and titles would take too much space, but her naming as the Dame of the Empire surely cannot go unnoticed.
Having worked with a galaxy of actors and directors it would be hard to pick a fitting accolade to this Queen of Hollywood but I shall try. It is Woolf director Mike Nichols who summed it up by calling her "one of the greatest cinema actresses."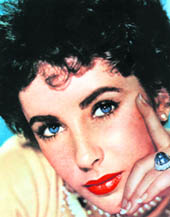 The violet-eyed beauty's film career spanned five decades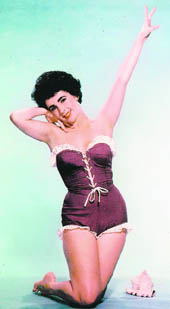 While Grace Kelly was the ice queen and Audrey Hepburn the eternal cherub, Liz Taylor was beauty incarnate

Face in the crowd
Identifying oneself with characters in a novel is quite a regular exercise. Similar is the case with incidents and characters from films. But usually, one does that later in life. What struck me strongly when I was a child of less than 10 was the incident in National Velvet, in which the girly heroine, Elizabeth Taylor, goes to her mother's room late at night to have a tete-a-tete. Having done so myself, I could identify with it and that's why the film is close to my heart.
It is also a warm story of a tomboy disguising herself in order to take part in a race. Her co-star was Mickey Rooney, who was up and coming in those distant 1950s, and the two of them had a close relationship. It also had that typical Hollywood climax of the race, where it is neck and neck to the winning post. But then we were too young to know of formula films and how those great filmmakers got their audiences glued to the edge of their seats.
As for Taylor's beauty, that was a different realm then. To us she was just good looking. It was a very credible story but Mickey Rooney did not do too well in the hard-as-nails competition in Hollywood. After bit parts here and there, he was in the wilderness. It was decades later that we spotted him as an ageing horse trainer in The Black Stallion, a powerful narrative about a young boy and the horse that he loved. Shades of National Velvet. This is what we today call regurgitating the past, Hollywood style.
The sequel, International Velvet, probably tried to launch Tatum O'Neal as another child prodigy. O'Neal was very impressive alongside her dad Ryan in Paper Moon, a Bible-selling con team. But it did not succeed, as Tatum did not stay long in films. You win some, you lose some, that's the way it is, as in life. Another teenaged actress who did not fulfill her early promise was Brooke Shields of the Calvin Klein jeans ad ... "You know what comes between me and my jeans ... nothing."
After her splash in Blue Lagoon, she just faded away. — E.E.M.