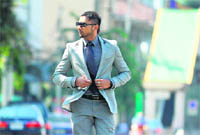 More and more Punjabi singers are cutting albums in collaboration, as the trend provides impetus to the industry
For the first time in 2006, Gurdas Mann, Sukhshinder Shinda and Albrar Ul Haq came together for a concert in the UK. The sponsors later sold albums of the show and aptly named it - Collaboration.Taking inspiration from the 'fresh' idea, Punjabi singers literally started collaborating for their albums. Why popular Punjabi singers are grabbing the opportunity to perform at students' fests? For the known names, it's a barometer of popularity and for others a platform for publicity. Singers share what they like about performing in front of student crowds at various festivals
The latest fiasco at Jhankaar, the annual festival by campus students' council, reminds us of the year 2009. Back then Mika may have been banned and recently the function may have been interrupted, but neither the ruckus nor the rowdies will put an end to the festivities, for the singers and campus festivals are inseparable!

Chatter box
Ketaki-Renuka turn hosts
Well-known television actresses Ketki Dave and Renuka Shahane will now lure you with food. The two ladies will be seen together on a TV show for the first time, hosting a food show called Ladies Special.

Lara to host Extreme Makeover?
Big telly buzz is that Imagine TV is gearing up for yet another reality show Extreme Makeover, the desi version of the international format Extreme Makeover.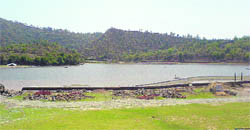 A Royal Sojourn!
Tring, king ......tring -tring !! It is early morning, Sunday. A cheery, familiar voice asks "Ready for a bike ride? "When?" Like now!" I groan. Then I get it! BIKE RIDE!! Sure. My Royal Enfield T'Bird 500 has been standing neglected in the driveway for the last 2 weeks.


NESTLED AMONG HILLS:Tikar Tal
Calling all you shopaholics!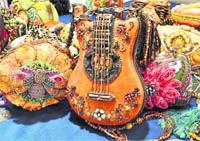 Stuff worth Rs 500 to 5,00,000 jostles for space as some 60 exhibitors put their wares on show at New Woman 2011. The two-day exhibition on at Taj-17 has an eclectic collection of women-wear, jewellery, accessories and home furnishings.Jusra from Rajasthan has some of the exquisite pieces of thewa, glass fused on 23k gold, embellished with kundan and meena. The range starts from Rs 10,000 and goes up to a few lakhs. Glitterz has silver jewellery in contemporary designs and starts from Rs 2,000.
Make the party SPECIAL!
With the advent of destination parties, a marriage ceremony on the moon is not far away! At least going by the trend, which is steadily gaining ground amid the elite of Ludhiana, one can safely presume this.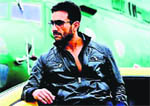 Bollywood has gone global. Producers spend crores of rupees on exotic locales and production values for their films. Take a look at the fancy locations you will see in movies coming up this year.
Agent Vinod : Saif Ali Khanís production is the first Indian film to be shot extensively in the ancient cities of Morocco in Africa.

Secret Service: Saif Ali Khan in Agent Vinod

Marital bliss
Vidya Balan has two back-to-back releases in which she has done cameos. In Dum Maaro Dum, she is Abhishek Bachchanís wife and in Thank You, she is Akshay Kumarís wife.

Preityís style mantra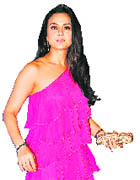 Preity Zinta is in the news again, not for films, but for her television show and the upcoming IPL season. She is in good shape and has started looking even better these days! The pahadi beauty is always well turned-out and her sense of style is chic, feminine, and simple. She talks to us about her shopping habits.Fashion: Whatever is comfortable means fashion to me. Itís a mix of designer wear and street shopping. One should understand that he/she should be comfortable, as well as the dress should look good on them. Donít go according to the trends, but make your own trends.

chic statement:
Preity Zinta

Penelope gets the star
Oscar-winning actress Penelope Cruz received a coveted star on Hollywood Boulevardís Walk of Fame on Friday, becoming the first Spanish actress to earn the honour. Cruz, who won her Oscar for supporting actress playing a fiery artiste in Woody Allenís movie Vicky Cristina Barcelona, called the unveiling of her pink granite star ďa very special day that I will always remember.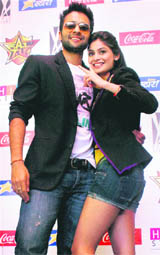 YOUNG World: Bollywood actors Jackky Bhagnani and Pooja Gupta during the pramotion of the film F.A.L.T.U. in Thane, Mumbai.ó PTI
Kate Hudson envies Goldie Hawn
Hollywood beauty Kate Hudson is envious of her mother Goldie Hawn, as the veteran actress refuses to show signs of aging.The Bride Wars star, who is expecting her second child, is an admirer of her 65-year-old motherís proportionate body and beautiful looks.ďShe is just beautiful. She is out of control! OK, I am pregnant, but how is my own mother thinner than me? She looks better than I do, how is that possible?Ē said the 31-year-old actress.
Cheap fashion no longer the in-thing
Fashionable yet cheap clothes are no longer preferred by people as the majority, say they now buy items that would last and are of better quality.A whopping 90 per cent of buyers say their top priority now is value for money, while 75 per cent say they now only buy items that last.