YMCA Tennis Tourney
Arvind makes major upset, beats Chirag
Tribune News Service
Chandigarh, April 4
Arvind Sethi of Delhi Public School and trainee of the Total Tennis Academy made a major upset by beating Chiraj Singh of Chandigarh Lawn Tennis Association 4-0, 4-2 in a one-sided semifinal of boys' under-12 age group in the YMCA Total Tennis Tournament, being played at clay courts of YMCA Total Tennis Academy, Sector 11 here today.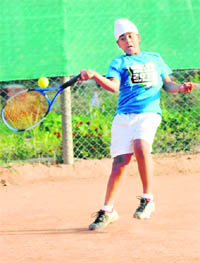 A player in action during a semifinal match at the YMCA, Sector 11, Chandigarh, on Monday. Tribune photo: Pradeep Tewari
In the 42-minute contest, Arvind showed his class in his powerful forehand and heavy topspin backhand to dominate Chiraj in every aspect of the game. Now Arvind will clash with Sehaj Sidhu, who outclassed yesterday's hero Abhijeet Chowdhary in straight sets 5-3, 4-2. Abhijeet, who was off colour today, put a brave front but all went in vain.
Asav Kumar and Chiraj Singh, the top and second seed, respectively, justified their positions and made it to final of the tiny tots category after demolishing their respective rivals in the semifinal matches. Asav got the better of Yuvraj Singh of Manav Mangal School 4-0, 4-1 while Chiraj Singh thrashed Udayveer Singh 4-1, 4-2.
The following are the results:
Boys U-10 event (semifinals)
Chiraj beat Uday Vir Singh 4-1,4-2;
Asav beat Uvraj Singh 4-1,4-0;
Boys U-12 (semifinals)
Arvind Sethi beat Chiraj Singh 4-0,4-2;
Sehaj Sidhu beat Abhijeet Choudhary 5-3,4-2
Boys U-14 (semifinals)
Parmeet Deol beat lakshay Sofat 4-5(5-7),4-2;
Boys U-18 (quaterfinal)
Prabsimran Bal beat Rohit Dhiman 5-4(7-4),5-3;
Girls U-12 quaterfinals
Saryu Swatantra beat Raveena 6-2;
Gracy beat Simerpreet 6-1;
Kamaljot Kaur beat Harleen 6-1;
Akshita singh beat Arshpreet Kaur 6-2;
Girls U-12 (semifinals)
Saryu Swantantra beat Gracy 4-2,4-1;
Akshita Singh beat Kamoljeet Kaur 4-2,4-2.