M A I N N E W S
Incentives fail to cut ice
Haryana losing battle to save the girl child
Geetanjali Gayatri
Tribune News Service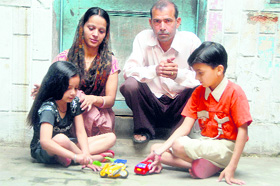 Tarori resident Hoshiar Singh settled for a bride from Himachal Pradesh. He and his wife, Sunita, look on as their two children play at their one-room home in the village. Tribune photo: Vinay Malik
Kaithal/Karnal, April 4
Haryana is known to have a bias against the girl child and the provisional Census figures released last week confirmed the gloomy trend. None of the many initiatives undertaken during the past decade appears to have worked and Haryana, along with Punjab, figures at the bottom of the states with the lowest sex ratio in the country.
Kaithal's Karora village provides a stark reminder of this reality. With a shocking sex ratio of a mere 590 females per 1,000 males, it continues to take great pride in the fact that most households have no girl child.
Not so long ago, farm labourer Mukhtiar Singh was the envy of his village. He walked through the village with a chip on his shoulder - his claim to fame being his four sons while his fellow villagers had one or two.
Today, he's a worried man though poverty is the least of his concerns. He's weighed down with the burden of finding a suitable match for at least two of his boys of marriageable age. And, there are "no girls", a fact substantiated by the recently released provisional data of Census 2011 which pegs the state's child sex ratio at a shocking 830 per 1,000, earning Haryana the "poor performer" tag.
"In a family of six, my wife is the only woman. We have been searching for a bride for my two working sons for nearly two years but have drawn a blank," he says. His wife Bala, sounding desperate, asks, "Do you think we will be able to marry off our sons someday?"
Muttering a curse under her breath while she cooks, Bala admits that female foeticide is rampant and pregnant women get themselves "cleaned" on discovering it's a girl.
"They all go to the city for a few days and come back 'cleaned'. Everybody from health workers to private practitioners in cities, is hand in glove because it means more money," she says, admitting that she knows women who have terminated
pregnancies, but refuses to identify them.
While her search for a "suitable girl" continues, who knows the boys may just end up having to "buy" brides from other states. Like 45-year-old Hoshiar Singh, a driver from Tarori village in Karnal. Unable to get a bride in Haryana, he ventured into the neighbouring Himachal Pradesh. Though he's adamant that he didn't "buy" his 25-year-old wife of nine years, Sunita, he admits that there are many middlemen providing wives to desperate bachelors for a few thousand rupees. Ask Sunita in private and she says, "I remember a stranger got this match. My parents married me off when I was only 16 years old. Though I do regret getting married to somebody much older, there's no point talking of it because we have two children now."
While "missing daughters" are already beginning to prick the Haryanvi conscience, the love for a male child continues unabated. Women in every village openly admit that expecting mothers go in for abortions of "unwanted girls".
In Ambala's Humayunpur village, Sukhwinder Kaur, an ASHA worker, recalls a case where a woman aborted her five-month-old foetus, citing flimsy grounds as excuse. "The Haryanvi mindset is too pro-boys. No amount of incentives for the girl child will help," she adds.
She explains that during the Census, she was surprised to find that most landlords in her area were satisfied with the one-child norm if they had a son. The others, if at all they had a daughter as a first child, were committed to having only a son as the second child "no matter how far they had to go".
In Nilokheri, Randeep Chaudhry, a dairy farmer, maintains that the government's "child-tracking system", too, has failed. "At least, I haven't seen anybody in the field. That's primarily because ASHA workers and ANMs are given jobs on recommendations," he feels. The health worker network has also failed because these women are from the very village they work in. "They can't go against the village and report abortions because they will be ostracised. Their only job is to distribute ration to expectant women and that's where it ends," explains Vishvanath Sharma of Tarori.
The Health Department, too, has failed to check the growing menace of mushrooming ultrasound centres in cities which are around 1,175 in number and check the illegal termination of pregnancies.
Though a handful of doctors have been booked under the PNDT Act recently, there are scores who carry out such malpractices with impunity. With no non-government organisation working on this problem, it will be foolhardy on the part of the government to think that it can drive some sense into the heads of male-obsessed Haryanvis merely on the basis of incentives.


Child sex ratio according to provisional data of Census 2011: 830/1,000
Jhajjar 774/1,000
Mahendragarh 778/1,000
Rewari 784/1,000
Kurukshetra 817/1,000
Government incentives to improve sex ratio
The Laadli scheme which offers Rs 5,000 a year for five years to couples with two daughters
The Laadli Samajik Suraksha Yojna whereby pension is given to parents with a girl child at the age of 45 instead of 60
The Indira Gandhi Shagun Yojna under which gifts worth Rs 31,000 are given to girls of BPL and SC families during their marriage