M A I N N E W S
5.7 quake rocks North India
Tribune News Service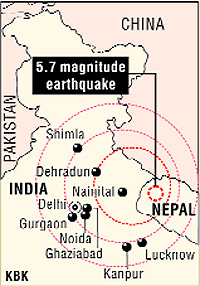 New Delhi, April 4
A moderate intensity earthquake measuring 5.7 on the Richter scale, with its epicentre in the Indo-Nepal border region, shook North India this evening. There was, however, no immediate report of any loss of life or property.
According to Meteorological Department officials, the 5.7-magnitude earthquake struck at 5.02 pm. It was epicentred at Indo-Nepal border. Hopefully, there would be no aftershocks, they said.
Tremors, which were felt for around three seconds, did result in people coming out in the open at several places with memories of recent massive quake in Japan weighing on their minds. Besides Delhi, tremors were also felt in quake-prone Uttarakhand and Chandigarh.
According to some preliminary reports, the quake jolted Dehradun, Nainital and other parts of the hill state of Uttarakhand. The US Geological Survey said the epicentre was 130 km from Haldwani in Uttarakhand and 363 km from New Delhi. The depth of the quake was 4.3 km, it added. However, the US Geological Survey Department put the magnitude at 5.4.
Narora N-plant safe
The moderate earthquake did not have any adverse effect on the Narora atomic power plant situated in Uttar Pradesh. Located in Bulandshahr district, the twin-unit Narora atomic power station is situated around 400-500 km from the epicentre of the earthquake.