Sail through stress
Deep breathing, a stroll down the road, positive affirmations or a pleasant visualisation — take your pick to banish stress
Maniac Monday just over, but terrible Tuesday is looming large; with awful Wednesday and tough Thursday in-waiting…weekdays can cause real stress. If demanding deadlines and endless work has taken its toll, putting you under pressure, we have professionals share how they get by the working week.

In the social WEB
Social networking sites are growing and the list of topics covered becomes more exhaustive by the day
Blogster brings together the blogging community. Four Square is a location-based mobile social network. If you have anything to do with photography, you should log on to Flickr. And DailyStrength has as many as 22,000 plus people coming together to provide medical and emotional support.
FACE VALUE: Isha Kakaria


Aim HIGH
Luck can help you once but that's not the case each time, says Sachit Jain
Sachit Jain, executive director, Vardhman Group, Rs 4,000-crore enterprise and one of the largest textile houses in India, has an enviable track record. An electrical engineer from IIT-Delhi, a gold medallist at IIM, Ahmedabad, and post a financial management course from Stanford (USA), Jain started his career with Hindustan Lever in 1989.
Akshay back with Khatron…
Bollywood actor Akshay Kumar will return as the host of adventure reality show Khatron Ke Khiladi 4 and says that he feels good to be back on his home turf. Akshay had hosted the first two seasons of the show, while the third one saw actress Priyanka Chopra taking the mantle of anchoring. But now Colors channel has brought the actor back.
Fashionista
School your talent right
So what is it that goes into the making of a designer? Is it talent? Is it studying in the right institutions? By the right institution, I mean the well-known one or the most popular one or the best connected?
Par Excellence
Improve your ball flight
I believe the route to improvement for a 'Slicer' is from Slicing to Hooking and then to good golf. To correct a slice we need to start by finding out why the clubface is open at impact.


Celeb Point
Reality TV & Immortality
The desire for immortality is as old as human awareness of death. No wonder heroes all through the ages were willing to sacrifice their lives for deeds that would be remembered forever; fame, has always been one of humanity's favourite ways to ensure immortality, if only symbolic.



Shweta Tewari shot to fame with her winsome innings in Bigg Boss 4
Pun'jab' Sandeep Joshi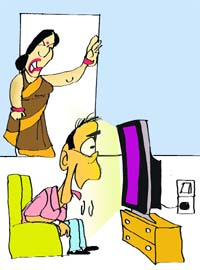 NAKED TRUTH: The world cup is already over. Are you still waiting for the model?
Love notes
Theatre artiste and television personality Rajinder Ricky tries his luck in Punjabi music industry
Punjabi music industry is booming and blooming, for it's raining Punjabi music albums. One more launch? Bring it on, the more, the merrier. The debut effort of singer Rajinder Ricky, a theatre artist and a television personality, comes out with a message of love.
Scent of summer!
Fragrance is a signature of a person. For the summer season opt for subtle and light perfumes
Finding your own scent can be a difficult task, especially when you are looking for a fragrance that appeals to your sense and sensibility. Though the trend says no to sissy floral fragrance, hotchpotch scent and wilting lilies aroma; think clean and head for lemon, amber, white patchouli, tonka bean, sandalwood and musky perfumes this season.


chatter box
Reshmi is Bobby's screen girlfriend
Television actress Reshmi Ghosh of Tere Liye will be seen in a special role in Anees Bazmee's upcoming film Thank You. She will be seen as Bobby Deol's girlfriend in the film. While shooting for the film, Reshmi was not keeping well yet she completed her job without a fuss. Everyone on the sets was impressed by her dedication towards her work. Even actors Sonam Kapoor and Bobby Deol noticed the same and kept asking after her health. This gesture really touched Reshmi and she was surprised.

TOUCHED: Reshmi Ghosh

Bollywood gossip
Budding friendship
Cricket and Bollywood have a pichhle janam ka rishta! Cricketers love starlets and vice versa. Yuvraj Singh has been associated with many a Bollywood beauties such as Kim Sharma and Deepika Padukone.

Do Dooni Chaar goes to New York
Disney's critically acclaimed family comedy Do Dooni Chaar, starring legendary actor couple Rishi Kapoor and Neetu Singh, will be the opening movie of the New York Indian Film Festival which runs from May 4 to May 8 in Manhattan. The Habib Faisal-directed film will see its North American premiere at the 11th annual edition of the festival organised by the Indo-American Arts Council.

FUN TIME: A still from Do Dooni Chaar


Rani gets CANDID
Rani Mukerji is back in the limelight and in films. She owes much of this to the success of No One Killed Jessica. The light-eyed beauty, who turned 33 last month, talks to us about love, life, media and more.
Ryan Phillippe wants to look older
Hollywood actor Ryan Phillipe says he feels like a vampire as he cannot get rid of his youthful appearance despite attempts to look mature. The Lincoln Lawyer star, who has daughter Ava, 11, and seven-year-old son Deacon with ex-wife Reese Witherspoon, can't understand how he has managed to look young even after having vices like drinking and smoking.
the year ahead


On a song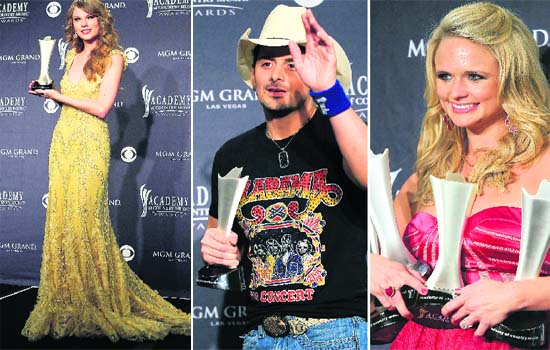 L-R: Taylor Swift holds her Entertainer of the Year award backstage at the 46th annual Academy of Country Music Awards in Las Vegas. Brad Paisely poses with the award for Male Vocalist of the Year backstage, singer Miranda Lambert poses with her four ACM awards. Lambert retained her crown as the top female vocalist and her wistful tune The House That Built Me was honoured for single, song and video of the year at the ceremony. — Reuters