Hazare ignites public debate
* Day 2: Crusader continues fast for Lokpal Bill, Cong tries to mollify him
* Hazare shoots off a letter to the PM telling him not to 'mislead' the nation
* Urges him to stop finding faults and suspecting conspiracies in the movement
Vibha Sharma/TNS


Activists are determined not to let any politician hijack their agenda. Uma Bharti and Om Prakash Chautala received a hostile reception when they tried to join the protest at Jantar Mantar by jumping on the Anna Hazare bandwagon. They were booed and forced to turn away.
New Delhi, April 6
Support is pouring in for activist Anna Hazare from all quarters of society. From social networking sites like Twitter and Facebook to protests in major cities like Mumbai, people and social activists have unleashed a larger debate over corruption in public life. While the government is still trying to resolve this crisis in view of state elections, the debate has snowballed into a major political and social issue.
Upset Anna Hazare today wrote to the PM, telling him not to mislead the nation with "malicious slandering" on his motive. Soon, the government went into damage-control mode, fielding senior ministers to mollify the fasting veteran social activist as his fast-unto-death protest against corruption swerved to the verge of becoming a national movement.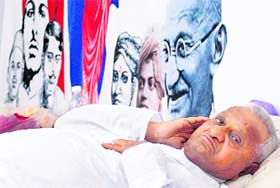 Anna Hazare rests during a fast-unto-death in New Delhi. — Reuters
After being publicly criticised by social activists for being part of a Group of Ministers (GoM) to check corruption in the government, Agriculture Minister Sharad Pawar quit the panel tonight. Hazare had earlier said the very fact that the government had entrusted Pawar, along with ministers like Kapil Sibal, to deal with corruption proved that the government was weak-willed.
Reacting to the news from his base at Jantar Mantar, the 72-year-old social activist said: "So what if he has quit…one Pawar goes, another will come...our campaign will continue."
Angry over insinuations that he had been "instigated" into the movement by some people and critical response by some UPA ministers to the cause, he wrote to the PM earlier in the day saying he was pained to read and hear about government reaction to his stir.
"Dear Manmohan Singh ji, this is an insult to my sense of wisdom and intelligence. I am not a kid that I could be instigated into going on an indefinite fast. I am pained that the government, rather than addressing the issue of corruption, is trying to allege conspiracies, when there are none," he said.
Expressing disappointment at being accused of showing impatience, he said, "You have said that the government has initiated certain processes. Some of the people drafting the legislation should have been in jail. Should I have faith in these processes? If you were in my place, would you still have faith in these processes," he questioned.
"I am not a child and please don't doubt my wisdom. I take suggestion from my colleagues, but make my own decision. We were not getting any response from the Prime Minister and Sonia Gandhi. They did not send any reply to three of my letters, that's why I decided to go on fast-unto-death," he said, explaining the reason for going on the fast.
He urged the PM to stop finding faults and suspecting conspiracies in the movement. "There are none. Even if there were, it does not absolve you of your responsibility to stop corruption," he said.
Hazare is pressing for a stronger anti-graft Lokpal Bill through the protest he has dubbed as the second Satyagraha on the lines of the movement launched by Mahatma Gandhi against the British rulers. The Congress, however, continues to maintain that Hazare's agitation is premature. "The fast by Anna Hazare is premature and in a democracy debates should be held before a policy is framed," party spokesperson Jayanthi Natarjan said.
Hazare's crusade, however, is gathering large support and thousands of supporters are now demanding the implementation of an improved and tougher Lokpal Bill. Fasts are being observed and rallies and demonstrations being taken out in over 400 cities across the nation have been joined by thousands of supporters from the country and abroad.
The government is making efforts to mollify Hazare. While Telecom Minister Kapil Sibal assured talks, Law Minister Veerappa Moily said the government was preparing to introduce the Bill in the next session of Parliament.