With moist eyes, devotees pray for Sai Baba
Suresh Dharur
Tribune News Service
Puttaparthi (AP), April 6
With anxiety writ large on their faces, thousands of devotees of spiritual leader Sathya Sai Baba thronged this tiny village in Andhra Pradesh as the condition of the ailing godman continues to be critical following multi-organ dysfunction.
The anxiety is turning into anger at some places as the devotees are confronting local authorities in the face of conflicting reports about the health condition of 86-year-old Sai Baba who has been on ventilator and renal-support system for the past one week.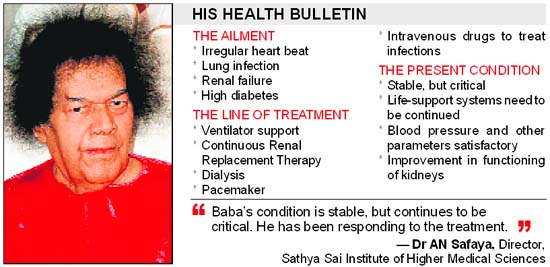 Sai Baba, who has turned this dusty village in the backward Rayalaseema region into a spiritual empire with a worldwide network, was admitted to the Sri Sathya Sai Institute of Higher Medical Sciences Hospital here on March 28 with multiple complications, including heart problem, lung infection, renal failure and diabetes. Since then, the condition of Baba, revered by millions of his devotees as an avatar of God, has been a cause for concern with conflicting reports emerging from different quarters. However, a team of doctors attending on him, including Andhra Pradesh Health Secretary PV Ramesh and Director of Medical Education Ravi Raju, sought to calm down the frayed nerves saying the Baba's health condition was stable and showed slight improvement.
"Baba's condition is stable, but continues to be critical. He has been put on ventilator and is being given continuous renal replacement therapy. He has been responding to the treatment," said Director of the Sathya Sai Institute of Higher Medical Sciences Dr AN Safaya, a doctor from Kashmir who has been in the service of Baba for the past two decades.
A team of 27 specialist doctors has been continuously monitoring the condition of Baba. However, the doctors could not say how long the life-support systems would continue. "He is showing slight improvement in renal functioning. Blood pressure and all other parameters are satisfactory. We are hoping for the best," Dr Safaya said.
Meanwhile, the devotees thronging Puttaparthi, about 500 km from Hyderabad, held special prayers while shops and business establishments were closed voluntarily. Hundreds of devotees huddled together at various places and near temples singing hymns praising Baba.
The devotees pouring into "Prashanthi Nilayam", the spiritual abode of Baba, could not find accommodation and were seen sleeping on the roads and pavements.
The village has been besieged by mediapersons. The area around the hospital has been cordoned off by the police. Several hundreds of devotees tried to break into the hospital premises and damaged some vehicles. They tried to attack Anantapur District Collector and other officials for not allowing them to have a glimpse of the ailing Baba.
The government has imposed prohibitory orders under Section 144 as a preventive measure. Sai Baba has a massive following all over the world. His devotees include politicians, scientists, industrialists, sportspersons and film stars. There are an estimated 1,200 Sathya Sai Baba Centres spread over 114 countries. Known for his philanthropic activities, Sai Baba supports a large number of free educational institutions, hospitals, and other charitable institutions in over 166 countries.