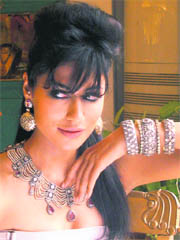 In need of ACCESS
Accessory designers feel they should have a separate fashion week for their products
Amidst all the attention showered on apparel designers we've always wondered what about accessories? Don't they form an integral part of fashion? In fact, it's the accessories that make fashion worthwhile! However, they are not very prominent in fashion weeks. Accessory labels often collaborate with apparel designers to showcase their line, but this does not do justice to the former.



Deck up: Fashion accessories add to the glam quotient

Cross-cultural connect
J.U.D.E., a Nigerian-Punjabi film by director Chukuwuma Osakwe, aims at educating people about various cultures
Chukuwuma Osakwe, a 32-year-old from Awka, the capital of Anambra State, Nigeria, has finally realised his dream of making a film. Almost through with the shooting of his film J.U.D.E., Osakwe had to face a lot of struggles before he could accomplish his dream.
Here's the party tonight!
A few minutes of conversation with DJ Bijan is like doing a comparative analysis of the party circuit in Chandigarh.
The 'in' side


Go floral
Flowers are widely used to decorate interiors. A flower arrangement is the combination of several elements to produce a visually-pleasing display of flowers. Flower arrangements give an aesthetic appeal to the ambience of any room and add beauty and grace. There are eight types of basic flower arrangements-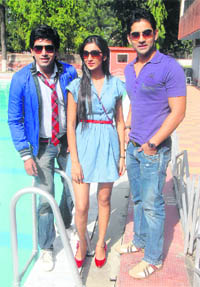 Trek to horror
Harish Sharma's directorial venture Two Nights in Soul Valley, a horror flick, narrates the adventures of a group of youngsters on a trekking trip
What comes to mind when you talk about horror films? A creepy evil spirit and lots of blood! However, Harish Sharma, director of Two Nights in Soul Valley, says that his film is different, "My movie is based on supernatural events. It's an adventurous film." The film is a commercial venture. Five college friends decide to go trekking where scary things start happening to them. In the main lead is Hemant Pandey (Pandeyji of Office-Office fame) and other actors include new faces from Chandigarh.



SPOOKY TALE: The cast of Two Nights in Soul Valley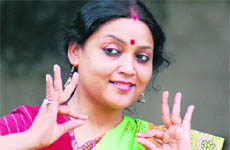 Dance is her union with God
The gestures speak volumes: Kavita Dwibedi, an Odissi dancer, is a living example. "Expressions of love, anger, pain or request are portrayed through gestures depicting emotions. No words are used in the dance," she says. Kavita Dwibedi was in Chandigarh before leaving for Sanawar in Himachal Pradesh for a performance organised by SPIC-MACAY.
GET PHYSICAL


Tone up with aerobics
Aerobics essentially refers to exercise routines that are performed to stay fit, lose weight or sculpt the figure. If you are looking to drop a few dress sizes, tone a flabby stomach to flaunt a pierced belly button, or get killer legs that'll catch everyone's attention, aerobics is the way to achieve all this and more.
It's rocking
Notes from the past
Besides the catch line of the song, Pyar Do, Pyar Lo, there are a few more similarities between the original and inspired versions. Both songs celebrate youth and encourage one to enjoy it. Both have zany lyrics. So, no wonder, words like jawani, kam zindgani…find mention in the songs. The track from the movie Janbaaz has been well adapted as per the present times in the multi-starrer, upcoming flick Thank You. And here is why people are plugged to the song.


Pun'jab' Sandeep Joshi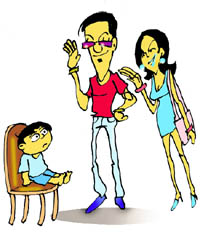 FacE it:

OK, baby. We are in a hurry. Catch up with you on Facebook.

Chatter Box
Raima blasts Ashmit
Ashmit Patel had discussed his relationship with ex girlfriend Riya Sen on national television in Bigg Boss 3. Riya's sister Raima has slammed Ashmit and said that he is still using her name, as there is no other way that he could get publicity.
n Sandeep to be a dad
n Ankita's swimming lessons
n Hands full of work
n Shaleen back on small screen
n Balika Vadhu's 700 milestone