M A I N N E W S
Govt-Hazare talks fail
Centre agrees for joint committee on Lokpal Bill but discord over who'll head it
Vibha Sharma/TNS
New Delhi, April 7
Talks between the government and Anna Hazare began today but did not quite end in the way the Centre wanted it to even as the fast-unto-death by the social activist entered into its third day.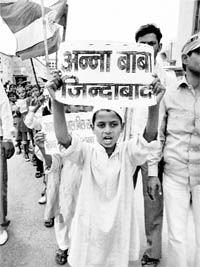 Children take part in a rally in support of social activist Anna Hazare, in Azamgarh (UP) on Thursday. — PTI

One post, two choices


Social activists want Hazare to head the committee but he wants some judge to chair it


Govt choice, however, is Pranab Mukherjee; it says that Hazare cannot chair a committee that has ministers as its members

After it was evident that the talks had failed, Congress president Sonia Gandhi appealed to Hazare to end his protest. "I am pained by Anna Hazareji's fast. There can be no two views on the urgent necessity of combating graft and corruption. I believe the laws in these matters must be effective."

An unrelenting Anna, however, thanked Sonia for her concern but asked her to direct the government to make the Lokpal Bill a reality.

Two rounds of talks were held, but the veteran activist refused to relent, announcing that he would continue with his indefinite fast till the Jan Lokpal Bill became a reality. He said the government's reluctance indicated that it was "scared of being held accountable" by the society. Another round would be held on Friday.

Consensus could not be reached between the two sides on who would head the joint committee to draft an effective Lokpal Bill and whether or not it should be notified.

Union Minister Kapil Sibal — deputed by Prime Minister Manmohan Singh — held talks with Swami Agnivesh and Arvind Kejriwal on the formulation of the joint committee, with members of civil society and government representatives in equal number.

The first move by Kapil Sibal, offering to set up an informal group, including equal number of activists and ministers, to draft the

Lokpal Bill was rejected by the activists. Later, the government agreed to set up the joint committee. While the magnitude of support for Hazare's crusade against corruption forced the government to agree to the joint committee to draft the Lokpal Bill, differences remained over formal notification of a joint committee and on who would chair the committee. Activists are convinced that Hazare should head that panel, a demand the government is not ready to concede as it wants Finance Minister Pranab Mukherjee to be on that seat.

Sources said the government rejected activists' demand saying that he could not chair a committee that included ministers. The government is also in a dilemma on the formal notification. Legislation is the business of Parliament alone, and allowing civil society to help draft this law would set a wrong precedent, it feels.

While activists want him to head the panel, it is not something Hazare himself wants. "I shouldn't be heading the committee as then people will say that it was my aim. It never was…. I will be a member." Kejriwal also said that Hazare was of the view that a retired judge should be the chairman of the committee.

As his hunger strike entered the third day, the social activist vowed not to end his protest till the demands were met. "I will fight till death," he said, addressing supporters at Jantar Mantar after word spread that talks with the government were deadlocked.

With lakhs of Indians throwing their weight behind him, Hazare said he "did not think anything will happen to him for another seven days". "Don't worry, God is with me and I will be fine." But at his age, fasting may lead to serious health problems, a fact the government is aware, and worried, of.