Lancet study finds waterbugs in New Delhi
Aditi Tandon/TNS
New Delhi, April 7
India today rejected as "unscientific" and "discriminatory" a new Lancet study which claims to have traced to New Delhi's drinking water and seepage chain 11 fresh strains of antibiotic-resistant bacteria causing cholera and dysentery. The research calls these bacteria "waterbugs", says these are resistant to all existing antibiotics; and seeks studies in Pakistan and Bangladesh to determine their prevalence.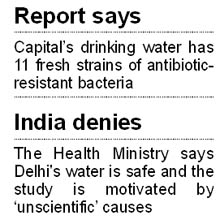 Published in the 'Lancet Infectious Diseases Journal' two days ago and led by Professor Tim Walsh of the Cardiff University School of Medicine, the study is an extension of the past controversial research (also carried by the Lancet Online in August 2010) which had similarly claimed the discovery of a drug-resistant superbug to India's capital. The researchers had then named the gene carrying these bacteria as NDM-1 after New Delhi - a move for which the Lancet Online editor Richard Horton later apologised during his India visit.

Within two months of that public apology, the Lancet has again published a fresh European Union-funded study which the government today described as another attempt to "keep the heat on India and single it out for motives other than scientific".

Secretary Health Research Dr VM Katoch lambasted the research as 'insignificant and with zero public health consequences for Indians and visiting foreigners'. He objected to the four British authors' sampling of the water from India without the mandatory clearance from the Health Ministry. "This is illegal; biological materials can't be exported without permission. We will take up this matter," Katoch said.

The authors of the study say they conducted it after discovering NDM-1 gene (which enables Gram-negative bacterial strains to become resistant to carbapenem, a powerful antibiotic) in patients who had not been hospitalised during their India visits. They claimed the presence of water bugs in India's environment, insinuating that India's waters were contaminated.

Katoch today rubbished these fears, saying drug-resistant bacteria were present in every nation's environment and certain researchers were using science to unfairly single out India. "This is an unscientific approach and we will respond on the highest forum. Even last time, the Lancet's superbug study had called India dangerous without giving DNA or fingerprinting evidence. Enough is enough," he said, adding that no infections had been reported in India due to NDM-1 strains.

The Lancet study authors had meanwhile collected 171 seepage and 50 tap water

samples from the localities near Ganga Ram Hospital in Delhi and 70 sewage effluent samples from Cardiff between September 26 and October 10 last. They detected NDM-1 in two drinking-water and 51 seepage samples from Delhi; the gene was absent in Cardiff samples. The Health Ministry however today shared significant findings from a study on 1944 normal pregnant women from Ganga Ram Hospital, the same site which figures in the British study on water bugs. "The bacteria isolated from the gut of these women whose stool samples were tested had no drug resistance for carbapenem antibiotic. They were all sensitive to it," R.K. Shrivastav, Director General Health Services, said. He added that the Lancet study was not supported by clinical or epidemiological evidence.