Ramp Age
Indian textiles take centrestage at WIFW opening

NEW COLOURS OF INDIA: Models show the creation of fashion designer Pankaj and Nidhi on the first day of Wills Lifestyle India Fashion Week in New Delhi on Wednesday. — PTI
Sari Kahani: A model shows the creation of designer Tarun Tahiliani.
Nothing FALTU in it
The cast and crew of Bollywood movie F.A.L.T.U share how the movie has become a hit despite all odds
To begin with, nothing was in favour of the film. Before the release, it was rumoured to be a remake of the Hollywood flick Accepted. Directed by the choreographer-turned-director Remo Fernandes, the movie also had no big names to boast of.

I deleted certain words and lines from the earlier tracks which the Censor Board did not approve.
The fact that we can't write name of the album, Saali Bi*** as it is, without the use of asterisks, is enough to indicate the controversial part of it.

Chatter box


Dream roles

Karan Mehra's designer avatar
Something fishy
Govinda and newbie Yuvika Chaudhary were caught in a tough spot recently when they had to shoot a romantic scene for their coming film Naughty@40 at Madh Island.
Dream destinations
The infamous Indian summer is here and everyone is trying to beat the heat. Bollywood stars are no exception and they have planned summer holidays too. Here is where they would like to go....
Sonakshi Sinha
I want to go to Dubai for shopping and the USA to visit Universal Studios.
Kareena Kapoor
I love the beaches and the mountains. I would love to go to Greece, Barcelona or even Phuket.
Deepika Padukone
would love to go to the South of France or Barcelona because both places have the right amount of sun and sand.
Poha possibilities
Poha or chivdaa is a rolled form of rice which is very popular, especially in Maharashtra. It is quick and easy cooking as well as light and nourishing. It is often added to dosa batter for a new variation and texture.
Implement what you say
My son is 19-years-old and very intelligent, but he is extremely lazy; prefers to sleep till 12 pm. He is very unhygienic and despite my constant pestering he does not get a haircut, does not shave or cut his nails. He is not even able to help in the family responsibilities because of his laziness. Please help.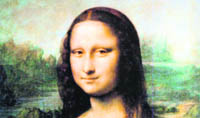 Remains of 'Mona Lisa' to be dug up
The remains of a woman believed to have been the model for Leonardo Da Vinci's Mona Lisa will be exhumed in a bid to recreate her face.Professor Silvano Vinceti, a modern-day Indiana Jones investigator, will lead the team that will exhume the remains.The coffin of noblewoman Lisa Gherardini Del Giocondo is believed to be buried at the Saint Orsola convent in Florence.