Dialogues with a historical backdrop
Reviewed by Roopinder Singh

Seven Plays on Sikh history by Sant Singh Sekhon
Trans. Tejwant Singh Gill
Sahitya Akademi.
Pages. 562 Rs 300.

SANT Singh Sekhon (1908Ė1997) taught English, yet it was his writing in Punjabi that earned him great name and fame. One of his twelve full-length Punjabi plays, Mittar Piara, won the Sahitya Akademi Award in 1972. It is only fitting that Indiaís premier literary body has now published a translation of his plays in English.
It comes as no surprise that the theme of seven of these plays was based on episodes in Sikh history. Sekhonís mother had Singh Sabha inclinations, thus the child grew up in an environment where even more than normal emphasis must have been placed on heritage and lore of the Sikhs.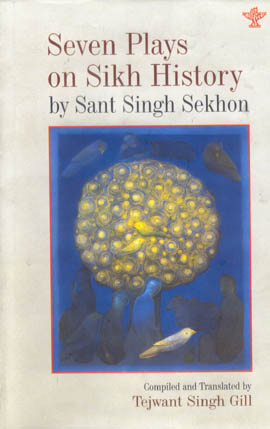 The wide canvas of Baba Bohar takes us on a journey from the times of Guru Gobind Singh to Independence. The bohar tree that has withstood the ravages of time and has been witness to history tells it all to young boys.
The writer uses his poetic license, and history is a backdrop to his creativity. The play resonates because it is drawn from the familiar. Banda Bahadur, however, goes beyond history.
Vada Ghalughara, or the Great Holocaust (called Big Holocaust in the book), was a siege of the Sikhs by the forces of Ahmad Shah Abdali in 1763 between the villages of Raipur and Gujarwal in Punjab, which resulted in thousands of deaths, many women and children among them. Sekhon weaves in popular narrative in the play, and remarkably enough, ends it on a positive note.
In Waris we meet Waris Shah, whose Heer has made him immortal for those who know Punjabi, his love Bhagbhari, and the Fauzdar with a glad eye. The decay in the Lahore court after the death of Maharaja Ranjit Singh is the focus of Bera Bandh No Sakio (They could not Anchor the Fleet). The same theme continues in Moian Sar Na Kai (The Dead were not Aware), in which Sekhon also makes a powerful plea for unity among Punjabi people.
Sekhon fulfilled his desire to write a play "on whatever contacts there might have been between Lenin and Indian patriots". Mittar Piara (The Beloved Friend) came out of this endeavour. Bhai Santokh Singh and Bhai Rattan Singh are "infused with the self-sacrificing spirit of Gurbani. They have come to grasp the theory and practise of Marxism," says Tejwant Singh. These Gaddhar leaders participate in the deliberations of the second Comintern, and then interact with their beloved friend.
A translation is expected to remain true to the spirit of the original. This is where the translator, Tejwant Singh Gill, shows both commitment and skill. As one reads the plays, one can feel the Punjabi original even through the English text.
The translatorís introduction not only gives us information about the writer, it is also a critical commentary on Sekhonís work, and a glossary. The Punjabi plays of Sant Singh Sekhon deserve to be read by those who canít read them in their original language. Now, they will be able to do so.