Intelligent investment
Vinayachandra M. Mahendrakar
In today's increasingly competitive world where various factors — political, economic, competitive, cultural or regulatory — constantly complicate an organisation's environment, the demand for properly skilled managers, who understand the industry and have the energy and courage to tackle difficult situations, is constantly on the rise.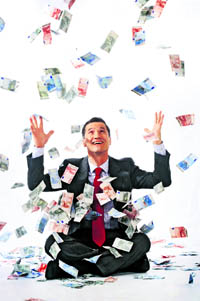 In a country like India, where the investment sector is taking the market by storm, being creative, analytical, a good salesperson and a great communicator may not be just enough. Another factor that adds to a successful manager's essential traits is proper knowledge of money and the market. This is because up-to-date knowledge of finance enhances the analytical techniques, institutional practices, financial theory and practical applications of a manager and allows him to make effective decisions on fiscal policies and strategy.
While various institutes across the globe have entered the race to create successful managers, very few understand which candidate is apt for which specialisation. For a person who enjoys following the financial markets, understands the trends of the market and constantly updates himself with prices of shares and stocks through various media, an MBA in Investment Management is just the right option.
Specially meant for those people, who believe in independent functioning, rational thinking and taking calculated risks from time to time, investment management broadly affects households from all around the world and yet, offers one of the most stabilised careers when compared to other areas of finance like investment banking etc. Also known as asset management, investment management deals with professional management of assets, securities and bonds in order to meet the investment objectives of various investors. In other words, an asset manager seeks to generate income and grow capital for its clients.
Asset managers don't just work on retail and institutional clients but also on hedge funds, where outside capital is combined with capital of the partners of the fund, and this money is invested using complex and at times risky methods, in order to receive extraordinary profits. They are immune to the unpredictability of market because they are generally paid a certain percentage of the total amount they handle, whether the investment results in profit or loss.
Globally, the investment management industry has grown by 10% over the last decade. The clients are generally charged around 1.5-2 per cent of the privilege on retail and industry investments. Hedge funds generally charge 2 per cent management fees and up to 20 per cent performance fees. The best part of being an investment manager is that, in the long run, the fees increases with the growth of the market, but the cost of managing the funds does not; which implies higher returns on lesser cost. Investment management, therefore, has become an increasingly important part of financial services.
Career prospects
Owing to the increasing importance of investment management, the demand for trained personnel in this field has been constantly on the rise. The work involves meeting with clients, liaising with clients for gathering information, often over the telephone, and researching (from financial media and briefings provided by investment analysts) in order to maintain a comprehensive understanding of investment markets.
Candidates with excellent skills in accounting and finance — especially those with a master's degree or certification — should enjoy the best job prospects. An understanding of complex financial instruments, derivatives, and international finance is important. Like other managerial occupations, excellent communication skills are also essential because financial managers have to explain and justify complex financial transactions.
Job Prospects
Investment managers work for organisations, like pension funds or insurance companies, where huge sums of money are invested. Asset management may also involve unit trusts or investment trusts, products bought by individuals, which involve smaller sums as compared to institutional funds.
As banks expand their range of products and services to include insurance, wealth management, and investment products, branch managers with knowledge in these areas will be needed. As a result, candidates with expertise in management and finance have more favorable prospects. Vacancies may also arise with specialist fund management companies, also known as investment management and asset management firms.
Remuneration
Investment management offers can be a rewarding option even to the newest entrant in the industry provided his analytical and communicative skills are strong enough to not only impresses the clients but also to read the financial market trends. Generally, a minimum remuneration of Rs 12,000 to Rs 15,000 can be expected in the beginning. As the person climbs up on the hierarchy ladder and with increased experience, the earnings tend to increase, since fees increases with time and costs do not. According to estimates, some asset managers increase their fees by double digits as well, even up to 15 per cent a year.
Eligibility Criteria
Minimum qualification for admission is a pass certificate in the final examination of Plus II system or its equivalent. You must have passed at least one public (Board or Pre-University) examination. Those appearing in 10+2 final or equivalent examination can also appear in the entrance examination conducted by many institutes which also include group discussion (GD) and personal interviews.
Duration
A full-fledged MBA degree course in this field takes two years, inclusive of a short term of industrial training. But there are various colleges that also offer Post Graduate Diploma courses (PGDM) of the same duration.
Today, investment management companies are centering on more than mere investing. Business decisions such as marketing, distribution, global growth, and technology integration are increasingly becoming vital factors in the success of investment managers. Considering the vast scope for growth in this industry, a number of B-schools across the country have started offering Investment Management as a specialization in their MBA and PGDM programmes.
The writer is the Founder and Chairman of IBMR Group of Institutes
Specially meant for those, who believe in independent functioning, rational thinking and taking calculated risks from time to time, investment management broadly affects households from all around the world and offers one of the most stabilised careers when compared to other areas of finance like investment banking etc.
institute watch
Institute of Business Management & Research (IBMR), D-14, Infocity-2, Sector-33,Near Hero Honda Chowk, (NCR),Gurgaon -122 001, Haryana
Tel. 0124-3220833 / 0124-3221833/ (M) 9311180833 / 9311180834
E-mail ID - mba.gurgaon@ibmrbschool.org
Website - www.ibmrbscool.org
Sikkim Manipal University, 5th Mile, Tadong, Gangtok, Sikkim.737132
Tel. +91-3592-232041,
E-mail ID - smuinformation@smu.edu.in
Website - www.smu.edu.in
Punjab Technical University, Ladowali Road, Jalandhar, Punjab
Tel. 0181-2244002, 2244005
E-mail ID - ptumail@ptu.ac.in
Website - www.ptu.ac.in
Institute of Science & Technology, V.P.O. Klawad, Ambala-Jagadhri Road, Near Thana Chhapar, Distt. Yamuna Nagar, Haryana
Tel. 01735-260300, 01735-260301 / 302
E-mail ID - info@istk.org
Website - www.istk.org
Rajdhani Institute of Information & Technology, Plot No: 1109,Satabdi Nagar, Near Delta Square, Bhubaneswar
Tel. 0674-6451205, 0674-2385672
E-mail ID - info@riit.org
Website - http://www.riit.org
Kurukshetra University, Kurukshetra-136119, Haryana
Tel. 01744-238410, 238196
E-mail ID - kuru@doe.ernet.in
Website - www.kuk.ac.in