Punjabi antenna
Driven by ideas
Randeep Wadehra

Whatever is the field of human endeavour – politics, science, sports, entertainment, education etc – ideas drive everything. Of course, original ideas don't get generated too often. This creates room for imaginative adaptations, innovations and, unfortunately, plagiarising, too – not to mention faking of a new idea, as is presently happening in Punjab politics.
Last fortnight Punjabi television was awash with political rallies to commemorate the martyrdom of Bhagat Singh, Rajguru and Sukhdev. Punjab People's Party's Manpreet Badal declared that his party would follow in the footsteps of the martyrs. Not an original idea. Bingo! Punjabis have been hearing it all for ages now.
Zee Punjabi's Khabarsaar was the first to fire the skeptic-cynical salvo. Its panellists were of the consensus that the martyrs' names were being invoked for purely political purposes. Later on PTC News came up with its own perspective on the intentions of the various political parties vis-à-vis "following in the martyrs' footsteps" – an idea that has become a sick joke now.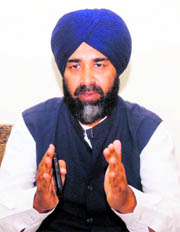 Panellists on Khabarsaar felt that martyrs' names were being used by Manpreet Badal's PPP for political reasons
Some ideas, however well intentioned, flop. For example Harsimrat Badal's Nanhi Chhaan has failed to positively impact the female ratio in Punjab as is clear from the 2011 census figures. On Khabarsaar's April 6 telecast, Daljit Ami, a panellist, said that female foeticide has a long tradition in Punjab. Prof. Sherry Sabharwal, another panellist, asserted that the only way to save the girl child would be through active government-people partnership as illustrated by bureaucrat Krishan Kumar in Punjab's Nawanshehar; an idea worth replicating, surely?
Long ago Zee Punjabi had come up with the idea of paying homage to Punjab's great thinkers, scholars and musicians. The idea fructified into a potentially classic Sajda. Just when it was gathering momentum, it went off air without forewarning. Later on the idea was reworked by PTC Punjabi in the form of the Masters. It had a promising start – featuring Sufi singers, classical maestros and other artistes of substance.
Now it has been diluted to include anybody who is willing to croon on the show's sets; to cite an example – the much hyped Satinder Sartaj. The lad is good and has attracted quite a bit of fan following. But is he a master? Not yet; not by a long shot. It's a bad idea to present work-in-process as finished product.
PTC Punjabi's Daddy Kamaal Bachche Dhamaal is an idea that could have been better conceived and executed. Presently, it's a poor copy of KBC – a mix of GK, songs, tongue-twisters etc. Most of the contestants fare disappointingly in GK.
Not surprising. GK quiz is still considered an elitist fad in this part of the country – unlike in places like Kolkata, Mumbai, Bengaluru and Chennai, where it has become popular culture. Not surprisingly, most of the contestants revelled in singing. As they say, every Punjabi is a singer at heart although he may be innocent of music's fundamentals and eschews riyaz. The show would have sparkled if tongue-twisters had not been included, GK questions were more imaginative and wide ranging and, more importantly, proper selection of contestants was conducted.
When criminals start getting ideas about using technology to outwit the forces of law, it is time to take a hard look at the entire crime-fighting superstructure. Masle (PTC News) discussed the extent to which law officers like district attorneys were equipped for meeting the hi-tech challenge. The show revealed how technology can be used to hide one's voice on a phone or documents forged with such perfection that these appear genuine to an untrained eye.
These are but two instances of technology aiding sophisticated crime. Now Punjab's law officers are being trained in using hi-tech methods and gizmos in the investigation and uncovering of such forgeries and deceptions as well as other crimes like robbery and rape. Great idea!