Ties of success
Does success act as the third partner in a celebrity couple's life? Does it create fissures or act like an indestructible glue? Nonika Singh finds out
Famous couples — the world views them with a mixture of curiosity, envy, admiration and awe. No other couple catches ordinary mortals' attention as the celebrated ones, where neither basks in the reflected glory of the other. Rather each partner shines on his or her own mettle, carries its individual halo of glory and has little fear of being overshadowed or smothered by the attention paid to the other.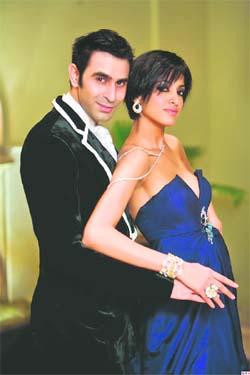 Model and actor Jesse Randhawa (R) is married to choreographer Sandip Soparrkar
So if joy shared is doubled, sorrow shared is halved….. ..which law of mathematics does fame shared follow? Does it, a-la Abhimaan, create fissures? Or does it bind spouses with their creativity, acting like an indestructible glue?
How do talented couples relate to each other within the confines of the four walls of home? More pertinently, how do they tackle societal expectations? For success might be an aphrodisiac of sorts, between life partners enjoying individual successful lives, but does it act as a dampener or a kindler?
Artist Paramjit Singh, married to painter Arpita Singh, doesn't think of themselves as any more special than an ordinary couple. Married for 45 years, he says, "How can success define or mar our relationship for we have known each other since college days. Some people may have realised only now that Arpita is a great artist after her work sold for Rs 9.6 crore at an art auction, but for me she has always been a fine artist."
Actor and TV host Archana Puran Singh, married for more than two decades to actor-turned-director Parmeet Sethi, however, is candid enough to admit that success in a marriage can be a double-edged sword. She says, "As opposed to failure. which I think brings partners together, if a couple doesn't know how to handle success, it can be devastating."
Archana shares that both she and Parmeet have gone that extra mile to keep their marriage growing. While she has learnt to accept his chequered career growth, he has not allowed the typical male chauvinism to stand in the way of her thriving career. Moreover, they do make a conscious effort to spend quality time together or learn things together like enrolling for Art of Living course.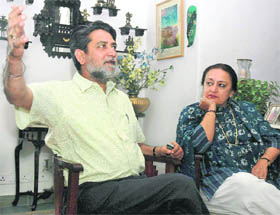 Kamal Tewari, Chairperson, Chandigarh Sangeet Natak Akademi, is a well-known music composer. His wife Dolly Ahluwalia Tewari (R) is a National Award-winning costume designer
Agreed, growing up together and witnessing each other's struggles; as well as growth, couples are unlikely to be bowled over or rattled by each other's achievements and milestones.
But what of temperament, for creative men and women are (in)famous for their mercurial behaviour and are often perceived as high strung and neurotic, if not megalomaniac individuals. It is more so in the glamour world where the only mantra is I, me, myself. But then, glamorous model and actor Jesse Randhawa, wife of choreographer Sandip Soparrkar, says it might be true for some people but with them the simple formula is, "Your success is mine."
Artist Vivan Sundaram, whose wife Geeta Kapur is India's redoubtable art critic and historian, argues, "Anyone can be high-strung and self obsessed, not just successful people."
But he does opine that the relationship between two creative individuals is not run of the mill. And their synergy and chemistry sure is one of a kind. Nods Kamal Tewari, Chairperson, Chandigarh Sangeet Natak Akademi and a well known-music composer, whose wife Dolly Ahluwalia Tewari, is a National Award-winning costume designer. He believes, "When two creative people live as husband and wife, it's a boon. Since it is creativity that brings them together, it poses no obstacles; rather it acts as a cementing force."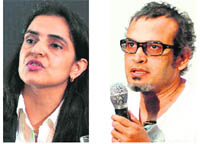 At the end of the day, beyond inspiration and creative bonding, marriage involves mundane routine, too.— Bharti Kher, wife of Subodh Gupta
Does creative energy also get a fillip in each other's company? Are they each other's best or worst critics? Mumbai-based painter Atul Dodiya agrees that his wife Anju Dodiya, also a prominent artist, is extremely critical of his work. But whether it works well for the family life, he is not sure.
In cases like that of Vivan and Geeta, the artist respects his wife's judgment, for she is India's leading critic, who understands his art better than most people. In comparison, he is only a reader of her books and may or may not offer valuable suggestions. With couples like India's leading lensman Raghu Rai and Gurmeet Rai, a conservation architect, who hail from different professions, the duo do not have enough knowledge of each other's craft to comment.
Moreover, says Gurmeet, "Ultimately the real validation of one's creativity comes from the outside world. Only it helps to share it with one's partner."
And it's this shared excitement that keeps the marriage going strong. As Jesse puts it, "When either of us land a plum assignment, we immediately call up each other." Archana pipes in, "We take pride in each other's success just as one would in the achievements of one's children."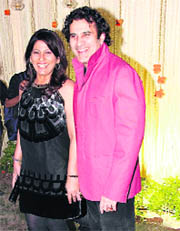 Actor and TV host Archana Puran Singh (L) has been married for more than two decades to actor- turned-director Parmeet Sethi
Does that imply creative couples constantly spur each other towards excellence? Yes and no. Laughs Gurmeet, "Well, if I tell Raghu this project is too difficult and I may not be able to do justice to it, his standard refrain is — don't take it up then." Just proves men will be men, never mind, who are the partners in question.
While each husband-wife relationship may have it own dynamics, compulsion and demands, famous couples, too, need to work on their marriage as much as if not more than any other. As Paramjit quotes, "Marriage is like a marathon. You have to constantly work at." Internationally acclaimed artist Bharti Kher, wife of Subodh Gupta, who are often dubbed as the power art couple, observes, "At the end of the day, beyond inspiration and creative bonding, marriage involves mundane routine, too. After all, someone has to ensure that there is breakfast on the table."
And that someone can be the husband, too. Vivan confesses that he is more of a hands-on person, ready to help in household responsibilities.
Well, private space might be managed well, each might be more than willing to give the other the much-needed space and freedom and completely empathise with others' professional commitment, too but, how do these couples cope with the pressures of the prying public eye, especially when one partner could be slightly more famous than the other? Jesse is happy to have Sandip, whose career graph is rising steadily, in the driving seat at the moment. Gurmeet has absolutely no hang-ups about her husband being recognised even by the common man on the street. Being decades younger to him, she finds no reasons to be insecure of the adulation he receives.
Is it then a prerogative (or duty) of the fair sex, who have been traditionally conditioned to swallow their own pride for dear hubby's sake, to take the partner's rising graph in stride? Not quite. Archana tells how Parmeet has been a pillar of strength behind her production house. Vivan is more pragmatic and feels the balance is automatically struck, "Geeta might be on the top in her profession of art criticism. I may not be the most important artist in the country but by virtue of being an artist often I do enjoy greater limelight."
Tewari, whose other half is certainly more in the news because of the cinema connection, asserts, "Ultimately, one has to understand that life is a cycle, where one could be up and the other down. But what finally matters is the journey which in the case of creative beings is bound to be more satisfying. Jealousy and bitterness have no place in it for the very essence of creativity connects and does not divide."
Archana, however, doesn't wear rose-tinted glasses and feels that societal pressures and expectations can play havoc if you let them affect your personal life. She cautions, "One has to be constantly on guard against what others think of your marriage. After all, it's not society but you as husband and wife, who share the private space and it is how you relate to each other that matters."
Nevertheless, society will continue to be judgmental, curious, often intrusive and not only put these celebrity couples under the scanner but also woo them a tad more than it would successful individuals. Vivan concurs, "Yes successful couples do get an added advantage in terms of visibility and acceptance. After all, one plus one may not be 11 but certainly adds up to more than two."
So, here's to the power of two that may not change the world but does change the way it perceives success.