On learning a language
An Introduction to Punjabi: Grammar, Conversation and Literature
By Gurinder Singh Mann, Gurdit Singh, Ami P. Shah, Gibb Schreffler and Anne Murphy.
Publication Bureau, Punjabi University, Patiala.
Pages 354. Rs 700.
Reviewed by Tejwant Singh Gill
THIS book is a manual on teaching of Punjabi as a foreign language. Its primary author, Professor Gurinder Singh Mann, heads Chair for Sikh Studies at the University of Santa Barbara, USA. This position enjoins upon him to do research work on the history and religion of the Sikhs. His work in this field goes beyond narration and description, and is chiefly concerned with analysis and evaluation.
Search for real self
Thereís no Love on Wall Street
By Ira Trivedi.
Penguin Books.
Pages 262. Rs 199.
Reviewed by Aditi Garg
A career that is in sync with your interests and temperament does not stifle your growth as a person, rather enhances it. A high-flying, well-paid job will eventually take its toll if your heart is not into it. On the other hand, a job that satisfies your soul, even with a less attractive paycheck, will look like a more lucrative option in the long run.
Peep into civil servantsí lives
Memsahibís Chronicles: A Story of Grit & Glamour
By Suchita Malik.
Rupa.
Pages 218. Rs 295.
Reviewed by Balwinder Kaur
IN a billion strong nation, itís important to be important. Becoming an IAS officer is a direct route to power and influence. This book is a peek into that sought-after existence, as the jacket reads, "Memsahibís Chronicles: A Story of Grit and Glamour attempts to present the amazing world of these civil servants as it is ó full of girt, glamour, tensions, temptations and privileges. "
Midlife crisis
The Great Depression of 40s
By Rupa Gulab.
Penguin Books.
Pages 214. Rs 250.
Reviewed by Rajbir Deswal
TETHERED to tattered poles, they are like sagged wires sans current and enough flow. It is essentially an all-women world of fiction, factually fructifying from their menopausal stage, in the middle-aged weaker sex. Rupa Gulab weaves her female protagonistsí ageing dilemma, in many an intense situation, when they have to sort it out themselves, keeping their "men" away and effaced, but they are definitely there!
Emily and the scarlet woman
Lives Like Loaded Guns: Emily Dickinson and Her Familyís Feuds
By Lyndall Gordon.
Virago.
Pages 512. £20.
Reviewed by Lesley McDowell
THIS superlative biography is a book of two halves. The first shows Emily Dickinson shutting herself away, possibly because she suffered from epilepsy rather than because she was unduly modest and shy. The second depicts the battle, after she died aged 55, in which her family fought for control of her poems and letters.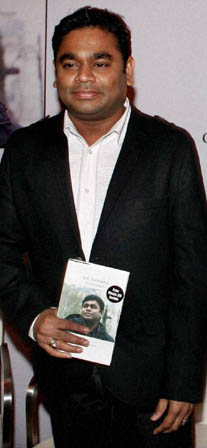 Oscar-winning music composer A.R. Rahman at the launch of his biography, The Spirit of Music, in Mumbai recently Photo: PTI

For better and for verse
Aparna S. Reddy
Mushaira celebrates the global spread of Urdu, with a call for a Bharat Ratna for Ghalib
HONOUrING Mirza Ghalib with a Bharat Ratna will be a matter of national pride, felt Lok Sabha Speaker and chief guest Meira Kumar even as she seconded this demand raised by Supreme Courtís Justice Markanedey Katju for this highly prestigious award to be given to one of the best practitioners of Urdu verse at the Jashn-e-Bahar mushaira organised last weekend in the Capital.
TÍte-ŗ-tÍte
Of big stage and small screen
Nonika Singh
ONCE upon a time, he aspired to be religious preacher. Today, Gurcharan Singh Chani, eminent theatre person and TV filmmaker, knows fully well that there is a world of difference between sermonising and being associated with creative mediums.
Short Takes
The classical and the correct
Randeep Wadehra
Sachin: 500 things You Donít Know about the Master Blaster
By Suvam Pal
Harper Collins.
Pages xiii+145. Rs 175.

The Kabab Maker and the Consultant
By Arun Sikka.
Rupa.
Pages ix+188. Rs 150.


Blossom Showers
By Giselle Mehta.
Frog Books.
Pages 440. Rs 395.