Digital activism
From Anna Hazare's campaign against corruption to fundraising for Japan's tsunami victims, causes and crusades on social networking sites like Facebook are getting bigger and
connecting the youth like never before, writes Mehak Uppal



Anna Hazare's campaign against graft not only brought hundreds of
supporters together at the India Gate in New Delhi and other towns
but also in cybersphere Photo: Reuters

IT is no longer a tool, it is a phenomenon that has gripped the young world; blurring the lines between the real and the virtual. As the lines blur, both the worlds have become fluid, with a cause in one realm leading to an effect in the other. As the two intermingle and diverge again and again, the trend points to a cyber platform with an ever-increasing power – at least for those with access. It is not for nothing that Facebook sparked off the idea that led to the Oscar-winning movie The Social Network.
We witnessed this yet again as Facebook went abuzz with activity when Anna Hazare declared his fast unto death, demanding a greater public role in the Anti-Corruption Bill. Marches and rallies were organised in many cities and it became the burning topic on Twitter as well. "I got a Facebook invite to join the candlelight vigil from Sector 17 to Panjab University. Seeing all my friends' status messages talking about Anna Hazare, I felt like a part of the group and very comfortable in joining the bandwagon," shares Ajeet Kaur, a student from Chandigarh, who had also put up a badge, "India against Corruption," on her profile picture.
There were more than 1,85,000 persons who liked the "India Against Corruption" page and 1,50,000 persons who had liked Anna Hazare's fan page on Facebook. The page carries comments like "Anna hajar nahi Anna karod" and "Anna Hazare aandhi hai, desh ka dusara Gandhi hai". Apart from that, international pages like the Chicago chapter and Europe chapter also sprung up to ensure that NRIs were not left behind in being a part of the cause.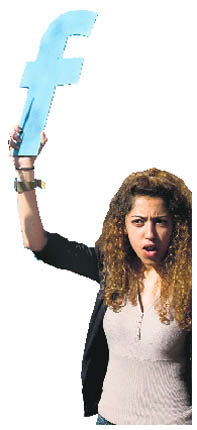 A young protester holds an 'f' in recognition of Facebook's role in the North African revolts, during a protest in Rabat in March, 2011 Photo: Reuters

Interestingly, the mood of celebration after the notification of the Bill was also visible across the social networking sites. "It's my victory, too, and my status message truly reflects that!", says Ajeet.
For some years now, Facebook and Twitter have been considered to be one of the most important tools of the new media mix being used by many development organisations. Facebook, which got founder Mark Zuckerberg on this year's Forbes' richest men list, is now considered one of the inexpensive means to run a campaign, especially targeted at the young population.
With the young community spending a major chunk of its time online, it only makes sense to run various social service projects on the Net. The aim could be to attract youngsters to a cause, follow a debate, provide a platform to share, help them be a part of the activism, to provide a contact point for help or to simply create a mind space for a better recall value later.
"Facebook is a resourceful and cost-effective platform, especially if we were to look at it in terms of the organic growth of the idea and grabbing eyeballs. We do not have a measuring tool or the parameters to quantify its impact, but it surely is one of the coolest place to connect to youngsters at the moment", says Makepeace Sitlhou, programme executive, New Media, Breakthrough, which ran the Bell Bajao campaign asking men and boys to bring domestic violence to a halt.
It is like an online word-of-mouth forum. Once you have put out the information, there is no knowing how it will make a journey through various networks and the kind of reactions and interpretations it will get.
"The domino effect of your one page created on the network is amazing. It is indeed inspiring to be able to connect to youth from across the country with such varied backgrounds in today's world," shares Ishita Chaudhary, CEO, The YP Foundation, which is a youth-run and led organisation based in Delhi. It recently launched The Open House Series (workshops) for young artistes to explore information and ideas around protecting, promoting and producing independent music.
Facebook and Twitter, especially when used with other tools like online videos and blogs, have changed the rules of the game, more so for organisations which cannot afford to splurge funds on communication. Not just the free-of-cost facilities but running advertisements is also pretty cost-effective on a site like Facebook, which is not a commercial hub.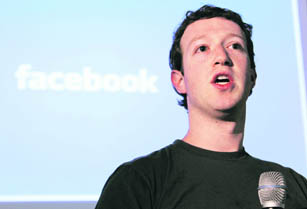 Facebook, which got its founder Mark Zuckerberg on this year's Forbes' richest men list, is now considered one of the inexpensive means to run a campaign, especially targeted at the young Photo: Reuters

"Facebook charges you for every click on the advertisement run on the site. So, there are a lot of members who end up reading your content even though they do not click on it. Also, you can control the maximum number of clicks and number of days your advertisement is run,." informs Makepeace.
Apart from being a financially viable solution, it is empowering the ordinary youngster to indulge in small acts of heroism, weaving them as part of their routine. Makepeace shares an interesting case story of a man who asked for real time advice on Twitter on whether he should ring the bell of his neighbour after listening to some commotion in a house, suspecting it to be domestic violence. There's another story of an NRI in Abu Dhabi, who wrote in her story of domestic violence and permitted it to be posted on their blog. Some kindred soul read the post and provided on-ground help to the woman by locating her.
It is stories like these that make the evolution of online media so interesting. It is indeed heartening to realise that these 'clicktivisms' might be intermittently translating into real-life impact. And the beautiful part emerging from this is that to begin with, you do not have to chuck your career for a cause or have the backing of an organisation to stand for what you believe in. And to not make you feel at sea, there is even a term for it — digital activism!
As the recent tsunami hit the coast of Japan, Facebook saw frenzied updating of status messages and group walls demonstrating the changing axis, not just of the planet but platforms that influence the lives of those who live on it. Photos and videos of the disaster shared online increased the sense of proximity and, perhaps, evoked empathy in the young minds. "I learnt about the threat to nuclear reactors through Facebook and, in turn, broke the news to many others on Twitter. After seeing the pictures online, I felt compelled to take time out to attend online prayer meetings for the same," says Priyank Gupta, an 18-year-old from Chandigarh.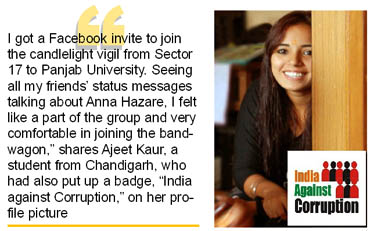 Information on how to tackle a disaster was also put on the social networking sites, including Twitter. We had celebrities like Shekhar Kapoor following the Japanese disaster unfolding everyday, "Watching videos from Japan is like watching an apocalypse. Heart n prayers go out 2 ppl of Japan.", he tweeted. Actors Konkona Sen and R. Madhavan tweeted about the Japan calamity as well.
Red Cross societies in different countries used Facebook and Twitter to promote their fundraising activities following the Japan tragedy. Consider the fact that an event like "Wear Red and White for the Japan Earthquake. March 24, 2011" had 90,567 attendees on Facebook.
Take the case of the latest Egyptian revolution, which was reportedly sparked off by Facebook. As the analysts debate the role the status updates played and the extent of their strength, one thing is clear. It might be capable of creating moments, like when Gandhi refused to give up his first-class seat in South Africa. One cannot pin down one moment to say that it brought in the change, nevertheless it puts into motion what cannot be quantified.
The Wall Project, Batti Bandh, The Bicycle Project, The Sapling Project, Grassroutes, NGOPost, and Blank Noise —there are so many stories that are great examples of digital activism, campaigns not always sparked by full-time activists.
What makes these stories inspiring is that these are youth-led initiatives and not a major part of their budget is dedicated to new media. So, isn't it time we saw some rigorous campaigns like these run consistently from Chandigarh, Punjab and Haryana, too?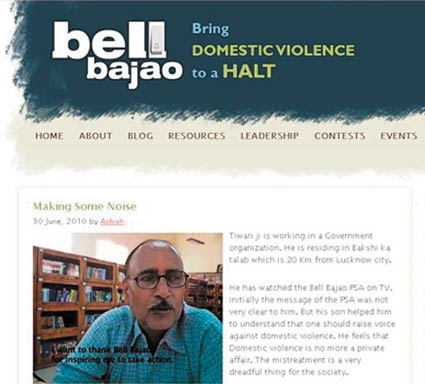 Breakthrough ran the Bell Bajao campaign asking
guys to check domestic violence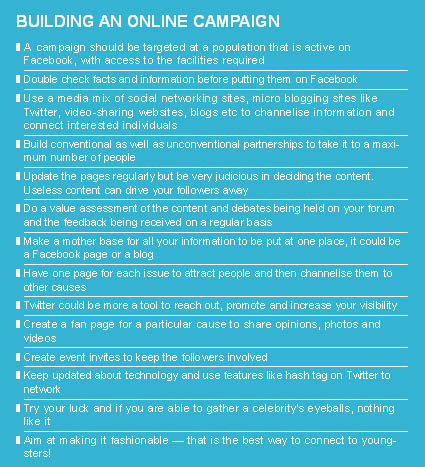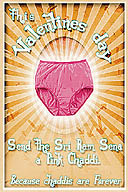 Crusade

in cyberspace

The Pink Chaddi campaign was one of the prominent movements to have been sparked off mainly through Facebook. A group of men attacked some women in Mangalore as an act of moral policing in February 2009. Later, an action plan was announced to target couples found dating on February 14, Valentine's Day.

The Pink Chaddi campaign, launched by the "Consortium of Pub-going, Loose Forward Women", attracted members on Facebook to join a campaign against the leader of the attackers, Pramod Muthalik. Along with creating a lot of debate and discussion, it also led to on-ground action, as women sent their pink chaddis in support of the campaign, which managed to embarrass the man enough to rethink his action.