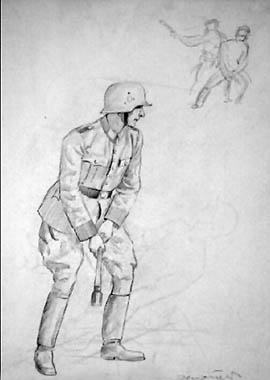 Austrian Roman Zenzinger was one of Adolf Hitlerís official artists. His works portraying German soldiers are now being brought to light after 65 years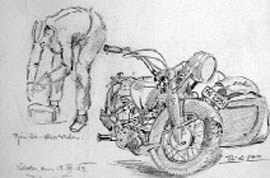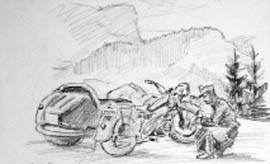 Nazi regime sketches found
THE sketches of one of Adolf Hitlerís official artists, who erased his name from the records in shame after the World War II, are now being brought to light after 65 years.
The family of Austrian artist Roman Zenzinger, whose works portray German soldiers, are now planning to sell three of them at a British auction house in a bid to restore their relativeís reputation, reports the Daily Mail.
"In the hope that his [Zenzingerís] achievements as a war artist will finally be recognised and the wartime record put straight, his surviving family have agreed to allow us to offer the first of what we hope will be many examples of his wartime art," says Richard Westwood-Brookes, from Shropshire-based Mullockís auction house, where the paintings are to be sold.
Three drawings by Zenzinger will go under the hammer at Ludlow, Shropshire, on April 19, and are expected to sell for `A3 3,000 each.
These show a soldier in the act of throwing a grenade, a soldier mending his motorcycle sidecar and a soldier wearing all his army kit.
Zenzinger was never a Nazi and was ashamed of his role in the regime.
After hostilities ended, he locked up all his sketches, drawings and oil paintings and tried to remove all references of himself from the files.
His works have since remained concealed by his family in Vienna.
"In the latter stages of the war, with Germany lying in ruins, Zenzinger turned his personal hatred on the Nazis. He showed in stark reality what the Nazis had achieved ó millions dead, destroyed cities and decimated people," adds Westwood-Brookes.
After the war ended, Zenzinger continued to work as a commercial artist, but no one ever knew about his wartime past apart from his immediate family.
He had been attached to a police unit based in northern Italy and Austria and had first-hand contact with the German soldiers he drew and painted. ó ANI