Waiting list
If you want to become a member of one of the prestigious clubs in tricity, plan accordingly. You may have to wait for eternity…

How long can you wait to unwind with a certain set of people? Getting a membership card for a couple of clubs is as long a wait as getting a citizenship. At others, just fill up a form and get going. Still some others require you to apply, get a doctorate in the meantime and come back and enjoy. Among city clubs, decide where you want to be and plan accordingly, for the next season, or your next generation.
Maa turns a khiladi now
After Maa Exchange, Vindu Dara Singh's wife Dina is all set to take up challenges in Khatron Ke Khiladi 4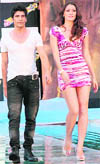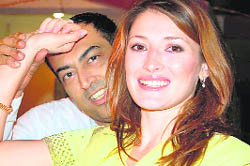 Anything to do with reality on television, as we know is hardly real. As a dedicated TV audience, we still try to find speck of genuineness in everything that is thrown at us. So, we did in all earnestly found out a show that we thought wasn't 'playing up' anything Khatron Ke Khiladi hosted by Akshay Kumar. One good time by Piggy Chops, Priyanka Chopra.
High spirits
Relish a chilled wine cocktail with the aroma and flavour of
strawberries 
Emotional attack
A study has found that women feel more intense emotions than men when a conflict arises within the couple. Conversely, it is men -who mostly express "powerful emotions" as wrath or despise- who cause conflicts more frequently, reports the Daily Express.
Future Shot
Touched


Most of my friends have reservations when it comes to 'touch' in mobile phones. It was while going through an array of mobile phones at a consumer fair, I came across a regular looking touch screen phone, which turned to be a surprise package with but of course some things, if a few changes are made here and there it would make a lot of difference. Lava A 10 touch screen stylish looking phone with sharp edges and gun metal body makes it a 'boyish' instrument.
It's sizzling hot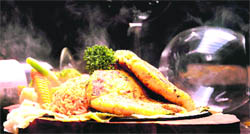 Imagine Indian, Continental and Chinese delicacies all fused in one and a new type of dish is served to you in the form of sizzlers and steak. This is what 'Steaks and Sizzlers' festival at The Lobby, Sector 26, is all about? "Till now people only know of two kinds of sizzlers: veg and non-veg. We want to introduce newer tastes associated with these dishes through this festival," says Vishal Mehtani, Executive Chef, The Lobby.
Sun, sea and a few shutterbugs

For art, it is rather extemporaneous. When a group of artists visit a place, there is an instant inspiration. The one they put down on canvas. However, the photography exhibition Maldives Through the Eyes of Indian Artists at Punjab Kala Bhavan-16 by Gurdeep Dhiman, Sadhna Sangar and Chaman Sharma is rather an extension of their personal albums. Shares Gurdeep Dhiman, "None of these works were planned. We went to Maldives to take part in the International Artists Camp, meant for only a select few.
Brooke Shields to give graduation speech
Hollywood actress Brooke Sheilds is set to address graduating students at the prestigious Princeton University. The 45-year-old star, who graduated from the establishment with a French literature degree in 1987, will return to the American institute to speak at the annual class event on 30 May.

Screaming success
Julia's niece tries to carry on Hollywood legacy
She has Julia Roberts for an aunt, but Emma Roberts doesn't really ask the Pretty Woman for advice as she tries to climb the success ladder in Hollywood. The 20-year-old stars in the just released spine chiller Scream 4. "She (Julia) is really easygoing and loving. I don't really ask for her advice, only because I haven't really needed any so far. Everything's good! I just kinda learned how to handle things myself. And my family and friends give me advice," Emma said in an interview.
The year ahead
If your birthday is April 17...
Foreign affair
The city has opened up to foreign films. Thanks to the multiplexes and film clubs, which are screening films of different genres at regular intervals
On a Saturday afternoon, the electronic board near the ticket counter in a multiplex flashes the message 'Movie: The Kings Speech: Status: Sold Out'. The counter next to it is still selling tickets for the mush story of Tanu Weds Manu. We needn't tell you, the status says it all. English cinema is gaining precedence over our magic realism portrayed in Bollywood. This applies to foreign cinema as well, which as of now is being screened at community movie clubs and art galleries. Thanks to our exposure to the Oscars and the Golden Globe, audiences are waking up to the world cinema, exploring it wherever possible, be it in the cool comfort of a multiplex or sitting in the open watching it scroll on a projector.


Twitter helps during crisis


A survey, which was carried out to determine what benefits Twitter can bring to people involved in a disaster, has found that people in directly affected areas tended to tweet about their unsafe and uncertain situation while people in remote areas posted messages to let their followers know that they are safe. The night life in Chandigarh has picked up, but it still lacks the finesse of the true blue party culture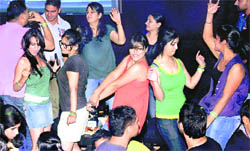 Where's the party tonight? We come across this query almost every weekend. And the answer to this question is "anywhere you get booze". Chandigarh has come from the age of being termed as a dull and dry city to a happening one. Discs, bars, lounges, clubs and pubs...describe the city. The young love to let their hair down till the wee hours. No more a city of the tired and retired, thanks to the youth, the city now boasts of nightlife. But unlike the metropolitans, the city lags behind when it comes to the party scene.
Up Close & Personal

India is second home for Akon
Senegalese-American singer Akon, who turned 38 today, considers India as his "second home" and loves its culture. "About India I like mostly is the culture. I simply love Indian culture and equally adore African. I love the fact that it is so parallel to African culture. Both cultures are so similar with an interesting historical background, and I admire the way Indians and Africans preserve them," he said.

Deepika is the 'tattoo queen'
Bollywood actress Deepika Padukone has been chosen as the "tattoo queen" by the organisers of the first Tattoo Convention in India.

The 25-year-old star sports tattoos of her former boyfriend's initials and another one of an anklet.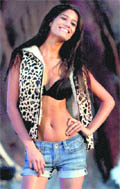 Poonam Pandey says no to stripping
Poonam Pandey, who grabbed headlines with her promise to go nude to celebrate team India's World Cup win, has been flooded with offers from Bollywood but the swim suit model says she will not strip on screen. The model attracted criticism with her offer, which she claims was declined by the BCCI. But it has helped her land a spot on reality show Khatron Ke Khiladi on Colors. The model says she has been offered film roles and item songs in Bollywood but does not believe that her bold image will have a negative impact on her acting dreams.

"I don't think that my bold image will hamper my career.