ICING ON THE CAKE
Professional certifications give a cutting edge to traditional degrees and boost chances in the job market. Charandeep Singh lists some of these courses in different sectors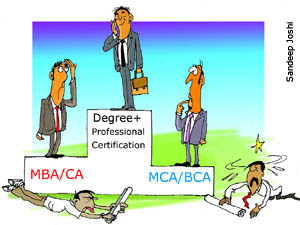 Job markets today are competitive. Even though recession is over, job markets are yet to return to their pristine form. The so called specialisations like IT, MBA, MCA etc have been rendered the status of generic courses. That means even if one has one of these degrees there is no surety that one would get a plum job. So what is the way out? The answer may lie in professional certifications. These certifications ramp up the mundane knowledge that one has acquired during academic years with the latest goings on in the relevant field. These certifications give a person a competitive edge over the others.
Fashion Forecasting
Trend Spotting
For those seeking a competitive, fast-paced and rewarding career in the fashion industry, trend forecasting is the perfect option, writes N. Roshan Singh
There is no denying the fact that awareness about trends and new fashion all over the world has increased manifold in India and fashion weeks have become regular and most-awaited features of the fashion calendar of India. For most youngsters now fashion forecasting jobs have an aura of glamour.


Careercature
Sandeep Joshi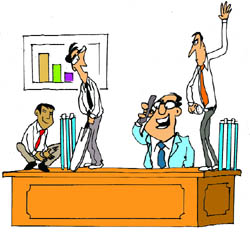 The cricket effect: Sir, forget targets. We are playing a much more profitable game now.
Career Hotline
Go for regular MBA
Q. At present I am doing B.Sc. Further I want to MBA through correspondence. But I have come to know that there is no value of this mode of learning. Tell me about this.

n Why study maths
n Railway exam
n Starting an NGO
n Eligibility for UGC exam
n Fashion future
Perfect exit
Changing jobs is very much a part and parcel of career growth nowadays. Handing over your resignation at your place of work, however, is not the end of the story as in most of the cases one has to fulfill the norm of completing the notice period before one finally bids adieu to a company. This intervening period presents quite a tricky and delicate situation for the employee as well as the managers. Thus it is important to understand the notice period clause in your employment contract as it will help you spend your last few days in an organisation without much trepidation.
POSITIVE ANGER
A professor of Temple University Fox School of Business has challenged the traditional view of workplace anger, suggesting that even intense emotional outbursts can prove beneficial if responded to with compassion. Deanna Geddes, chair of the Fox School's Human Resource Management Department, argued that more supportive responses by managers and co-workers after displays of deviant anger can promote positive change at work, while punishing or doing nothing does not.

Guest column
Mastering employability mantra
People are constantly asking me what are the key things they can do to enhance their employability. Here are the top five I rattle off:
Career tracks
Mid-life switch
Circumstances and the call of the heart often push career changes in mid-life, forcing professionals to make life-altering decisions. Rakesh Jinsi moved to the non-profit sector as the national director of the SOS Children's Village in 2009 after spending 32 years in profit-oriented organisations. His tryst with the corporate world began in the 1970s when he joined a leading manufacturing and consulting company with his engineering degree.
FOOD FOR THOUGHT
CREATIVE CHAOS
Stability, order and equilibrium are the goals of each and every human endeavour, be it personal growth, career success or success of an enterprise. But in spite of this constant endeavour one can't deny the presence of chaos and confusion all around us. Living in constant flux leads to worries about job, business, savings, wealth etc and is the root cause of stress for many.
Happiness @ work
Gems of ancient wisdom
All messed up
The way the ruler is, so is the realm, says the Chanakyaneeti. Chaupat Raja of Andher Nagari had priced every commodity at the same rate in Bharatendu Harishchandra's play 'Andher Nagari Chaupat Raja'. And the punishment of any guilt was meted out not on the guilty, but on the one who fitted the noose. Little wonder, no enterprising person stayed there and no excellence was ever produced.
News Board
Schools for skill development
In a major initiative towards vocational training, VSAT education network Everonn has joined hands with the National Skill Development Corporation's (NSDC) mission with the launch of International Skills School to skill people from across nine key sectors to make them employable.