Voila Valthaty!
Obscurity to overnight sensation, Paul Valthaty may be the new wonder boy of Kings XI Punjab, but his future in Indian cricket depends on being consistent and cashing in on chances that could come his way now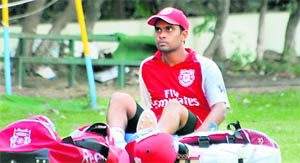 Sunil Narula
Itís not that one of the owners at Kings XI Punjab had a flash in a dream or a Eureka moment while lounging by the pool one fine morning and just signed up Paul Valthaty out of nowhere. No, thatís not the way it happened.

CAP-ABLE: After sharing the orange cap with Sachin Tendulkar in IPL 4, Paul Valthaty says it is the blue cap that he really wants to wear. Photos: Vicky Gharu

Fit without fretting
Sweat in the summer can make you smelly, and really mess up your hair. Some people hate sweating so much that they don't like to work out. So, here are some low-sweat exercises...
Sachin Kalra
If the rising heat and strenuous exercise combo is not really working out for you; and if you are literally drowning in sweat, do not despair. You do not have to put your exercise programme on the back burner just because it is too hot to workout. There are a lot of alternatives and twists you can add to your workout regime, and save yourself a truckload of sweat.