irreplaceable voice
Reviewed by Archie Bland
The Pale King
By David Foster Wallace. Hamish Hamilton. Pages 547. £ 20.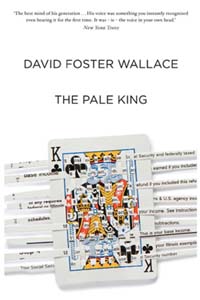 OF all the myths that have spread about David Foster Wallace in the years since his death, the most frustratingly pervasive was that he was a difficult writer.
It came about mostly because he wrote a very long novel, Infinite Jest, that was exceptional for its intelligence and its vaulting ambition to summarise the meaning of life in an era of information overload. But those characteristics never made it punishing. More than anything else, it was fun to read: the size of the thing just meant you could relax in the knowledge that you still had plenty ahead of you.
The Pale King is pretty long, too, but you can never quite relax in the same way. This is all we have of the book that Wallace, maybe the most talented American writer of his generation, was working on when he killed himself in 2008. There will never be another one. Found by his widow, Karen Green, shortly after his death, the manuscript was miles from complete: it consisted of 200 pages of relatively settled material, and, in notebooks and ring binders, on floppy disks and hard drives, additional sketches in various stages of completion, mostly without any indication as to where they would slot into the whole. From these bare bones (and, those closest to him believe, with Wallaceís implicit consent) his longtime editor, Michael Pietsch, assembled the near-novel thatís now being published.
Unlike Infinite Jest, The Pale King really is difficult. To begin with, itís a book that complements its predecessorís interest in entertainment by paying forensic attention to boredom. With no real plot to speak of, the bookís themes are manifested in a group of stultified and strange low-level tax workers ó among them the heavy-sweating Cusk, the "fact psychic" Claude Sylvanshine and one acne-scarred David Wallace ó at an IRS office in Peoria, Illinois, a place so featureless that the land merges with the sky and creates "the spectacular impression of being in the centre of some huge and stagnant body of water". An entire chapter consists of them turning pages. And whereas in Infinite Jest we were mostly accompanied by the agreeable, tumbling energy of Wallaceís most regular narrative voice, here we flit from register to register: sometimes in the third person, sometimes in the first; sometimes with that familiar exhaustive diction, sometimes with a strange, confident voice that is flinty and mythic and elusive, and in which we get some of the most beautiful passages that Wallace ever wrote.
If you want a plot, one is definitely gestating, about a battle for the soul of the IRS between those who view it as a money-making corporation and those who view it as a moral mechanism for making people pay their taxes. Equally, itís possible that Wallace might have preferred to leave the whole thing to accumulate as a post-modern short-story cycle in which the poor souls in Peoria simply orbit each other in unacknowledged harmony. That might have been OK, too. Anything that seems not to work might have been resolved, after all, with another draft.
Wallaceís brave idea is to use boredom as a way of getting at the almost unmentioned thing that, in fact, makes up real life more than politics or work or even our loved ones: the unattended business of thinking, what Don DeLillo called the "sub-microscopic moments", the "small, dull smears of meditative panic". "Maybe", the character named David Wallace posits, "dullness is associated with psychic pain because something thatís dull or opaque fails to provide enough stimulation to distract people from some other, deeper type of pain that is always there." I found myself thinking of the real Wallaceís famous graduation-day speech, in which he argued that the value of an education was that it allowed you to choose how to relate to the world. If, as he put it, "you are operating on your default setting, then you, like me, probably wonít consider possibilities that arenít annoying and miserable. But if you really learn how to pay attention, then you will know there are other options .... The only thing thatís capital-T True is that you get to decide how youíre gonna try to see it."
Thatís the implicit work going on here. We get rapt descriptive passages, frequently very funny, that seem to be examples of how not to think about the world: minute, infuriated descriptions of the failures of the IRSís traffic management system; a three-page paragraph about the unforeseen consequences of a piece of tax policy in Illinois. But we also get proof that Wallace could still deploy his own attention to see things afresh, whether in a perfect diagnosis of a habit of mind that you had thought was yours alone, or in piercing, austere observations of that flat Midwestern landscape.
If, as well as that scattered brilliance, there are some sections that are too diffuse, and a sense that Wallace hadnít yet grasped how to make the whole thing hang together, itís hard to feel disappointed. This is our final communication from a voice that is as inescapable as it is irreplaceable. That it is fragmentary only makes the pieces we have seem more valuable. ó The Independent