Breaking free from virtues
Reviewed by Ravia Gupta
Vivek and I
By Mayur Patel. Penguin. Pages 384. Rs 299.
"Love pains. Love kills. Love heals.
For some itís an addiction and for many itís rubbish. Who are we to decide, itís for those who fall in love each time to brave the ache next time."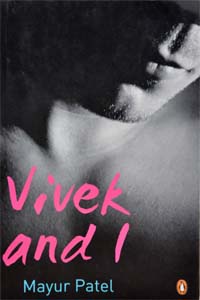 BEING ambitious may not be the purpose of everyoneís life, but adding a "meaning to their lives" is certainly everyoneís aim. This is a story of a man whose aims in life were limited. Having a large bank balance and owning luxurious things had never been his idea of a successful life. Family, friends and love mattered to him the most.
Kaushik, while watching himself in a mirror, was proud to be a handsome man. Fair, tall, slim, sharp features, he almost had everything needed to be a "Lady Killer". But like they say the world would have been a perfect place if we all were happy with what we had. Kaushik, too, was not very happy to be a "lady killer" and was in search of a different meaning to his life.
The past is a history and history repeats itself are often confusing to understand. Brokenhearted Kaushik when arrives in a small, sleepy town of Valai, leaving his past behind, he had no idea that he would ever fall in love again. But life gives him another chance and the rush of love that he feels the second time is, however, not without its dilemmas. Kaushik finds himself in a fix between the "right" and the "wrong" in society. He is just not sure if his "love" would be "man enough" to face the truth.
Girls had always been crazy about Kaushik, but he was never interested in them. Oblivious to the devastation, he was interested in men and the latest one he was crazy about was Vivek, a 16-year-old boy, from the school where he was a teacher.
Vivek, an arts student, was not a topper, but he was above average. He was good at maths and so-so in English, the subject which Kaushik used to teach. Kaushik firmly believed that love had nothing to do with age. This notion perhaps unshackled him from the guilt of falling in love with his student. He believed that love for Vivek stabilised his unsteady boat of life. His life had found its meaning. The faint hope of getting Vivekís love had brought new zest to his life.
Life taught Kaushik a lot after his separation from Krishna. Though he was not ready to face the suffering again, he was helpless and was on the same track of love and hope with Vivek once again.
Despite being on the "wrong path" as his so-called modern family considered homosexuality to be a sin, Kaushik just didnít want to mend his ways. Falling in love with Vivek was one such error which he didnít want to correct. Kaushik was neck deep in love with Vivek and was ready for whatever destiny the Master above had in store for him.
Vivek and I is a powerful novel about sexuality, falling in love, and then learning to let go. With more authors choosing homosexual themes for their work, a same-sex story no longer remains a taboo for Indian writers. Mayur Patelís Vivek and I is yet another novel trying to break-free from all the "sanity".