Play it like Pancham
New biography tells endearing tales of R. D. Burman
Madhusree Chatterjee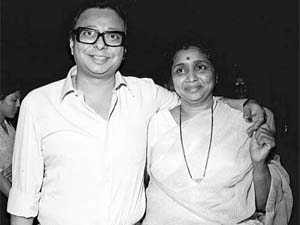 A rare black and white photograph of Rahul Dev Burman and Asha Bhonsle. The new biography throws light on the man and his music — Photo: IANS
HIS hit songs flooded the box office; he was the quintessential romantic hero with heartaches, longings and beachside philosophies. Yet, celebrated musician-composer and song-writer Rahul Dev Burman took time to flower into a Bollywood phenomenon.
The oft-repeated question: Why?
Despite the moderately successful launch of his career, "Pancham", as he was lovingly called, was unable to leverage the clout that his surname carried
in the rather conservative film fraternity in Mumbai.
Producers always wanted Sachin Dev Burman (S.D. Burman), but nobody was willing to experiment with his son, writer Aniruddha Bhattacharjee and Balaji Vittal say in a new biography, R.D. Burman — The Man and Music, published last week (Harper-Collins India).
He spent several years fine-tuning his musical genuis under his father's shadow before Bhoot Bangla with its signature track Jago sonewalo happened.
However, Pancham tasted success with Teesri Manzil — a pathbreaking thriller with memorable songs he composed at a time when whodunits were yet to capture moviegoer's psyche.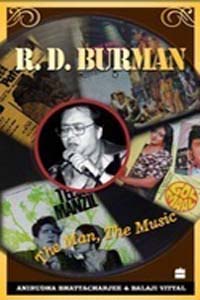 The biography, which throws light on the musician's meteoric career in Bollywood and popularity worldwide, reveals little-known facts about R.D. Burman, including his childhood. A few months after World War II broke out, Rahul Dev was born to the rising star in the musical firmament, S.D. Burman, and Meera on June 27, 1939, at their Gariahat Road home in Kolkata.
Rahul Dev's grandfather Nabadwipchandra Dev Burman was an erstwhile king of Tripura. Rahul was first nicknamed Tublu. The nickname "Pancham" came some years later. Apparently, as a child, he wailed at the fifth note of the saptaswara, the seven notes.
There is another story. Rahul would invariably sing the note "pa" whenever his father sang the note "sa". Thespian Ashok Kumar thus gave him the name, "Pancham", the book notes.
Incidentally, five proved the lucky number for him in his early career — Teesri Manzil (1966), his first major hit, was RD's fifth film as a composer.
Pancham was one of the earliest composers in Bollywood who was influenced by Latino music, according to the book.
Bossa Nova is a form of music which finds inspiration in the Brazilian samba. It is mainly played on classical guitar with gut or nylon strings and uses unconventional and complex chords that add colour to the basic jazz-based patterns.
Exposed to Latino music in Kolkata, Pancham, over the years, developed a fondness for its vibrancy.
"He soon made the Bossa Nova form his very own, literally bringing it across the globe, from the beaches of Rio to the studios of Mumbai, where he dovetailed it to create a pentatonic tune for a song in Kati Patang," the book says.
Bollywood scripted fame for Pancham, but it was Kolkata, where he let his nostalgia erupt unbridled.
Pre-Durga Puja 1965, public attention was focussed elsewhere as the country gathered itself in the immediate aftermath of a war with Pakistan. A ceasefire was announced three weeks ahead of the Puja.
"The soldiers rushed back to their families, leading to the reinstatement of the Puja spirit. Musically, the puja of 1965 aroused curiosity when news got around that Rahul Dev Burman was making his 'debut as a composer of puja songs.'" his biography says.
This was a chance happening for Burman "too rebellious a name for the common Bengalis, whose musical taste was limited to sombre and solemn".
It turned out that Bengali lyricist Pulak Mukherjee wanted to produce a few songs with S.D. Burman, who refused and passed the assignment to his son.
An unwilling Pancham expressed his discomfort in composing in Bengali, but assured of Lata Mangeshkar's voice, he offered eight tunes to Mukherjee, who selected two.
His next round of Bengali compositions came in 1967. RD's best-known Bengali solo, Mone Pore Ruby Ray — incidentally the song he released first as a duet with Kishore Kumar for one of Guru Dutt's projects — has an interesting story, the book reminds the reader.
Scenarist (the one who visualised the locales) Sachin Bhowmik (actor) had lost his heart to a certain lady, who unfortunately spurned his affections. "Her name was Chhobi Ray and she was immortalised as Ruby Ray in the song, which Pancham coerced Bhowmick to write. It was loosely based on Rag Kirwani and Rag Mukhari," the book says. Ruby Ray, which was branded as "degenerate westernisation in music," took a long time to be accepted.
The Hindi version of the song, Meri Bheegi Bheegi Si... was released in 1973 in the movie Anamika. Pancham died on January 4, 1994. — IANS